We sure hope you are feeling the LOVE this week!  We sure are. And we have a fun way to kick off this weekend, too! A SUPER HUGE MEGA AWESOME giveaway for you!   We are proud to partner with Scrapbook  Trends for some exciting things to celebrate their 15th Anniversary.
Now…if you want win the party for your friends (some of those goodies include Core'dinations cardstock!!!!) CLICK HERE.
And if you want to win the YEAR subscription just do a few things for us here…the more you do the more chances to win! Did you know we are on Twitter?  AND Pinterest?
Now how about some Valentine's Day inspiration????
Design Team Member Debbie Standard has a fun card for us today. Nothing screams Valentine's Day hearts and glitter, don't you think?  I love the pink and gray combo.
AND we aren't done yet! Guest Designer Leeann Pearce is here with us again with just the coolest layout! If you are familiar with Leeann's work she always has uber amounts of texture and depth to her projects and this one is no exceptioan!  All I have to say is that kebab sticks aren't just for grillin'  Here is a little bit about this layout from her:
Hello core fans…. I hope you are all well after another successful CHA. I hope you are all ready to share the LOVE this month. I am, that's why today I get to share another fabulous page with you featuring none other than CORE!!!!
I created this page using jenni Bowlin core collection – I used the wallpaper print, as a matt and background. I didn't sand it I really love the natural embossed texture. Plus I wanted to let you all know how I made my heart embellishment.
How too heart paper softie:
1: cut out oversize heart shape and sand
2: punch holes in one heart
3: hand stitched to heart shapes together
4: leave small opening and stuff with plastic bags (tissue paper or batting would work here, too)
5: make arrow and thread thru before stitching closed
6: embellished and glue to page.
Tip: Stuff your heart with chocolates and give to LOVED ones.
Material: Jenni Bowlin Core Impressions, Heidi Swapp buzz words, prima vines, epiphany crafts vintage settings and bubble caps, kebab stick and feathers.
We have a big HUGE week schedule for you! Mark your calendars! Inspiration….prizes….STAMPING  (EEEEK!), Core'dinations! What could be better??!?!!?!?
AND  WE HAVE OUR VERY OWN EVENT PAGE! How cool is that?  We can chat, share projects, give away stuff :0
AND next week we have Valentine's Day project for you all week long!
How about  a quick Chocolate Box layout from Design Team member April Derrick? Again, April used The Crafter's Workshop stencil to sand….looks fABulOuS!!!!
Did you know that we are offering the BRAND NEW Tim Holtz Shattered collection in 6×6?  Oh yeah!
Here is a layout from Design Team Member Debbie Standard. Check out how she scored the frame around the outside of the layout and then sanded it. We love our ScorPals! Same GREAT Kraft Core!
And, since we are in the purple mood today….how about another layout from Design Team Member April Derrick. For this layout April paired her Shattered Cardstock  with some Tim Holtz Kraft-Core. These two lines were designed in the exact same color scheme (No. 1, No.2, etc) so they core'dinate perfectly!
AND our Tim Holtz Kraft-Core is available in 6×6 now, too!!!!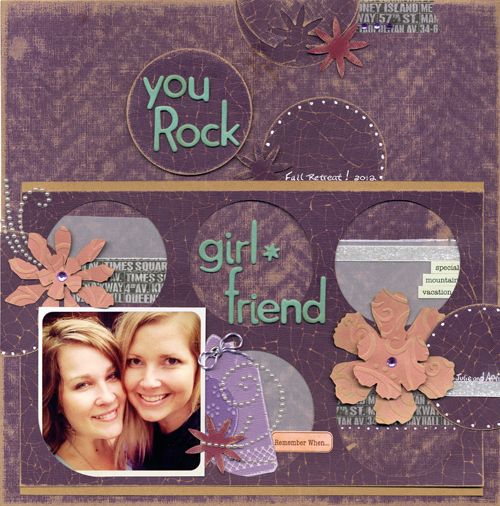 April used a stencil from The Crafters Workshop to sand the base piece of Kraft Core. Just put your Core on top of it and sand and you get a really cool design!
Core'dinations is celebrating FIVE years today! It's hard to believe it but it's true. And as a celebration the entire Core team…our designers, teachers and employees put together an album for our fearless leader, Anthony.
It was so much fun seeing it all come together.  Here are a few shots of Anthony looking through the book. And a few shots of the pages from our team.
By Debbie Standard
by Lydia Jackson
~~~~~~~~~~~~~~~~~~~~~~~~~~~~~~~~~~~~~~~~
And Anth0ny opening the book. I think he likes it!
And one more..