Every month we challenge our designers with something fun and this month it was all about monochromatic color schemes.
Did you get the August newsletter?  Well if you did then you got a FREE downloadable PDF from Designer Mary Pat Siehl featuring a quick "how to" on how to create EASY monochromatic looks with just embossing!  Core makes scrapbooking easy, don't you think? By being a Hard Core Crafter you are automatically signed up for our newsletter.
Our Design Team also did some for us today as well. As you can tell our team likes blue 🙂
First up Kate Nolan-Deham…Kate used a banner to really enhance her monochromatic color scheme. And how sweet is her Glitter Silk dress form that she embellished!
And look at all this texture from Designer Gail Linder??!?! LOVE how she chose to use some yellow…a color I think a lot of scrappers struggle with:
A super simple card from Designer Ava Gavloski…monochromatic doesn't need to be complicated….
 and one last card from Designer Heather Kaesgan…LOVE how she mixed in some Gemstones for her monochromatic look for that bit of shimmer….
Clare Buswell used our Core Amour Cardstock to create a unique monochromatic look:
And Tracy Gruber always creates the CUTEST cards….hippo-ray, LOL! So cuuuuute! And monochromatic doesn't need to be the exact same color. Tracy used different hues of purple for hers and added some Gemstones as well.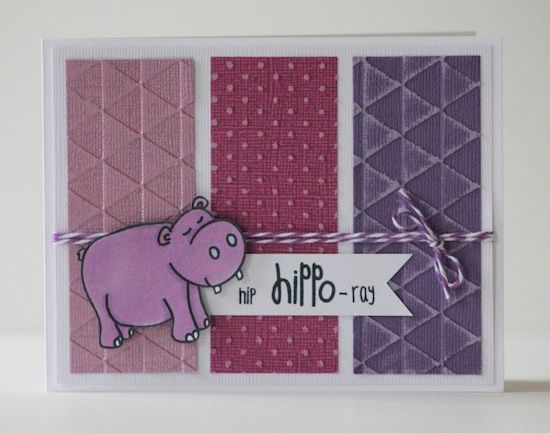 And how about a Pink Monochromatic layout from Designer Ava Gavloski? Look at all that gorgeous detail!  Using the BasicGrey Core Impressions for her base and then just adding fabulous bits and pieces in pink and white….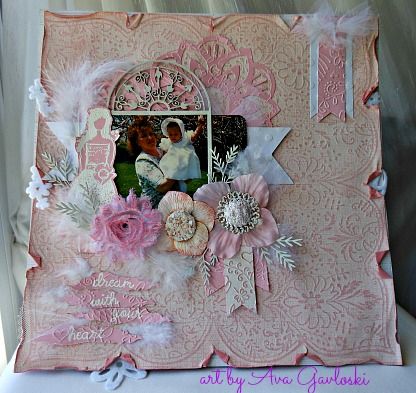 Are you kidding?!  How cool is this?  We have an ENTIRE week of hopping with ALL THREE of our teams. RIBBON, STAMPS & CARDSTOCK all in once place?  It is going to knock your socks off.   You can win on all three manufacture blogs AND we have picked ONE special Design Team Member's blog for a random winner as well. SO keep commenting all week long for your chance to win. Who doesn't want some of this ribbon in their stash? So if you do keep reading.
You never know when we give out winners around here….I mean, over the last few weeks we gave away cardstock EVERY DAY! So stay close, have fun and get ready to get inspired.  And if you didn't email us last week and you are a winner make sureyou check out our winners list HERE.
So now that you got to know  our DT over the last few weeks let's see what they have done for you today!
May Arts:
Charlene Driggs http://www.paperandinkplayground.com/
Christina Colón http://www.thetwistedmuse.com/
DeeDee Catron http://umwowstudio.blogspot.com/
Stampendous
Kristine Reynolds:  http://stampingandscrapingincalifornia.blogspot.com/
Here are a some sneaks of what you might see along the way. Dry AND heat embossing…sanding…ribbon..what more can you ask for?
Oh …I spy some May Arts chevron ribbon…loooooove that stuff!
And another one….yes…that is heat embossing on Tim Holtz Kraft-Core Shattered cardstock!
So to recap:
Hop along to each DT blog and the company blogs. There are chances to win all over the place! Each manufacturer's blog has multiple prizes and we have a surprise DT blog that we will be picking a winner from as well.  I will be giving hints all week long as to whose blog it is. 😉 Might be here…might be Facebook…
Core'dinations AND May Arts winners will receive a roll of May Arts ribbon of their choice AND some Core Tags (see below)!  (Colors of the tags may vary due to availability) AND Stampendous THREE prize packages that include a Jumbo Butterfuly Trio stamp set, Perfectly Clear Handle, some David Tutera Celebrate cardmaking system goodies, a Sand It Gadget AND some May Arts ribbon…what??!?  All that is up for grabs this week!
Designer April Derrick has an awesome tutorial for us on this fine Tuesday featuring TONS of Tim Holtz Shattered cardstock. it is so versatile and this entire layout is cardstock!
First up, take your Crafter's Workshop stencil and trace the template:
Next, using your craft knife, cut along the pencil lines:
You will already begin to see the gorgeous sunburst shape!
Now it is time to sew. Stitching on layotus never gets old! Layer the No. 7 Shattered cardstock on the No. 15 and you have a really great contrasting look.
And now for the final layout.  April added some embellishments and a Step Two layer from David Tutera Celebrate cardmaking system. LOVE that postage stamp layer…it looks GREAT on layouts, too!
April is all about things blooming and new life so it is a perfect time to share this beautiful layout from Design Team Memmber Lydia Jackson.  From the color combo to the journaling…it is just amazing! Lydia used Core Essentials on this layout with touches of patterned paper  and one of our NEW smooth tags!
For the complete journaling you can go to Lydia's blog here.
Here is a close up of the tab for the pocket of the hidden journaling:
and the journaling printed directly on the Core'dinations Core Essentials:
I have to say I am a little a LOT biased when it comes to this layout!  Which reminds me I need April to send me this photo! Isn't it great?   We had so much fun working at CHA. YES..I said working, LOL!  Pinch me 🙂 I never knew working could be so much fun!
I guess it is fitting that April used two of my favorite Core products on this layout. Okay, okay, you got me..they are all my Favorite but Tim Holtz  Shattered cardstock and Core Tags are a match made in heaven! Kind of like us in this photo…awwwww 😉
Wanna close-up of those awesome Core Tags??!?!?!?!?!!??!  Don't you love that added gems that April put in the metal grommet?  As if the metal grommet detail wasn't enough?  NEVER!
And another close up for you:
TOMORROW IS THE LAST DAY!
Don't forget about our Design Team call going on now. You don not want to miss out on being a part of this awesome team! And you could find yourself wearing this badge.
You know what is perfect for Spring?
TIM HOLTZ SEASONAL IMPRESSIONS! Sorry for the excitment but you know how I get excited about my Core 🙂
Designer Debbie Standard created this layout using the Spring themed cardstock. .Just sand it and this gorgeous embossed design  with "seasonal' phrases and designs.
AND ..it gets better…the colors of the Seasonal Impressions match all of the Tim Holtz Kraft Core cardstock, too! So, for this layout, the No. 15 will match perfectly. Debbie new instantly that the No. 2, No. 6 & No. 22 would look perfect with it.
And who doesn't love a picture of their grandaughter kissing the Easter Bunny?