We have a big HUGE week schedule for you! Mark your calendars! Inspiration….prizes….STAMPING  (EEEEK!), Core'dinations! What could be better??!?!!?!?
AND  WE HAVE OUR VERY OWN EVENT PAGE! How cool is that?  We can chat, share projects, give away stuff :0
AND next week we have Valentine's Day project for you all week long!
How about  a quick Chocolate Box layout from Design Team member April Derrick? Again, April used The Crafter's Workshop stencil to sand….looks fABulOuS!!!!
Happy Hump Day!
Today we have some projects from Designer Andrea Amu. As usual Andrea works her Cricut and the Core…so many amazing details so grab that coffee and sit back and enjoy!
Loving all the Spotted and Core Essentials cardstock PLUS..some May Arts ribbon and Imaginisce iRock, too!
And how about some ch-ch-ch-chevron?!  The Core Impressions Pink Paislee Modern Prints collection has tons of great chevron prints. Swooooon! Andrea used the backside of the Chocolate Box and inked it for the first layer and then cut out pieces of the chevron and sanded  every other one, too!  Add a stamped sentiment and you are good to go. Love it!
Did you know that we are offering the BRAND NEW Tim Holtz Shattered collection in 6×6?  Oh yeah!
Here is a layout from Design Team Member Debbie Standard. Check out how she scored the frame around the outside of the layout and then sanded it. We love our ScorPals! Same GREAT Kraft Core!
And, since we are in the purple mood today….how about another layout from Design Team Member April Derrick. For this layout April paired her Shattered Cardstock  with some Tim Holtz Kraft-Core. These two lines were designed in the exact same color scheme (No. 1, No.2, etc) so they core'dinate perfectly!
AND our Tim Holtz Kraft-Core is available in 6×6 now, too!!!!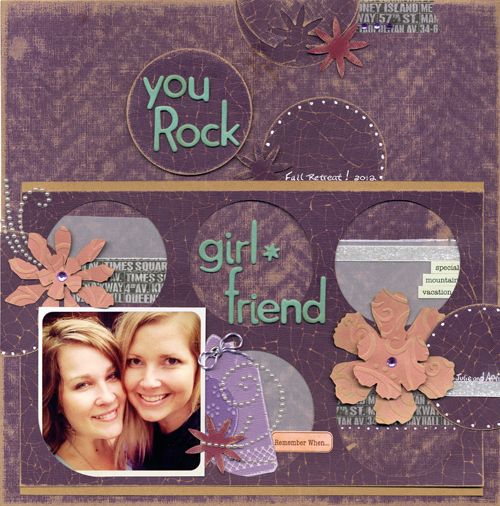 April used a stencil from The Crafters Workshop to sand the base piece of Kraft Core. Just put your Core on top of it and sand and you get a really cool design!
Core'dinations is celebrating FIVE years today! It's hard to believe it but it's true. And as a celebration the entire Core team…our designers, teachers and employees put together an album for our fearless leader, Anthony.
It was so much fun seeing it all come together.  Here are a few shots of Anthony looking through the book. And a few shots of the pages from our team.
By Debbie Standard
by Lydia Jackson
~~~~~~~~~~~~~~~~~~~~~~~~~~~~~~~~~~~~~~~~
And Anth0ny opening the book. I think he likes it!
And one more..
Some more Tim Holtz Shattered Collection layouts!  This line was a HUGE hit at CHA…you are going to LOVE LOVE LOVE IT!
A layout from Designer April Derrick:
Check out the fun folded card we learned from Guest Designer Leeann Pearce AND see that cool  postage stamp layer in the Kraft?  YEP…that is from the David Tutera Celebrate cardmaking system Step two. We LOVE mixing and matching these collections!
And another postage stamp layer from the David Tutera line. Told ya we liked 'em! 🙂
On this layout, Designer April Derrick  used her Tim Holtz Distress Stain in Chipped Saphire by Ranger and inked the Shattered cardstock. See how the stain just soaks up in the cracks and turned blue??!?!?!?  HOW COOL IS THAT??? And she embossed some of it too (the layer under the photo). So many possibilities!
Stay tuned for more ideas on is BRAND NEW Line that we debuted at CHA 2013 featuring Tim Holtz-Kraft Core!
We have another layout for you today with one of THE COOLEST techniques!  The creative minds of our fans and the crafters out there never cease to amaze us here at Core.   We love love seeing Core in action.
So..get that typewriter out! AND we are NOT using it for journaling. See those super cool dots along the border of the pink Core Essentials?  Keep reading to see how Rebecca created them…
Yep, Rebecca created them with her typewriter!
And SAND! With that Sand It Gadget of course 😉
Of course, add some bling…it matches the microphone!
Don't forget to check out more of Rebecca's amazing work on her personal blog, My Cluttered Corner,  and you can follow her on Pinterest as well.