Well, if you hang out over at our Facebook page we were mulling over the idea of not one BUT TWO prizes for our sketch challenge. We are so happ you guys had fun with it and looks  like we will have another one soon!  Nothing makes us happier then seeing Core in action. All that sanding just makes me  HAPPY!
So…who wants some winners?????
The winner of Pastels Collection pack is….Jenny from Jen's Scraptography!!!
And we have to other winners, too!  Please note:  once winners will email us, we will contact you with your prize. Not sure what we have in stock right now for prizes
There was just too much sanding and tearing and FUN we just couldn't choose one so we have two other random winners for you:
Jackie Schachter and Debbie Marcinkiewicz
Winners email ellen_sosnoski@coredinations.com  with "Sketch Challenge Winner" in the subject line. Email your name address and phone number. Please allow 6-8 weeks shipping and handling.
`~~~~~~~~~~~~~~~~~~~~~~~~~~~~~~~~~~~~~~~~
Now, inspiration please??? I mean what else is inspiring you right now besides snow?
Happy Snow Day Core Fans!  
Kate
here, sharing a simple snow layout with you using lots of Core'dinations Spotted Tillie Dot.
I did lots of sanding with the Sand It Gadget in this layout to make it pop.
I cut the snowflakes out of Core'dinations Snowflake using my Silhoutte, painted the die cut with some glue and added some fine glitter.
Core'dinations Supplies:
12 x 12 Core Essentials Neutrals
Other Supplies:
Fiskars Crimper
American Crafts Thickers
Silhoutte "Snowflake Lace" cut
Helmar & Xyron Adhesives
~~~~~~~~~~~~~~~~~~~~~~~~~~~~~~~~~~~~~~~~~~~~~
And next up two layouts from Debbie Standard:
I have always loved the Jenni Bowlin collection. The reds, blacks and browns are always so striking. And there are so many wonderful collections in Core'dination's products that it's easy to mix and match to get just the look you want. For this I started with some Jenni Bowlin with the dots, added a piece of the JB with the words on it. Then I used some of the Tim Holtz Distress 2 X 12 pieces and embossed and sanded them. I added a few other color scraps and then sanded and cut around the My Mind's Eye Core mini label. Then I punched out some snowflakes with a Martha Stewart punch, attached them and then added the Queen & Co and the Kaser Goosebumps. The kids having so much are my grandkids, who had an unexpected snow day and a great family play day.
Supply List:
Jenni Bowlin Red and Black Impressions
Tim Holtz Distress 2 X 12
My Mind's Eye Core Impressions minis- Lost & Found Labels Collection
Glitter Silk White 6 X 6
Sand it Gadget
Dust Buddy
Cuttlebug Embossing Machine
Cuttle Bug Folder, Darice Folder
American Crafts Letters,
Martha Stewart Punch
Queen & Co. Goosebumps
Kaser Crafts Glittler Buttons
Tim Holtz is always a winner in my book. For this page I used papers from his Shattered collection. I started with the red sheet and left it as is. Then I took a sheet of black and embossed it with a snow flake embossing folder and sanded it. Then I choose a piece of the yellow and embossed it with a folder of winter sayings. Then I added the strips of grey and white. I used my Silhouette to make the snowflakes out of the Glitter Silk White paper and added some of the Queen & Co. Pom poms. I used some random My Mind's Eye buttons as well. This is my little great-nephew, Cason, who is finally old enough to get out and enjoy the snow.
Supply List:
Tim Holtz Shattered
Glitter Silk White – 6 X 6
Cuttlebug Embossing Folder
Cuttlebug Embossing Machine
My Mind's Eye tags and buttons
Letters: American Crafts
Queen & Co. Pompoms
Jillibean Soup letter stickers
Sand It Gadget
Dust Buddy
Silhouette Die cuts – snowflakes
Hi! Jill from Every Day is an Occasion ( http://everydayisanoccasion.com/) here to share a really cute baby shower gift . This gift is for the person that has everything already…. or perhaps someone who is having their second, third or fourth baby! Babysitting coupons are ALWAYS appreciated, take it from a mom with two little ones right now!
Babysitting Coupons
If you have ever seen any of my projects on here before you know my love for Core's BRAND NEW 110 lb white cardstock! This is no exception! I used it and ran it through my printer to print this cute tag (Just for You). My printer adores this paper, seriously!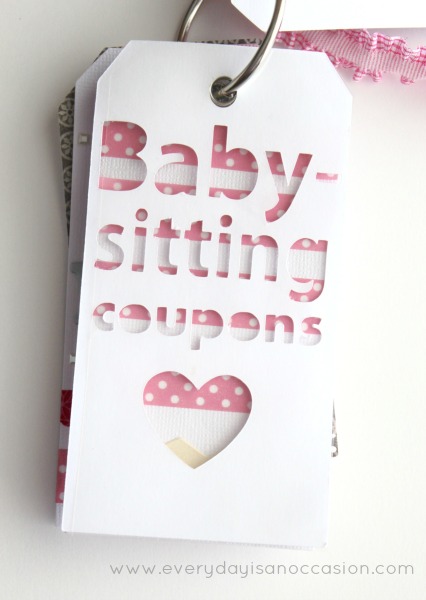 I used my Silhouette to make the cover of this coupon booklet. Basically I just typed in the words I wanted, added a heart and cut. I just trimmed off the corners to make it a tag. I used Darice's pink polka dot washi tape on a separate tag. Then I used foam adhesive to attach the two together.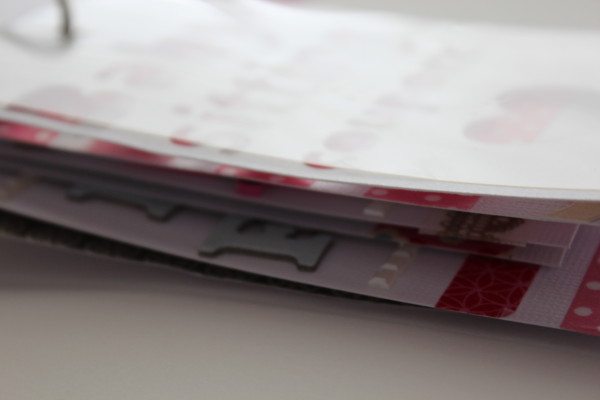 Then I used Core tags to make 5 days worth of coupons.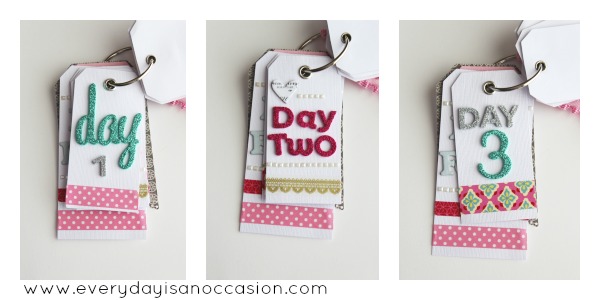 I love. Core. tags. They are so sturdy! My faves are the tags with the eyelets though because I like to use them with craft rings.
Hard to believe that Christmas is over! Now it's on to New Years….let's CELEBRATE!  Designer Clare Buswell has some gooooorgeous cards for us today AND she shows us how to use your scraps/negative images of cardstock when you are doing cuts on your Silhouette or die cutting machine.
Make card from cardstock. Cut lettering from Glitter Silk using Silhouette, use negative cut out. Trim rectangle of Core'dinations Premium Cardstock White, use Distress Stains to add strips of color across cardstock, spritz with water and leave to dry. Layer cut lettering panel onto colored rectangle, adhere to another panel of Glitter Silk, add seam binding and attach to card. Add quilled shapes and gems, to finish.
And a close up:
Supplies:
Silhouette file #24322, Silhouette Machine, Distress Stains – (Spiced Marmalade, Picked Raspberry), Magenta seam binding, pink gems, quilling strips, quilling tool.
~~~~~~~~~~~~~~~~~~~~~~~~
Make card from cardstock. Cut lettering and stars from Glitter Silk using Silhouette. Trim rectangle of Core'dinations Premium Cardstock White, use Distress Stains to add strips of color across cardstock, spritz with water and leave to dry. Round corners of colored panel and adhere to card. Add cut lettering, stars and sequins, to finish.
Supplies:
Silhouette files #15293, #17221, Silhouette Machine, Distress Stains – (Spiced Marmalade, Picked Raspberry, Tumbled Glass, Salty Ocean), star sequins.
There are so many neat Silhouette files to play with and they have all been on sale lately.  Designer Heather Anne Kaesgen has a CUTE mailbox for us today.  I need one of these for my Christmas Cards!  Here is a little bit about these projects from Heather…
I loved this little mailbox! I can see it filled with candy or a special note from Santa.  Just one more little detail to make your Holiday Season a little more special.
Core'dinations ColorCore Cardstock – Core Essentials Red Rose
Core'dinations Glitter Silk- Opulent Pearl
Authentique –  Rudolph
Silhouette File – 3d mailbox #38512
Martha Stewart Snowflake Punch
Darice Brad
Christmas Card
~~~~~~~~~~~~~~~~~~~~~
I love making Christmas cards.  There is just something special about sending a card that you made with love. I think the recipient really feels special when they know you made it just for them.
Core'dinations ColorCore Cardstock – Core Essentials Chocolate Mocha & Forest
Authentique "Chimney" paper
Silhouette File – Tree pop card #50083
Darice Pearls
Darice Ribbon
~~~~~~~~~~~~~~~~~~~~~~~~~~~~~~~~
There is nothing I love more than wrapping a gift. This large special tag really will set off your gift for that someone special.
Core'dinations ColorCore Cardstock – Core Essentials Chocolate Mocha & Forest
Authentique "Chimney" paper
Silhouette File –  Tag #48372
Darice Pearls
Darice Ribbon
Darice Embossing Folder
We are celebrating the Holidays with some TIM HOLTZ KRAFT-CORE! Did you know that KRaft-Core comes in TWO collections?  Both the Nostaglic collection and the Shattered Collection. Both come in 12″ and 6″ assorted packs, so perfect for any paper crafter.
We have a giveaway for you, too! Want your very own SIGNED copy from Tim Holtz himself???
 Well we have a treat for YOU…HURRY you only have until Sunday. Click on the image and then enter to WIN!
Today we have designer Vivian Keh working her Tim Holtz magic!
Hello Core fans! Vivian Keh here to share with you a new adventure for me in papercrafting. I've never done a December Daily before, mostly because what I've seen online has very much revolved around kids' experiences of this very special month, and our "kids" are only of the furry type. But my friend, Gwen, encouraged me to do one. So here I am today to share a bit of my project with you and hopefully inspire your Core crafting! Mine is going to be a gift for my man, and it's going to be a collection of everyday bits in the cherished life we share, featuring details that others might perceive as mundane, but which are quite precious to us.
Since it's a gift for hubbie, I decided to keep the palette masculine, using primarily Core'dinations cardstock from our Tim Holtz "Shattered" and "Seasonal Impressions" Collections. For this effect, I embossed pieces of various sizes with a number of Sizzix embossing folders, and also used Core pieces that were already embossed straight out of the package. After sanding and distressing the pieces, they were stitched into a patchwork.
This is a detail of the front patchwork, which was stitched onto a piece of printer paper so as not to add bulk, and then mod-podged as one piece onto chipboard.
And the back. On occasion, I will reach for the shimmery stuff, and this Christmas I have been doing quite a lot of it. But initially, I wasn't inclined to glitz up this project. My crafting buddy, Gwen, threw some Core'dinations Glitter Silk bells on top. Lo and behold, it totally worked and infused this project with holiday cheer!
I adhered several gold fibers to carry the gold throughout the composition, and added a bit of cream to contrast the more deeply hued palette.
The completed front…
And the back…
If you are interested, I have a few pages to share today as well! The inside cover has my little dedication.
Core'dinations' Kraft Core Seasonal Impressions have a lovely variety of typography already embossed into the cardstock. I sanded to reveal the beautiful patterns, added a bit of distress ink on the edges, and a few embellishments.
December 1st was all about getting the house ready for my in-laws who are all visiting on Christmas Day. Folks, the house isn't furnished yet! So we have been busy "swatching," painting, IKEA-ing, and sneaking meals in between. This page features Core'dinations Jenni Bowlin Red and Black Collection, which in my opinion is perfect for holiday crafting!
This is my page for December 3rd. A new habit the two of us have picked up is doing the crossword mornings when hubbie doesn't have to rush off. Each of us have different strengths, which makes collaborating on the more difficult puzzles so much fun. Many of these crossword squares were cut from scraps of pieces I had used for the covers.
The journaling is on a canvas texture Core tag that is pinned and removable.
Usually we walk the pooches in the morning together, unless my guy has an early morning meeting. December 4th was such a day, so I took a longer route, allowed the dogs to linger and sniff some more, picked up some lovely acorns that are all falling from the trees right now. We've got grey squirrels here, and black ones, too. The squirrelys go nuts for the nuts and the dogs go nuts over the squirrels lol! I die-cut these using my Silhouette Cameo and File #11205 from Hero Arts, placing patches of textured Core and patterned paper to fill in the negative space.
I hope you enjoyed my December Daily share today! I will be posting more of it as December barrels ahead on my blog!
Happy Holidays!
-Vivian
SUPPLIES:
Core'dinations -
Tim Holtz Shattered Kraft Core Collection
Tim Holtz Seasonal Impressions Collection
Jenni Bowlin Red and Black Collection
Core Tags
Sand It Gadget, Dust Buddy
Sizzix – all dies and Embossing folders
Hampton Art – stamps
Ranger – distress ink, Stickles
Memento – dye ink
Authentique – patterned paper
Really Reasonable Ribbon – fibers
Little Yellow Bicycle – Alphas
Silhouette – cutting file #11205 from Hero Arts
Martha Stewart – Snowflake edger punch
EK Success – Notebook edger punch
Fiskars – small heart punch