Hi Everyone! Gail Lindner here…. I had a simple design in mind using ONLY Core'dinations cardstock and looked to Pinterest for some fun color combinations! I came up with four combinatons and made several of each in one big creating session!
I cut the sentiment "Thanks" out using my Silhouette Cameo but wanted it to stand out from the background. I saw the trick of cutting out several and layering them during some blog hopping and it really was a quick way of adding dimension that you can see in the following close up photo.
Because the writing is quite detailed and fine, using pop dots would not only be time consuming but would also not be sturdy enough. I simply cut multiple words out of a full sheet of white cardstock and ended up adhering four layers to give it enough dimension.
I've also used techniques such as embossing, sanding, distressing and folding to add interest and dimension.
It sure feels good to have a nice collection of thank you cards handy again!
Supply List – Gail February Project #3 – Thank You Cards
Core Cardstock:
Pool, Lemonade, Stonewashed, Sunset Orange (Tim Holtz Adirondack)
Snowflake, Cityscape (Neutrals)
Navy (Darks)
Rusty Hinge, Tumbled Glass (Tim Holtz Distress)
Spring Green (Graphic 45)
Aruba (Pastels)
110lb White Premium Cardstock
Sand It Gadget
Dust Buddy
Big Shot
Lifestyle Crafts Embossing Folder
Silhouette Cameo
Thirsy Script Font
~~~~~~~~~~~~~~~~~~~~~~~~~~~~~~~~~~~~~~~~~~~~~~~~
It's Gail here again!  I'm putting some creative energy to work to create some layouts and things for our sweet baby #3. Here's a layout documenting some thoughts on late pregnancy, using one of my favourite color combinations of Core cardstock!
For this layout, I started with the idea of placing different colored squares of Core'dinations cardstock over my background, varying the size and texture of each one.
I started by just cutting some squares in various sizes and playing with the placement. You can see I've created a few visual triangles to balance the layout – mainly with the three squares of the navy and light pink cardstock.
You can see a couple of fun embossing folders that I've used on the squares! As usual, a quick sand to reveal the core brings them to life!
For the title and accents on my layout, I put my Silhouette Cameo cutter to good use and cut a variety of hearts and arrows in the same colours as the squares and scattered them, raising some on pop dots.
My title was also cut with the Cameo using my favorite font: Thirsty Script. You'll find it works wonderfully with the Core cardstock!
Supply List – Gail February Project #1 – Almost Layout
Core Cardstock:
Snowflake, French Roast (neutrals)
Navy (darks)
Love Potion (brights)
Spun Sugar (Tim Holtz &Ranger Distress cardstock)
Sand It Gadget
Dust Buddy
Big Shot
Cuttlebug & Darice embossing folders
Silhouette Cameo
Cut Files: Arrows, 8 Thin Arrows, Echo Park Heart
Thirsty Script font
COLOR and BUTTERFLIES and GIRAFFES, right??? Jennifer Edwardson is sharing her love of Core with us today. I just can't get enough of all the sanding and embossing!
~~~~~~~~~~~~~~~~~~~~
Hi there! Jill from Every Day is an Occasion (http://everydayisanoccasion.com/) here to share a very colorful layout with you today! I normally do not make layouts as busy as this, but I wanted to step out of my comfort zone and go for it!
Colorful Core Layout

To create this layout, the first thing I did was take out my trusty 110lb 12×12 White Core. My favorite cardstock on the planet earth by the way! I had my son and daughter paint it with water colors they got with a coloring book. I wanted a random background and since they are always asking to paint, I thought this was the perfect opportunity. After the paper was dry, I trimmed 1/2 in. off each side and adhered it to the light blue Gemstones Core.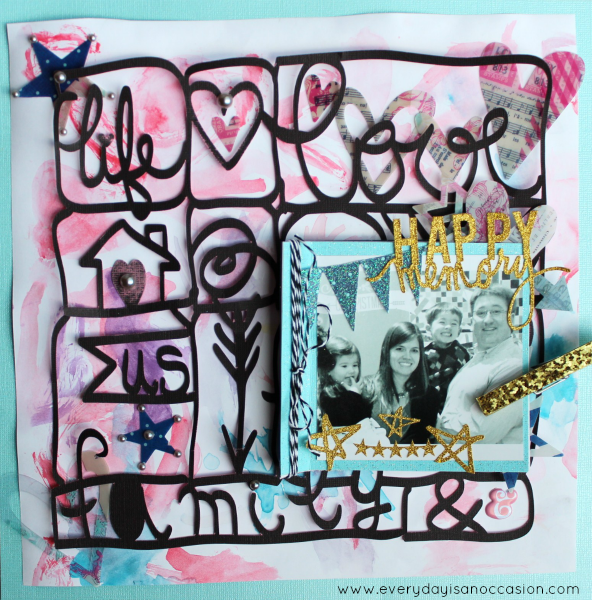 Then using Black Magic Core I cut out this shape with my Silhouette. How amazing is the Black Magic Core? After I cut out the shape the beautiful purpley color showed through on the edges as if I had inked the edges all the way around. Nope, I didn't, it's just the beautiful Black Magic core showing through! Then using my Sand It tool I sanded away on the hearts because I wanted the purple to show through. I chose the hearts to sand because I wanted to make a statement with them. You know, like when you were a kid and would make a heart as the dot for an "i" and then color it in. Did you do that? Maybe that was just me, but sanding those hearts reminded me of that. Seriously though, that is the great thing about the Black Magic Core, certain shapes can stand out simply by sanding them.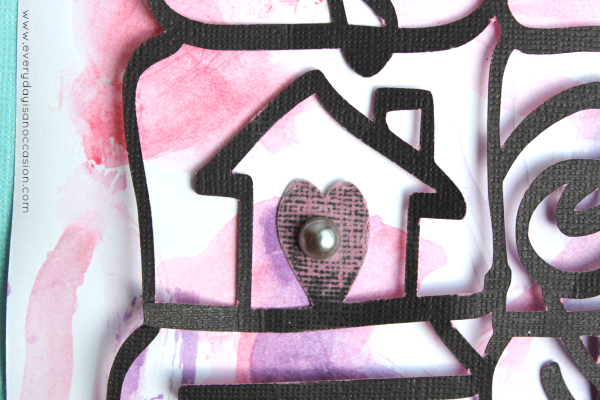 On this layout, I loved the fact that the core I used 6×6 Glitter Core to create the mini book on the album. I simply cut the pages down to 4×4 in. and stapled them together on the left hand side. I then took some We R Memory Keepers Sew easy twine and wrapped it around the book so you couldn't see the staples. I also stapled the book to the layout before I added the picture on the last page. Once I added the picture on the last, you couldn't see the staples anymore. I simply took a glitter clothespin I got from Michaels and used it to close the book. Below are the pages inside of the mini album. I used some Heidi Swapp Hello Today from Michaels to embellish the pages. I love using Core and Heidi Swapp products. They go perfectly together.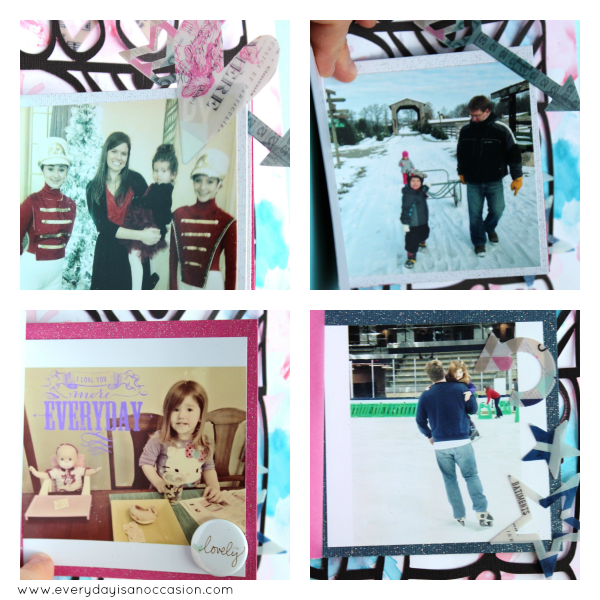 Below are some close ups of how nicely the Silhouette cut through the Black Magic Core and some Heidi Swapp embellishments.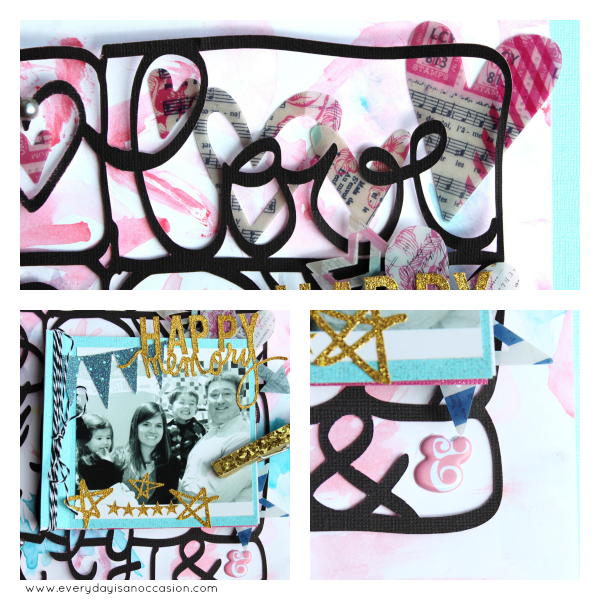 Thanks for stopping by today! Have a SUPER fun day!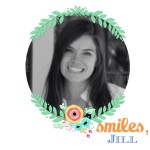 Hi! Jill from Every Day is an Occasion  here to share a St. Patrick's Day Craft with you. Seriously, how much fun is St. Patrick's Day? We love it here in Notre Dame country! Today I have a cute little kids treat and then I decided to make a grown up version of it too! There are 2 free printables for you, so just click on the links and download!
Rainbow Seeds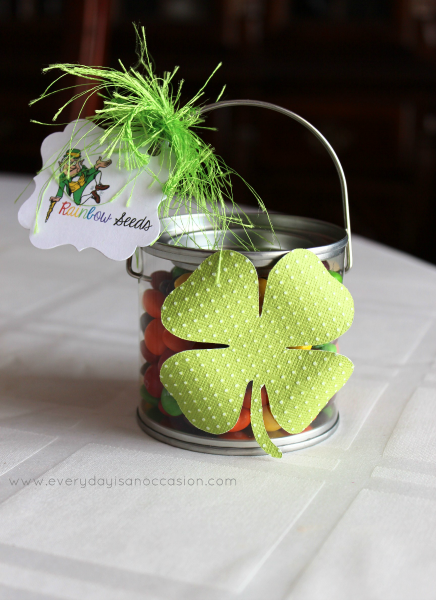 To create these rainbow seeds, I used a pail from Darice and filled it with Skittles. Then I used this cut from the Silhouette store to cut out a shamrock on Spotted Core. If you do not have a Silhouette fear not, here is a template for you to cut some out. Then I sanded the core with my Sand-It tool. I just love how it makes the spots pop just by sanding it!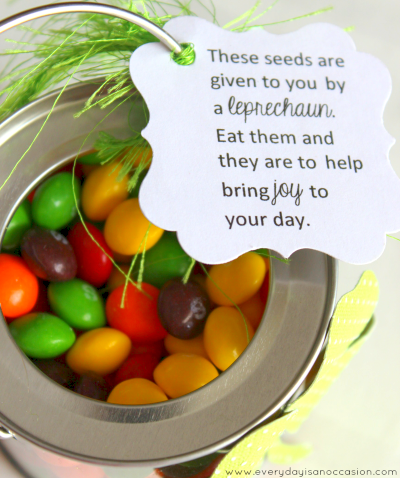 Then I used some fun fur to tie around the handle and this free printable on my blog. To print the free printable, I used Core'dinations 8 1/2×11 white 110 lb cardstock. My printer loves it!! To create the flourish cut around the leprechaun tag, I used this Flourish Slim punch from Hobby Lobby. That's it pretty easy peasy.
St. Patrick's Day Treat
Here is another St. Patrick's Day treat idea that is for a different age range.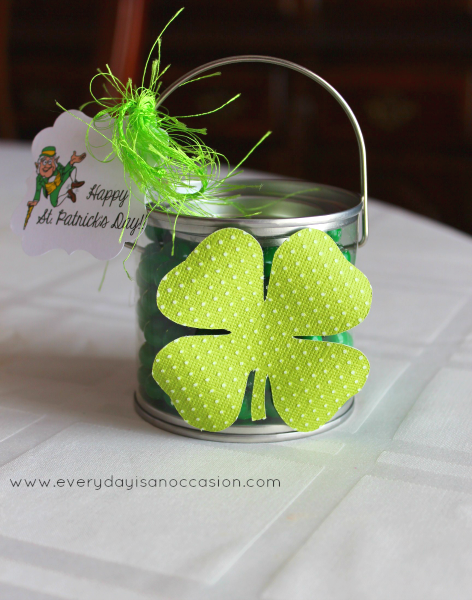 This was created the same way as I mentioned above, but I used Sixlets from Darice and a printable I created, which you can download here… Happy St. Patrick's Day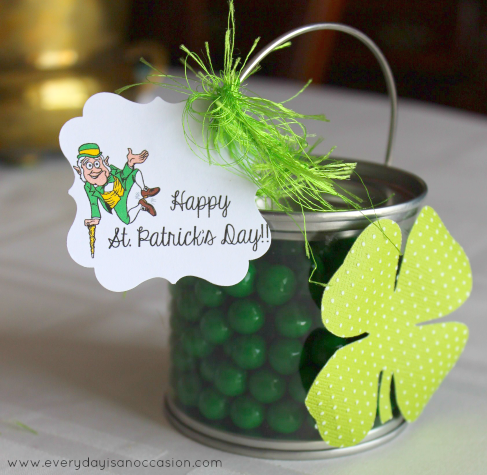 Thanks a bunch for stopping by and checking out my projects!
I hope that you are able to use the free printable with some 110 lb white core!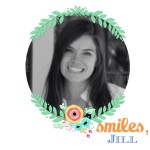 ~~~~~~~~~~~~~~~~~~~~~~~~~~~~~~~~~
And we have a layout from Jennifer Edwardson! See we are LUCKY!!! Here is a little bit about this layout from Jennifer….
I found this lucky clover placemat cut file at the Silhouette online store and thought it would super fun on a 12 x 12″ layout.
Spotted Jillian Dot Cardstock – Snowflake

Signature Series Graphic 45 – Spring Green

Sand It Gadget

Dust Buddy

Misc: Bella Blvd. journaling card & chip alphas
Nothing sets the stage for a holiday like a banner! Core'dinations has the PERFECT color for you for all your St Patrick's Day needs…it's Shamrock Green!
Mary Pat Siehl created this banner just for us today…ENJOY! 
~~~~~~~~~~~~~~~~~~~~~~
Here is a close up of a banner piece.  You can see all the glitter and the fun embossing.
As I mentioned before I love dimension and here is a close up of the layers of all the pieces.  This really makes it Pop!
Silhouette- Design ID #20957 and Arial Font in Bold
Ribbon
Today Debbie Standard is working some of her magic with some CUTE cards!
May Arts Ribbon
Maya Road Pin
Silhouette Die cut
Darice Embossing Folder
Cuttlebug Embossing Machine
Dust Buddy
Sand It Gadget
Queen & Co. Bling