Hi! Jill from Every Day is an Occasion  here to share a St. Patrick's Day Craft with you. Seriously, how much fun is St. Patrick's Day? We love it here in Notre Dame country! Today I have a cute little kids treat and then I decided to make a grown up version of it too! There are 2 free printables for you, so just click on the links and download!
Rainbow Seeds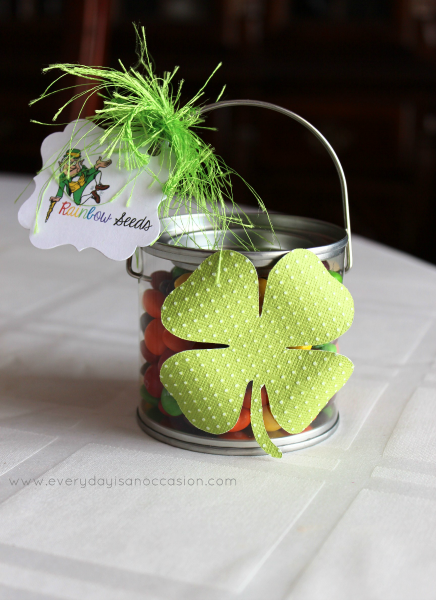 To create these rainbow seeds, I used a pail from Darice and filled it with Skittles. Then I used this cut from the Silhouette store to cut out a shamrock on Spotted Core. If you do not have a Silhouette fear not, here is a template for you to cut some out. Then I sanded the core with my Sand-It tool. I just love how it makes the spots pop just by sanding it!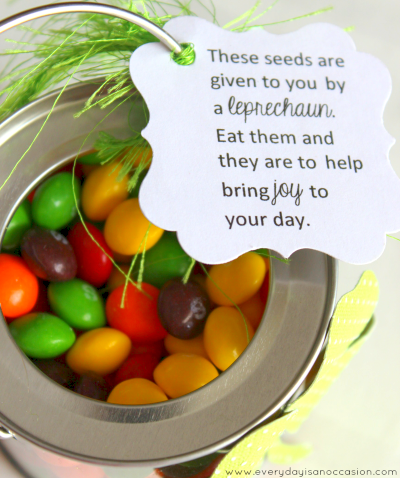 Then I used some fun fur to tie around the handle and this free printable on my blog. To print the free printable, I used Core'dinations 8 1/2×11 white 110 lb cardstock. My printer loves it!! To create the flourish cut around the leprechaun tag, I used this Flourish Slim punch from Hobby Lobby. That's it pretty easy peasy.
St. Patrick's Day Treat
Here is another St. Patrick's Day treat idea that is for a different age range.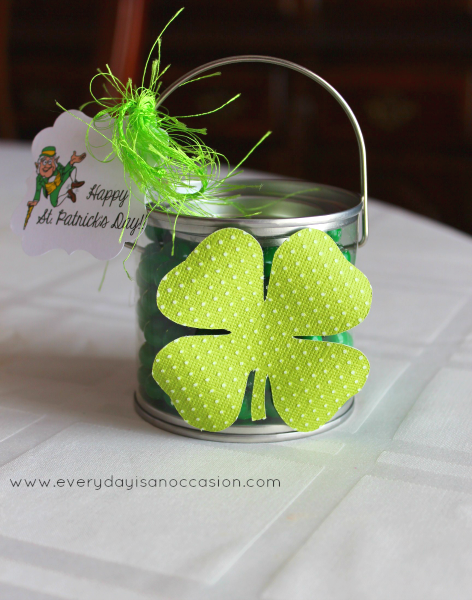 This was created the same way as I mentioned above, but I used Sixlets from Darice and a printable I created, which you can download here… Happy St. Patrick's Day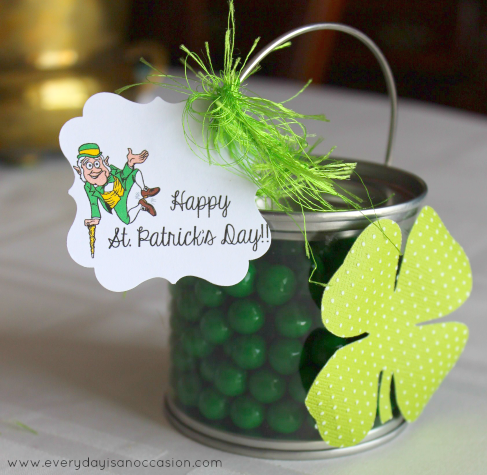 Thanks a bunch for stopping by and checking out my projects!
I hope that you are able to use the free printable with some 110 lb white core!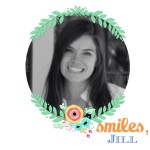 ~~~~~~~~~~~~~~~~~~~~~~~~~~~~~~~~~
And we have a layout from Jennifer Edwardson! See we are LUCKY!!! Here is a little bit about this layout from Jennifer….
I found this lucky clover placemat cut file at the Silhouette online store and thought it would super fun on a 12 x 12″ layout.
Spotted Jillian Dot Cardstock – Snowflake

Signature Series Graphic 45 – Spring Green

Sand It Gadget

Dust Buddy

Misc: Bella Blvd. journaling card & chip alphas
Who is ready for some Valentines Inspo?  We are gearing up for week FULL of amazing projects from our Design Team just for YOU!
These are all quick and easy ideas that you can do in no time for that sweet someone in your life! Let's start it off with Clare Buswell….
Cut Silhouette files from Fuchsia Fizz and white Core. Emboss envelopes with Rosa folder, sand using Sand-It Gadget. Assemble and stamp sentiment and hearts. Add baker's twine as closure for envelopes.
How cute are those interlocking hearts?
Core'dinations – Fuchsia Fizz, Core Essentials Neutrals, Sand-It Gadget and Dust Buddy.
Silhouette files – Card Interlocking Lace Heart and Envelope Set #53860, Silhouette Portrait, Cutttlebug Anna Griffin embossing folder Rosa, Big Shot, Memento Luxe Love Letter, Waltzingmouse Stamps – My Heart, Nordic Winter stamp sets, baker's twine.
And Clare isn't done yet!
We are here hopping again all week long! So if you didn't see your name on our winner list last week, you still have a chance to win. Just comment on the Designer blogs from both companies for a chance to win.
Don't forget to LIKE our Facebook pages! We have addtional content over there we don't always share here.
Core Facebook and Tombow Facebook
Here is the Lineup for Wednesday:
Jennie
Mary Pat Siehl
Vivian Keh 
Debbie Standard
Kate Nolan-Denham 

If you get lost just come back here or head over to the Tombow blog.
And a look at what is up for grabs from Core (win this by commenting on the Core blogs.)
Subject to availability. Winner will be notified if we are out of stock of anything.
And from Tombow you can win (win this by commenting on Tombow blog and designer blogs)
Tombow prize will include:
· New Power Tabs 
· New Foam Tabs
· New Fastener Tabs 
· Mono Glue Pen
If you missed yesterday here you go. Hurry up because we will be picking winners Friday the 16th!
Tuesday:

Tracy Gruber
Suzanna Lee 
Jill Lebbin
And Today we have a project for from Designer Shaunte Wadley!
She made this super cute box featuring LOADS of Core'dinations and Tombow. In order to make a project like this that is completely out of cardstock, you need some good adhesive!
Shaunte used Lifestyle Crafts for her dies (flowers, bird, letters).
Supplies:
Darice Embossing folder
Every month we challenge our designers to try new things. It might be a collection pack, techniques…something different just to get those creative juices flowing.  So for July, we challenged our designers to use the Brights Collection pack and to do some fussy cutting for some added interest. Cut those stamps…cut those embossed images…you name it the sky is the limit!
 The Brights collection pack is the PERFECT color palette for all your summer layouts and projects! Don't be afraid of those bright colors..embrace them!
First up we have a tutorial from Designer Kate Nolan-Denham on how she cut out some stamped images from her Brights Cardstock. This is a super easy way to create your own embellishments, don't you think?
Stamp directly on the Core texture side. Looks awesome!
LOVE that thick outlined image you get from the stamping…
And since circles seem to be a theme for a lot of our team right now, we thought we would share a layout from Design Team Member Gail Linder using our Brights Collection pack for this very challenge as well! Here is a little bit about this layout from Gail:
Core Brights – Tulip, Heartfelt
Core Neutrals – Chocolate Mocha
Core Pastels – Reflecting Pool, Scotch
Graphic 45 Signature Series – Precious Pink
Tim Holtz Distress Core – Spiced Marmalade
Sand It Gadget
Dust Buddy
Darice and Cuttlebug Embossing Folders
Big Shot
Silhouette Cameo and cutting files
Patterned paper
Okay, well, Gail didn't fussy cut her own details but you get the idea. We LOVE our Silhouette Cameo here at Core. There are so many amazing things you can do with it!
~~~~~~~~~~~~~~~~~~~~~~~~
And one from Design Team Member Debbie Standard. Debbie anchored her Brights Collection with some Whitewash. And how about all that embossing and sanding! Fabulous…every detail is just amazing!  Debbie combines multiple embossing folders form Darice, her Fiskars Paper crimper,  outlining on the layout base, die cuts….you name it!
Stay tuned for tomorrow for some more fun in the sun layouts with our Brights Collection pack!
Hope you are ready for a GREAT weekend! Today we have some great layouts from Designer Mary Pat Siehl.  Here is a littl bit about these projects from Mary herself.
I love trying new techniques and Core Cardstock is just so perfect for everything. I love how it handles the different types of medium. For my project I first sanded the Spotted Cardstock. I then applied a light amount of paint. I then tore the cardstock to expose the Core. I then cut several embellishments using my Silhouette out of the Core and I lightly sanded them. ( I don't know about you but I love making my own embellies!). Finally I added some of the new Smooth Core Tags. I am really addicted them right now!
Supply list:
Cardstock- Tim Hotlz Distress Collection, Spotted 12×12
Tags- Core Smooth Tags
paper- Fancy Pants
Die Cut Tags- Elle's Studio
wood veneer- freckled fawn
Misc. Paint
Sewing Machine
Silhouette
Sand It
Dust Buddy
And another layout working that Cosmo Cricket Core Impressions….
 Supply list:
paper- American Crafts, Elle's Studio
Vellum – American Crafts
flair- a flair for buttons
twine- the stringery
wood veneer- studio calico and freckled fawn
alphabet stickers- jillibean soup and Glitz
Silhouette
Embossing folder- cuttlebug
Sand it
Dust Buddy
Not sure about you but wedding season is in full swing for us in the summer and today Designer Gail Linder has some gorgeous engagement cards for you today.  Gail mixes and matches our cardstock brilliantly! Glitter Silk and Chocolate Box?  Fabulous!
Here is a little bit about these gorgeous cards from Gail:
I've had a couple of family members announce engagements recently so I created a couple of cards to celebrate the good news! I started by choosing a gorgeous card from the Chocolate Box collection and cutting a couple of designs out from my Cameo. In the end I settled on the fun sunburst and polaroid and went from there!
For the blue card, I chose the background from the Gemstone collection as the gave it an elegant feel. I've embossed the background and adhered my sanded polaroid over the top with pop dots, adding some patterned paper and a red Gemstone card underneath the cut out pieces.
Similarly, behind the sanded sunburst (be careful sanding the fine frame) I used a pink Glittersilk card to add a bit of elegance. The leaves were die cut from Gemstone cardstock also and the project was completed with the fun pink flower!
So there you have two card designs, made into elegant engagement cards by using specialty cardstock but imagine the same designs in different colors for any occasion!
Glittersilk 6×6 cardstock
Chocolate Box cardstock
Core Bookmark
Sand It Gadget
Dust Buddy
Cameo
Hero Arts Stamp
Ranger Distress Inks
PTI leaf die
Manor House flower
queen& Co Pearls
Chocolate Box cardstock
Core Bookmark
Sand It Gadges
Dust Buddy
Cameo
Cuttlebug embossing folder
Big Shot
Hero Arts Stamp
Ranger Distress Inks
flowers