I mean, what doesn't scream Valentine's Day like glitter cardstock?  Well, Core'dinations has some amazing lines for you! Our Gemstones, Glitter Silk and Core Couture are the BEST glitter cardstocks out there. And don't forget about Tim Holtz Seasonal Impressions. There are sheets in there for all those major holidays.
Let's check out some amazing projects from Suzanna Lee!
~~~~~~~~~~~~~~~~~~~~~~~~~~~~~
Love is in the air! Actually love is amidst glittery and shimmering X's and O'x on this tri-fold card! What better way to get in the mood for Valentine's Day than with glitter and hearts?
Supplies
Die: Sizzix/Stephanie Barnard
Stamp: Hampton Arts
Paperclip: Websters
Cut file created from Ali Edward's brush
Silhouette Cameo
~~~~~~~~~~~~~~~~~~~~~~~~~~~~~~~~~~
That day of sweet notes and sweet treats is around the corner and today I have a layout to share with you showcasing the Valentine's paper of the Seasonal Impressions collection. I love selectively sanding the words that work with and support my layout. It's almost like having a piece of patterned paper for a background.
Check out how cool the dots look along the letters:
And look at all that texture!
Supplies
Kraft-Core Seasonal Impressions
Cut Files; Layered Heart (#37620), Heart Clips (#53821, modified), Hugs, Kisses both created from Heidi Swapp brushes
Punches: Martha Stewart
Tag: Chic Tags
Twine: American Crafts
iRock and Hot Rocks: Imaginisce
I love to make clean and simple layouts that really focus on the photo and cardstock.  For my layout I started with my Core Essentials Snowflake and misted it lightly with a light teal color.  I then used my Silhouette and cut some winter trees.  I then tore the edges to expose the wonderful Core.  I then took a green color and tore that and layered the colors making a border at the top and bottom.  Next I took the green and embossed it and lightly sanded it with a snowflake pattern to frame mat my photo. Finally I cut out a 3×4 card with the title and to carry the theme of trees I cut out a tree. I then added some snowflake wood veneers.  I just love the Clean and Simple look!
Supply list:
Couture Creations
Studio Calico
Silhouette ID # 14779
~~~~~~~~~~~~~~~~~~~~~~
I love to make my own Christmas cards and Core'dinations is just perfect for them!  For my first card I used Core Impressions and lightly sanded.   Next I cut my Tim Holtz Distress collection and cut the word Believe and a circle using my Silhouette.  I then lightly sanded it.  Next I cut my snowflake out using my Silhouette and placed it in the center of my card.  Then typical to my style I added a touch of bling to the center.  To finish it off I added some yummy solid twine from May Arts.  
My second card I wanted to bling it up using the Core Couture Glitter andGlitter Silk collections.  Did you know that these two cardstocks work perfectly in the Silhouette.  Yup, they do and I made this card using the Silhouette base.  The glitter collections ROCK for making a Christmas tree.  To add a touch more of bling I added some sequins.  
Supplies
Silhouette Design ID #50419
Sequins
Twine- May Arts
Bling- Hero Arts
Today we have designer Jill Lebbin with a super fun craft to do with your kiddos that is not only festive but cute! Who doesn't love teepees?!??!
Jill from Every Day is an Occasion here to share a Kids Core project with you today! My son, daughter and I made Tepees out of white Core! How cute are these?
Core Tepees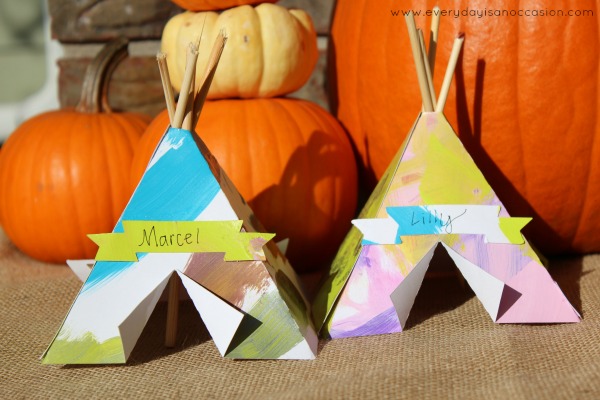 To create these tepees, I use Coredinations 12×12 white paper, this silhouette cut, Americana multi-surface paint, bamboo skewers, Elmers Craft Bond glue.
First, I had my kids paint the Core paper and we let it dry. Then, I put the paper through the silhouette cameo and cut it out using the this cut. If you don't have a Silhouette, you could cut four triangles and add little tabs (or a section to fold over so you can adhere them) to the triangles and glue the sides together. Then we cut bamboo skewers in half so they would fit in the opening. You can embellish these, stamp them or add litte name plates like I did. That's it!
I fond my inspiration from this blog, that artist that woman so you can check out and she has a downloadable pdf you can use to make these on your own for Thanksgivingif you don't have a Silhouette. We are going to use these tepees at our Thanksgiving table as place cards! So excited! My son had a blast putting this together!
Have a great day! Smiles, Jill
~~~~~~~~~~~~~~~~~~~~~~~~~~~~
And crafting with your kids doesn't have to be downloads. Simple handcut circles like this are all you need to make cute catepillars like this one from Heather Kaesgan. Her son LOVES to craft with her and this is the CUTEST! Right side, wrong side, stamping…anything goes with this!