We still have weeks more of winter, but I am already yearning for the warmer days of spring. I adore the bright and beautiful flowers of the season, and find that they lift my spirits like nothing else.  I find that I often start making cheerful projects to help me get over the winter blues.  This fun card is sure to brighten someone's day as well.
Flower Pot Card Supplies:
Vellum Quotes and Titles Sentiments
Punch Bunch – Small Cherry Blossom, Large Cherry Blossom, Medium Birch Leaf
Heartfelt Creations Decorative Flower Pot Die
Scor-Tape, Scor-Pal
May Arts Ribbon KB-33
Adhesive Pearls
Step 1.  Score a piece of cardstock along the top edge of the card base (large enough to accommodate the flower pot die).  Tape the die so the top cutting edge is off of the cardstock, and cut.
Step 2.  Die cut the smaller sized flower pot and distress the surface with the Sand-It Gadget.
Step 3.  Machine stitch the smaller pot onto the larger one, leaving the top open to form a pocket.
Step 4.  Decorate the flower pot with die cuts and ribbons.
Step 5.  Use the smaller die to draw a line to trim a large tag, so that it will fit into the pocket, while leaving enough visible at the top to add flowers.
Step 6.  Decorate the tag with flowers, ribbon and vellum sentiment.
Step 7.  Slide into the pocket to finish.
I hope that I have put a little spring into your day! Thanks for stopping by.
~Gini
Hi! Jill from Every Day is an Occasion  here to share some Clean and Simple Spring Cards with you. These cards are so beautiful and yet so simple!!
Clean and Simple Spring Cards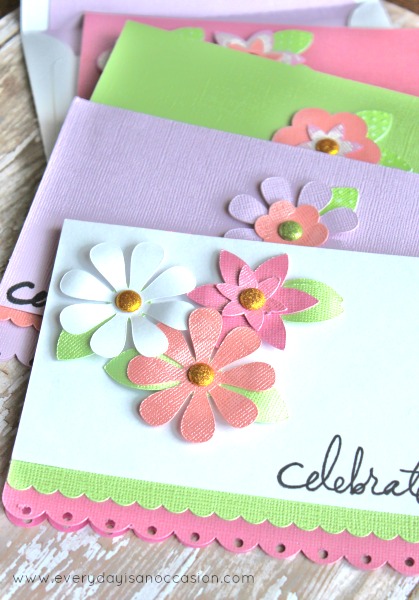 To make these cards, I used this Silhouette Cut. Then I used all different colors from the Gemstones Pack, Green Spotted Core, Whitewash Core, and the 110 lb White Core. The best way I have found to make a bunch of cards is to use the cut on several different colors but only one color at a time and then mix and match the colors.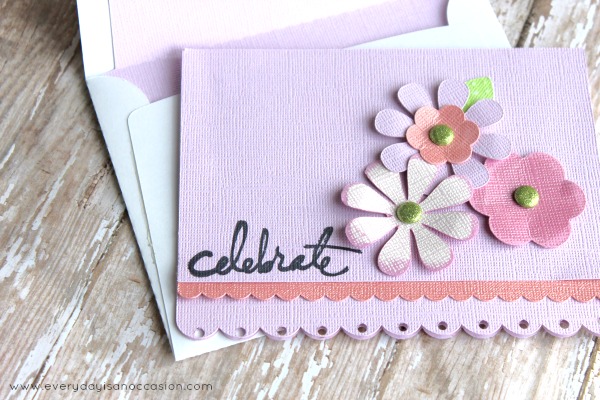 I just love sanding the tips of the Whitewash Core. The color shows through so vividly.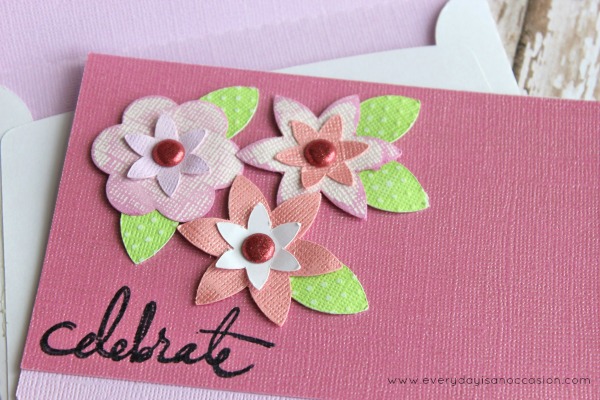 I used the Green Spotted Core for the leaves. It is really fun to sand and really gives the card that pop.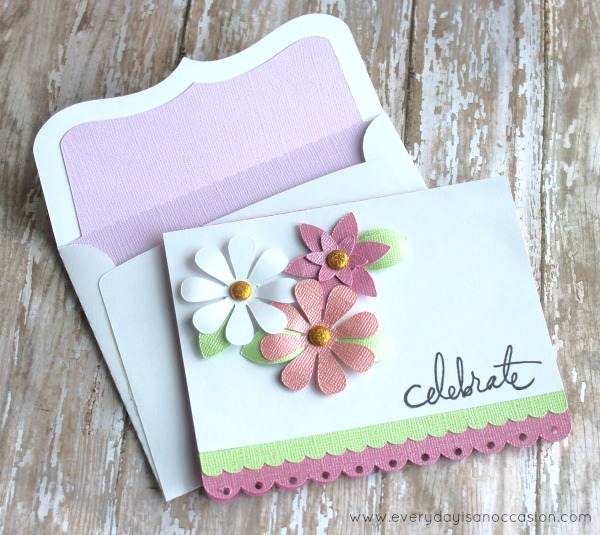 I made envelopes and liners with each card. I used a Pastels, 110 lb White Core, and this Silhouette Cut to make envelopes and liners.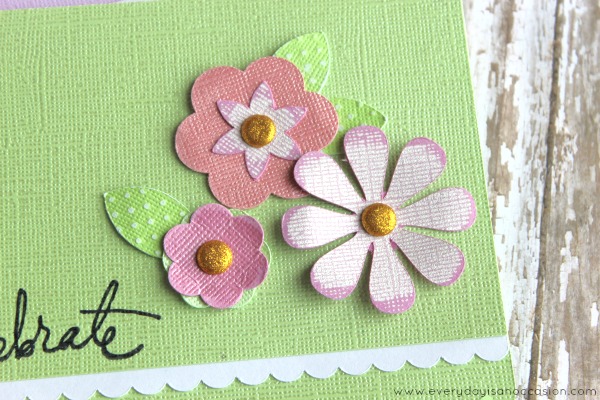 Thanks so much for stopping by and checking out my Clean and Simple Spring Cards!