We normally do our Tutorials on Tuesday BUT in honor of Earth Day we have a really great project from Designer Lydia Jackson using her Core. For this project Lydia used the BRAND NEW Graphic 45 lights collection. The colors of this line are beautiful.
Last week Lydia posted this layout where she printed directly on her cardstock. Once she printed it, she realized that it was too small so it went into the scrap pile.
Hmmm..what to do …what to do?  Well, her to crafty little guys figured it out! Punch it, emboss it and then sand it for the perfect card!
And a close-up:
Queen & Co Pearls, Jenni Bowlin Studios Butterfly, SRM stickers.
Design Team Member Debbie Standard uses Core in the most magical ways! Did I say layouts only?  ooooops…I am going to squeak in a card there, too. 🙂
Check out how she used the Tim Holtz Kraft Core Shattered Collection today.
First up:  Embossed AND Sanded 🙂
See sketch for this card here.
And a bit of everything on this layout…some sanded die cuts…some embossing and sanding….edge distressing…you name it! It's perfection.
And another layout from Debbie using some of the scraps from the card above on here and some Tim Holtz KRaft Core Seasonal Impressions…love how these core'dinate, don't you?
Are you ready for next week?
We sure are! Grab your blinkie and let us see it! Post it on your blogs, use it as your profile pics, avatars..anywhere and come back here or post on Facebook with what you did to get entered to WIN some goodies! And don't forget…we are chatting away on our Facebook event page here. We will have all the rules and guidelines posted tomorrow so stay close! Remember…all you need is some Core'dinations Cardstock to participate.
Here is the link for the blinkie or you can right click on the image below and get it that way…whatever is easiest for you.  http://i121.photobucket.com/albums/o227/howdee347/blinkies/CoreBlinkie_HCCropper_300pix.gif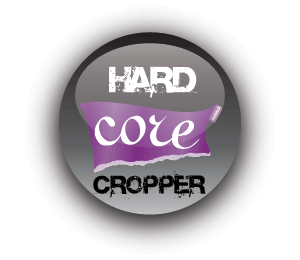 Have you seen our new Darks collection pack?  I just love how everything we have core'dinates. We have the Darks colors in 12×12, Core Cards AND the Cut & Emboss series. Design Team member Lydia Jackson used all of these on this card so you can create
ANY project without any work…we core'dinate the colors for you!
We are so excited to be sharing this week of May Arts, Petaloo AND Core'dinations with you!
It is over  already?  That is how time flies around here especially when you are having fun and being inspired. We love Fridays around here, too! Why is that? Well, it's ANOTHER day to comment to win win win!
THREE awesome companies have come together to inspire you. And our teams have been working hard to create some festive projects for you, too. It's all about the Holidays. From Halloween to Thanksgiving and even Christmas…you will see festive projects to get those creative juices flowing and hopefully give you some ideas for this time of year.
And of course…there are give-a-ways!!! All three companies will giving away tons and tons of goodies this week so make sure you head over to the Petaloo Blog and May Arts Blog for details and inspirational projects. Don't forget about Facebook! Join us on our Facebook page here, the May Arts and Petaloo pages, too, for additional chances to win. Make sure you tell them we sent you!
Don't forget to comment all week long for a chance win a Core'dinations prize pack! And head over to our Facebook page…you never know when we offer up another chance to win.
Did you know that Core'dinations and Petaloo have a color matching program? We sure do! We did all the hard work so that you can easily match your favorite Core Colors with favorite Petaloo flowers. How easy is that???
Today we have a variety of projects for you.
First up Design Team Member Kim Jeffress with a gorgeous wall hanging. There is nothing like some warm fall colors to brighten up any room.
This project is the perfect example of the Core'dinations and Petaloo color matching program.
And how much do you love  the colors of this card from Design Team Member Char Dobson???  Gorgeous gorgeous! I just love Core. You know why?  Because you can emboss it on your own or use the Core Impressions like Char did on this card. She embossed a piece of Core Essentials in orange and then used a piece of BasicGrey in Mantis on the bottom.  Again…the flowers match perfectly!
And Design Team Member Melissa Oliveira has another fun Fall project for us. She altered a bucket she had lying around the house with some beautiful details. Melissa used her Spellbinders dies in addtion to May  Arts Ribbon and Petaloo flowers. The great thing about these flowers is that you can color them!  Melissa used Tim Holtz Distress ink on the flowers because they were a little bright for the  fall color scheme. Again, just perfect for ANY project.
And Design Team Member Leica Forrest created this soft and feminine layout for us today. Nothing screams little girl like pink , flowers and ribbon! The base is Pink Paislee Core Impressions.
We had a great week of Helmar and Core'dinations Teaming up for some fabulous inspiration!!!!  Make sure you head over to their blog, too. The Helmar blog is jam packed with inspiration this week!!! We are by no means done featuring projects using these great adhesives so make sure you stop by for more in the future. AND today is the LAST day to comment to win some of our fabulous cardstock. You can comment every day for more chances to win.
AND they have an awesome  Facebook Page . P.S. tell them thanks for a fabulous week!  AND CHECK  IT OUT!!! HELMAR IS OFFERING A CHANCE TO WIN, TOO!!!
Today is our grande finale…it's kinda like a fireworks show. So keep scrolling for some awesome designs using Core'dinations and Helmar Adhesives!  Can you tell our Design team likes the Zap Dots from Helmar? If you haven't used them YOU MUST! They should be a staple in every crafter's collection.
We will start off from a gorgeous layout from Design Team member Cari Locken featuring an awesome mix of our different collections. She included the Core Amour Onyx Collection, Cosmo Cricket Core Impressions, Vintage and Core Jenni Bowlin Impressions.
Here is a close-up of how Cari cut the Jenni Bowlin letters from the alpha cardstock and raised them with the Helmar Zap dots:
Next up Design team member Sarah Hodginkson has some super cute invites with Helmar Zap dots, tape runner and SRM STickers and Core Essentials Cardstock:
A super cool layout from Design Team Member Hera Frei (even thought it's about getting stuck in a Hurricane!). Hera adhered the clouds in various layers with Helmar Zap dots and used her Helmar Tape Runner. Also Hera used the  Core Impressions for the clouds. SO easy…just punch them out and they are embossed and ready to go!
And a card from Design Team member Ellen Sosnoski using some, yep! You guessed it…Helmar Zap dots on the sentiment and 450 Quick Dry Adhesive for the tag and ribbon (also a mix of Vintage Cardstock and Jenni Bowlin Core Impressions):
We will choose a random winner from all the comments this weekend. Thanks so much!
Welcome to our First Ever 12 Days of Techniques. We are excited to share with you some of our favorite techniques using our unique color core cardstock. Each day a Design Team member is going to share a project featuring a technique with Core'dinations cardstock. We have TWELVE unique and amazing days lined up for you leading right into Christmas Eve Day.
In case you are just joining us today here is what we covered so far:
Day One: Sanding
Day Two: Tearing
Day Three: Embossing
Day Four: Debossing
Each day we will be giving away a great selection of Core'dinations ! Each prize will also receive a Dust Buddy and our NEW Sand It Gadget! And today we have one of our favorite sponsors and they have a prize for you in addition to the Core'dinations prize pack!
Todays Winner will also receive this an edge distressor from none other than Mr. Tim Holtz! PLEASE make sure you head over to Tim's Facebook Page and tell him how much you appreciate his support of the 12 Days of Techniques!  You may be seeing more of him in the next few days….just sayin' 😉     I don't know about you but I looooove my Tonic Tools. I would recommend the non-stick scissors too 😉 . BUT first you need to watch the Distressing Video here leave us a comment!
Today Paula Gilarde is sharing a card she  created with loads of distressing.   Paula used FOUR, yes, FOUR different Core'dinations Lines! Here they are in order from the cardbase: Black Magic (sanded to show the red core), Core Essentials (Notice the Sizzix by Tim Holtz brick embossing folder????) Jenni Bowlin Vintage Core Impressions and Jenni Bowlin Whitewash Core Impressions (Both from the brown and cream line). Paula added some great details to this card including an SRM Sticker.
SO WE NEED A WINNER, RIGHT?????????

LaRayne S says:
I took a class that had some debossing projects and it was very easy and looked great. A Cuddlebug would be the ideal thing to pratice this fun technique.
LaRayne….PELASE make sure you contact us through the contact button because I cannot access your contact information via your comment or send us a message on our Facebook page.
Stay tuned tomorrow for some more inspiration!  We are going straight through the weekend so don't forget to stop by and check us out.
Did you know that Core'dinations has a Facebook Page? Make sure you check us out here. Don't forget we will not be shipping any prizes until the week of December 27th.