Hi everyone, as we all gear up for Easter, I thought I would show you a fun project that you could create using a combination of your core card stock and patterned papers.  This Easter wreath project was a lot of fun to create and it actually made me feel happy that we hopefully will welcome spring very soon!
Easter Egg Wreath Supplies:
Coredinations Light Green Crosshatch Paper (GX-2300-24)
Coredinations Large Pink Pokadot Paper (GX-2300-50)
Coredinations Dark Pink Small dot Paper (GX-2300-55)
Coredinations Teal Stripe Paper (GX-2300-63)
Coredinations Teal Plad Paper (GX-2300-64)
Liquid Adhesive
Pearls & Ribbon From My Stash
3d Paper Egg Wreath Silhouette # 57296
Silhouette Cameo
To make this project follow these steps.
Step 1.  Start by leaves out of the Green from the Core Essentials Darks Collection.
Step 2.  Cut the base piece out of a piece from the Tim Holtz Kraft-Core Nostalgic Collection and another 2 out of chip board for extra strength.
Step 3.  Glue the 3 rings together, sandwiching a piece of ribbon between the 2 pieces of chip board.
Step 4.  Sand all your leaves for a nice look.  Do not forget to use your dust buddy for clean-up.
Step 5.  Using the edge of your table, curve the egg pieces as well as the designer paper.  Once completed, attach the designer paper before the egg is assembled.  By curving the pieces first they will take a nicer shape.
Step 6.  Curl the pedals prior to attaching them to the base.
Step 7. Layer the leaves on 1 at a time.  There will be enough for 2 layers.
Step 8.  Finally, attach the eggs and flowers where desired and hang in a place for everyone to enjoy!
Thanks for stopping by for a peek… Have a wonderful day my crafty friends!
Have you ever come across some vintage cards from days gone by?  Well I wanted to create a card today with a vintage feel.  Core'dinations Tim Holtz Shattered Kraft-Core is the perfect cardstock collection to achieve this look.  The Shattered look to the cardstock takes you back to days gone by.
Photographing the card with some vintage crochet doilies really does make this card vintage looking.

Here I have started out by using the Tombow mono glue on the back of the die cut tree allowing the glue to dry semi-transparent.  This re-positionable option is my favorite.
Next step, is sanding and inking the Shattered Cardstock which created the weathered vintage feel that I was trying to achieve for my card.
The next step was to ink and tear the Shattered cardstock.  The ink embeds into the cracked pattern of the cardstock giving the cardstock a weathered feel.
Add some twine, ribbon and rhinestones and you have found your vintage card to mail to someone who will truly hold the card in their hands and think back to a Christmas from the past.
Some days, we get side tracked and while making this card, looking for my supplies, I got side tracked.
 Look what I discovered….
A wonderful use for the Tombow adhesive tabs.
 Apply the soft side of the tab to the backside of the sponge pad.
Apply the coarse side of the tab to the back of your stamp pad.
Gently, press the sponge pad to hook the two sides of the tabs together to help organize your supplies.
Whenever you want to use your ink, your sponge is on the back of your stamp pad making it easy to attach to your blending tool.  Think of how convenient this will be whenever you need to ink a project.
For more projects check out my blog here.  http://cottagerca.blogspot.ca/
Supplies
Core'dinations
Other supplies
Tombow tape runner
Spellbinder die
Goooood Thursday Morning!
We are are here bringing you some Core'dinations and Glue Arts projects again today and all week long!

Make sure you head over to the Glue Arts blog for some awesome projects from their Design Team. They are also introducing a new product, Glue Glider Pro PLUS and they are doing 10 days of give-a-ways over there!!! And they have a GrEaT Facebook page, too, make sure you head over there as well for daily inspiration.
And, YES, we are giving away ANOTHER pack of Core for one lucky winner that posts here on the blog this week!!!
And make sure you head over to the Glue Arts Facebook page and tell them what your FAVORITE Glue Arts Adhesive is and tell them we sent you for  another chance to win. There are so many give-a-ways up for grabs right now there are going to be some lucky winners at the end of the week!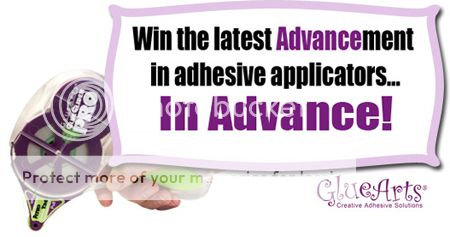 First up today, we have Design Team Member Andrea Amu with a gorgeous autumn inspired card featuring Core'dinations Tim Holtz Kraft-Core and Glue Arts GlueGlider PRO -used to attach ribbon to cardstock not sure if you have seen these before but they are the perfect width to adhere ribbon! GlueArts 3D Combo Pac Raise n's Adhesive Squares and U CUT IT Foam Adhesive–  Used to attach center bow to ribbon and to give dimension to the leaf accent.
Designer April Derrick created this layout for us today as well. She used her Glue Arts Adhesives to add new life to some old chipboard she had in her stash! She also used some BasicGrey Core Impressions…loooove this color combo for a fun wintery  themed layout!!!