I don't know about you but I am an avid reader.
I love reading and I am always looking for friends that read so we can talk about books and share them, too!
Well, Design Team Member Char Dobson created these super fun projects for us today and they are all about your very own Book Club. Move over Oprah! 😉  Char used a  mix of Core Essentials and Tim Holtz Adirondack and Distress collections and her Cricut, of course!
See that gorgeous tag?  That is one of our tags from our Core Tag Collection in the Dark colors. And check out how Char stamped over the Basic Grey Core Impressions! What a great idea…add some ink to the edges and you have a fabulous invite.
We are having a blast….are you??? And we are only on DAY FOUR!
From now until Christmas Eve we are showcasing our Design Team's Favorite cardstock. Each designer picked a few of their favorite lines and created some gorgeous projects for you showcasing why they love it so much.
Then, on that day, just by commenting on that post, you have the chance to win! AND some days we might be showcasing more than one line … like today! 😉
Here is how it works:
1.) We post every day. The following day we pick a winner and then start over so keep coming back!
2.) You have all day and night to post. Yes, you heard me! You can win up until the next day when I pick a winner when I get up. We want our international fans to be able to win and they are normally sleeping now 😉
3.) Want additional chances to win?  Comment on Facebook and share the excitement on your blogs! If you share on your blog, come back here and link us up. Remember, you can do it every day for more chances to win!
AND WE ARE GETTING CLOSE TO 5000 FANS ON OUR FACEBOOK PAGE!
HEAD OVER THERE AND LIKE US FOR ADDITIONAL CHANCES TO WIN THROUGHOUT OUR FAVORITE THINGS!
4.) Please note: we will not be shipping to winners until the January due to the Holidays.
WHO WANTS A WINNER???
Yesterday's winner of some JBS Black and Cream collection is…..
Donna W says:
What a great project idea. I can handle that
one. Like the paper too.
~~~~~~~~~~~~~~~~~~~~~~~~~~~~~~~~~~~~~~~~~~~~~~~~~~~~~~~~~~~~~~~~~
So….ready for some inspiration and give-a-ways????
Today is all about Tim Holtz Adirondack Cardstock!
Design Team Member Melissa Oliveira worked up some amazing layouts for us today.
And how fun is this?  Melissa added a few of her favorite things to this layout, too! If you are familiar with Melissa's work you will see one of these techniques on almost every layout of hers.
1. ) Sand the area  where want to journal (in this case, using the date stamp) so it "pops" off the page.
2.) Loosely and unevenly sanding around the edges of the page to create a distressed/weathered border.
3.) Grey!!! We love grey! And Melissa is obsessed with it.
And Melissa created some double page layouts for us, too!
The great thing about Tim Holtz Adirondack collection is that you don't have to do grunge and  major distressing.  It is full of bright colors that are perfect for any project!!!
Cheery Lynn and Core have teamed up for some great inspiration for you this week!
Make sure you check out the Cheery Lynn site for some awesome dies and videos (such an awesome resource to know what sandwich to use for different embossing machines) and some SUPER cool NEW releases!!!
AND, their blog of course!!!
You know the drill…leave a comment ALL WEEK long for a chance to win some Core goodies.
Today we have some layouts for you! Make sure you head over to each individual designer's blog for more details on each of these projects.
Design Team Member Lydia Jackson made this cool layout using the Stitcher Plate. Such a great way to add texture to some white space.
And here is a close-up:
And Design Team Member April Derrick used FOUR plates on this layout!!!
They are Circle, Classic Silver Stacker Layers, Silver Oval Stitching Tool, & Butterfly Bundles
Core'dinations Cardstock is from the Tim Holtz Distressed and Adirondack collections.
Check out how April journaled on the stitched circle!
Did you see yesterday's post?
Make sure you check out the journaling challenge! AND throw in an uber cool Core technique and you get TWO chances to win!!!
Today we have some inspirational cards from Kandis Smith. Kandis always makes the most beautiful cards.
For the first card, Kandis used the Provocraft Diamond Plate and her Cuttlebug to create the subtle but perfect background.  LOVE the gray.
And how about some Tim Holtz Inspiration? The rich, earthy tones from the Tim Holtz/Ranger collections are perfect for those Father's Day projects. And don't forget those awesome Tim Holtz/Ranger Sizzix dies for your embossing machines. They add the perfect touch to this amazing cardstock collection!
We have a few updates for you this beautiful Friday Morning.
First, the Design Team entries are being narrowed down as we speak. Let me tell you, the decision was not easy. We wish every single entry could be part of the Core team.
We will let you  know when the decision has been finalized. We will know more in the next week AND we have a fun week planned leading up to National Scrapbooking Day on Saturday May 7th including the Design Team announcement. So mark that on your calendar now.
Also…….
AND we are giving away FIFTEEN TIM HOLTZ Collection Packs over on our FACEBOOK PAGE!  We offered TEN packs at the beginning of the week for all of our fans to change over and like us on this page (we are consolidation pages to make things a bit more streamline for everyone) .
AND we are offering FIVE more TIM HOLTZ collection packs once we get to 3000+ fans! So invite your friends, share it on your Facebook page and let us know so we can get you some additional entries for those FIVE extra packs.
Did you get all of that? Pretty easy stuff, right?
We look forward to all of the exciting things we have planned for our fans over the next few months. It's going to be GREAT!
In the spirit of our Tim Holtz Give-A-Way, we have a crazy cool layout from you from Design Team Member Char Dobson using loads of Tim Holtz goodies:
HAVE A GREAT WEEKEND!
Today we have some awesome Tim Holtz projects from the Design Team that were displayed at CHA!
Here are a few of them up close. Make sure you check out the amazing details!  All of these projects were created with the Tim Holtz Core'dination Collectin in addition to his other great inks, stamps and embellishments. YES! We said  stamping.  Our cardstock is great for stamping on the textured side or the smooth side.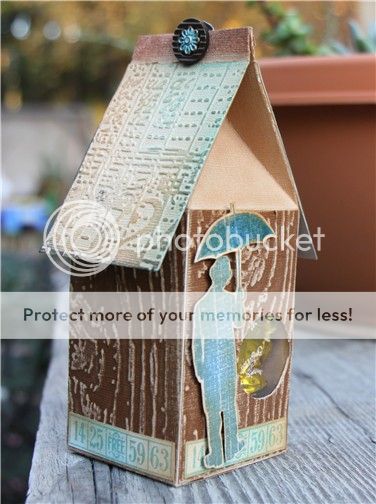 A layout from Debbie Standard:
And an altered Journal from Ellen Sosnoski: