So our  BRAND NEW Tim Holtz Kraft-Core Shattered collection is so cool!  If you love Tim Holtz products and Kraft-Core then you will undoubtedly love this collection, too. You can use it as is or do fun techniques to it just like Design Team Member Debbie Standard did on this layout. Inks soak up into the the kraft and leaves the crackle finish…it is SO COOL! Check it out….
Here is a little bit about this layout from Debbie:
In creating this page I used some Core'dination's Tim Holtz Kraft Core to start with.  I sanded it all over to start and then wanted to create clouds. To make them I put a piece of cloud chipboard behind the paper where I wanted the clouds and again sanded over the chipboard – moved it and sanded again until I got the effect that I wanted. Along the bottom portion of the sanded background, I stamped with a checked stamp.  Then I used some of the new Tim Holtz Shattered Collection.
Some of the  lighter sheets are just perfect for inking!  I needed two different colors so the center portion I inked using some light brown inks.  Then on this other section I wanted more of the turquoise so I inked this piece with some blues.  Keep inking until you get the color you want.  I just love how this Shattered collection looks when you ink it! You can use ANY color you want…it makes this collection so versatile!
Here are some close-ups:
Can you see the blue ink and the brown ink?
How cool are these clouds?  You can do this outlining technique with ANY KIND of chipboard!
HERE is a video to see how it's done:
And a shot of the stamping:
Here you can see the different inks  Debbie used against each other:
We hope you can get creative with the Tim Holtz KRaft-Core Shattered!
It's shipping NOW!
Gooooood Morning!
First up a HUGE thank you to everyone that participated in our FIRST EVER online crop!!!!!!!!!
We will post winners as soon as we can! I know you are all excited and we are, too. It has been amazing to see what everyone has created with Core'dinations Cardstock. THANK YOU!
We are here with a week long event with Scrapbooking Adhesives by 3L.
Let's start things of today with Design Team Member Shaunte Wadely.
And how COOL are these CD photo pockets?  Shaunte used one on this layout as a keepsake from her daughter's first concert.
Brilliant! Our team has been having a TON of fun with these! Shaunte also used the foam adhesive, photo corners and tape runner on this layout.  Scrapbook  Adhesives have something for EVERY paper crafter!
And another close-up…Shaunte really worked her scrap bin here. She used  bits and pieces of tons of our collections and we just love how she used the negative punched pieces, too!
Check out their blog HERE and make sure you Like them on Facebook here…you don't want to miss any of that inspiration, do you?
Make sure you comment here to win an AWESOME Core goodie pack AND over at the Scrapbook Adhesives blog as well because they have an awesome giveaway of their adhesives, too! You have ALL WEEK LONG!
In that goodie pack from us you will see some of our awesome Glitter Silk cardstock.
Please note we will be posting winners from our online Crop this weekend this week ..so stay tuned for that!
How much to you love yellow and gray?  It's hot hot hot right now!!! And it really is a gorgeous color palette for spring.
Design Team Member Melissa Oliveira and what is more perfect than using some Tim Holtz Core'dinations Cardstock!? Available in the Distress and Adirondack color, they are the perfect staple in any paper crafters collection!
Melissa also used cardstock from the Cut and Emboss Tim Holtz/Sizzix series for the smaller, embossed pieces. Get out those Sizzix folders!  Don't they look awesome?
Make sure you check out the Cut and Emboss series here!
Did you see yesterday's post?
Make sure you check out the journaling challenge! AND throw in an uber cool Core technique and you get TWO chances to win!!!
Today we have some inspirational cards from Kandis Smith. Kandis always makes the most beautiful cards.
For the first card, Kandis used the Provocraft Diamond Plate and her Cuttlebug to create the subtle but perfect background.  LOVE the gray.
And how about some Tim Holtz Inspiration? The rich, earthy tones from the Tim Holtz/Ranger collections are perfect for those Father's Day projects. And don't forget those awesome Tim Holtz/Ranger Sizzix dies for your embossing machines. They add the perfect touch to this amazing cardstock collection!
We have a few updates for you this beautiful Friday Morning.
First, the Design Team entries are being narrowed down as we speak. Let me tell you, the decision was not easy. We wish every single entry could be part of the Core team.
We will let you  know when the decision has been finalized. We will know more in the next week AND we have a fun week planned leading up to National Scrapbooking Day on Saturday May 7th including the Design Team announcement. So mark that on your calendar now.
Also…….
AND we are giving away FIFTEEN TIM HOLTZ Collection Packs over on our FACEBOOK PAGE!  We offered TEN packs at the beginning of the week for all of our fans to change over and like us on this page (we are consolidation pages to make things a bit more streamline for everyone) .
AND we are offering FIVE more TIM HOLTZ collection packs once we get to 3000+ fans! So invite your friends, share it on your Facebook page and let us know so we can get you some additional entries for those FIVE extra packs.
Did you get all of that? Pretty easy stuff, right?
We look forward to all of the exciting things we have planned for our fans over the next few months. It's going to be GREAT!
In the spirit of our Tim Holtz Give-A-Way, we have a crazy cool layout from you from Design Team Member Char Dobson using loads of Tim Holtz goodies:
HAVE A GREAT WEEKEND!
Today we have some awesome Tim Holtz projects from the Design Team that were displayed at CHA!
Here are a few of them up close. Make sure you check out the amazing details!  All of these projects were created with the Tim Holtz Core'dination Collectin in addition to his other great inks, stamps and embellishments. YES! We said  stamping.  Our cardstock is great for stamping on the textured side or the smooth side.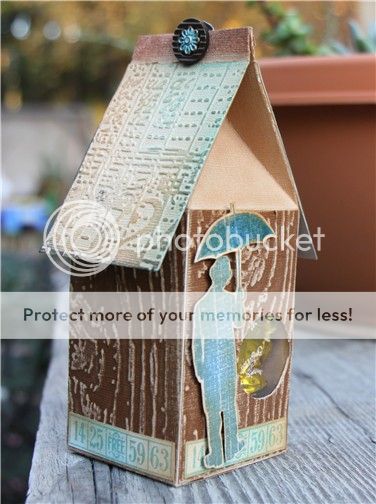 A layout from Debbie Standard:
And an altered Journal from Ellen Sosnoski: