We are celebrating the Holidays with some TIM HOLTZ KRAFT-CORE! Did you know that KRaft-Core comes in TWO collections?  Both the Nostaglic collection and the Shattered Collection. Both come in 12″ and 6″ assorted packs, so perfect for any paper crafter.
We have a giveaway for you, too! Want your very own SIGNED copy from Tim Holtz himself???
 Well we have a treat for YOU…HURRY you only have until Sunday. Click on the image and then enter to WIN!
~~~~~~~~~~~~~~~~~~~~~~~~~~~~~~~~~~~~~~~~~~~~`
Now some projects from our Design Team ….
Hi everyone! Jill from Every Day is an Occasion here to share a kids craft with you today!!! I made this chapstick card. This "kids" craft is great because it can be made by little kids for their teachers or by teenagers for friends! I think it is a great little something for anyone actually!!
Chapstick Card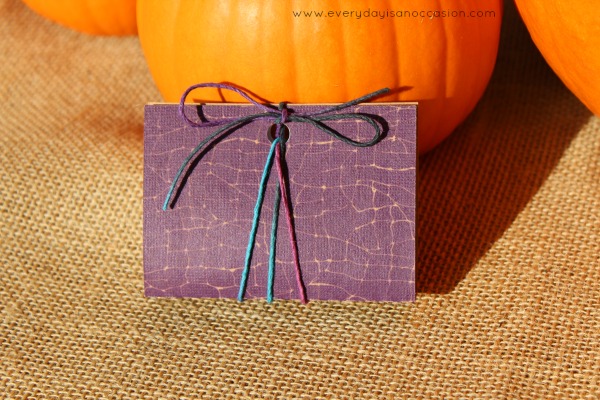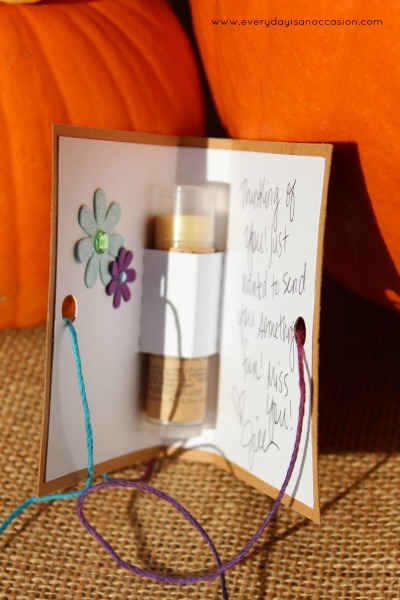 To create this card I used Core'dinations' Tim Holtz Kraft Core Shattered Collection, 110 lb white coredinations paper, this silhoutte cut, and some Hemptique cord.
Thanks! Have a Great day!!! Smiles, Jill
~~~~~~~~~~~~~~~~~~~~~~~~~~~~~~~
And next up we have a card from Designer Clare Buswell using more of that Gorgeous Tim Holtz Kraft-Core Shattered cardstock! Clare really adds some great distressing details with inks and stamps. This cardstock is so great because you can use it "as is" or add your own touches to it!
We are celebrating Tim Holtz this week and his Kraft-Core collection! Both the Nostaglia AND Shattered are perfect for ANY project AND we have a HUGE surprise coming up this week so STAY CLOSE!
To start of this awesome week we have some inspiration for you, too! First up is Vivian Keh working her magic with some Tim Holtz Kraft Core Shattered cardstock and Holiday cards. I love that she chose  non-traditional color palette for these!
~~~~~~~~~~~~~~~~~~~~~~~~~~~~~~
Hello, friends! Vivian here with a pair of holiday cards that celebrates a deep love of Tim Holtz. Did you know that Core'dinations has several collections designed by Tim Holtz? I have been going through his Kraft Core "Shattered" Collection with great enthusiasm, so much so that I've just about used up my entire assortment of it. The cards below use the "Shattered" Collection in conjunction with quite a few Sizzix dies that have also been designed by Tim Holtz.
For the Christmas Tree card with the background of festive boughs, I chose my colors based on the color wheel. When lacking in crafty mojo, I will often turn to the color wheel as I choose hues with which to craft, and I highly recommend doing so when you're having trouble getting started in your crafting session. Since blues lie directly across from oranges, they just about always make a fantastic pairing, even when the tints are not what you would consider pure blues or oranges. In this case, we have a soothing greyish blue and a burnt siena which has a warm orange cast. I think they set each other off nicely.
The boughs on this card were die cut in one pass using a strip of Shattered Core'dinations Cardstock and a Sizzix "Holly, Beaded & Snowflake Garland." The boughs were further embellished using a Viva Decor Pearl Pen.
In order to preserve the pretty background, I kept the focal image small – a sweet pair of stamped and easily fussy cut trees from a Jillibean Soup holiday stamp set.
For the Wreath card, I die-cut the cutest wreath from a Sizzix Mini Wreath Movers and Shapers Die Set studding the pretty wreath with little balls also created with more pearls.
In this close-up of the wreath, you can see the lovely texture inherent in every sheet of Core'dinations ColorCore Cardstock!
The banner was embellished with the left-over die-cuts from the first card.
Shattered Core looks great when dry-embossed and sanded to reveal the Kraft Core. There is something about kraft that is so comforting, and I often turn to it when crafting Christmas cards.
Finally, I added some seam binding and just a few Tim Holtz Ideology clips for variety in texture. Thanks so much for visiting with me here today, folks. Best of luck in your holiday papercrafting!
SUPPLIES:
Core'dinations: Kraft Core "Shattered" Collection, Creme Brulee ColorCore Cardstock, Sand-It Gadget, Dust Buddy
Sizzix: Holly Beaded & Snowflake Garland Decorative Strip Die, Mini Wreath and Bow Movers & Shapers Die Set, "Elegant" Embossing Folder Set
Tim Holtz Ideology: Paper Clips
Jillibean Soup – Stamp Set
Viva Decor – Pearl Pen
Ranger – Avocado Liquid Pearls, Distress Ink
Really Reasonable Ribbon – Seam Binding
Memento – Rich Cocoa Dye Ink
Get that "Pin It" button ready! We have some AH-mazing Thanksgiving/Fall inspired table decor for you today featuring our Tim Holtz Shattered cardstock.
First up Designer Ava Gavloski created this amazing tablescape. How cool will this look on your Thanksgiving Day Table?
Autumn is a bouquet of colors which truly is magical to watch as you stroll down the country side roads and city parks.   The fresh cool air of autumn brings memories to warm everyone's heart. Designing with the Core'dinations Tim Holtz Shattered collection during this sunny day of Autumn has set the ambiance   for a thankful Thanksgiving.
Below you will see all the leaves that I distressed. 
a) This line you see the green leaves cut out straight up from the paper. B) this side presents the harvest orange, crumbled and sanded leaves green leaves were made by first crumbling the cardstock, sanding and then die cutting the leaves out. C) this line of leaves shows the differences from inked and die cut to crumbled and sanded before die cutting the leaves. D) this sample is taking the cherry bright cardstock , crumbled, sanded before die cutting.
And some close ups:
Look at all that gorgeous Shattered cardstock!
And one more of the distressed, crumpled leaves:
Supplies
Tim Holtz Shattered Collection Kraft Core, Sand It Set, Helmar, 450 Quick Dry Adhesive, Ranger Distress Ink, Ripe Persimmon , Procraft cuttlebug, Leaves die 37-1214, Thrift store:  candle, tray and candle holder
~~~~~~~~~~~~~~~~~~~~~~
Next a Fall themed topiary from Designer Shaunte Wadley! The large flower is just a scalloped shape piece of cardstock (you can use a die for this or a cutting machine) and then scored and folded.  For a similar project that I did for Christmas check out Debbie's Dares blog for more!
These are pretty easy to make. Just take 4 circles and cut off the bottoms to make a straight line (this is how they will stand up on their own). Scor down the middle and fold. Then adhere them back to back around a stick (I use kabob skewers that I cut down) to make the little pumpkings. Ink the edges so they really pop.
I know we have been giving you all sorts of Halloween Inspiration but today we are switching gears to something to be thankful for!Some truly gorgeous pieces from Designer Jennifer Edwardson that will make your Thanksgiving truly memorable. Thanksgiving in Canada was a few weeks ago but due to our three blog swaps, we are a bit behind on the blog. You can never complain about not enough inspiration around here, that's for sure!
~~~~~~~~~~~~~~~~~~~~~~~~~~~~~~~~~~~~~
I have always loved the look of burlap on pretty much anything home décor and craft related so when I got a whole package of it from the David Tutera Wedding Collection I couldn't wait to add it into my Core'dinations projects. This was a fun, quick and easy addition to the Fall / Thanksgiving décor I have been working on for the upcoming holiday (it's on October 14th in Canada :)) …..
I cut a piece of burlap approx. 5 x 12″ and folded it in half.  I ran it through my sewing machine on each side INSIDE OUT and then turned it 'right side out' again. I pulled a few strand of the burlap off the top to fray it a bit and then tied it using natural colored twine.
The Core Tags are SUPER and something that everyone should have in hteir stash.  They come in several shapes and I love that I can just easily throw them into my typewriter to personalize them however I want.  I added a few die cut leaves to the tag and bag and it's ready for some fun fall treats …..
~~~~~~~~~~~~~~~~~~~~~~~~~~~~~~~~
And Jennifer created this Thankful Frame using TONS of Tim Holtz Kraft-Core!
You need to see these close-ups!
other: embossing folders
~~~~~~~~~~~~~~~~~~~~~~~~~~~~~~~~~~~~~~~~~~~~
We have a HUGE giveaway for you! How exciting is this?
All you need to do is LIKE both Core'dinations and Couture Creations on Facebook (giving our friends over there shout out would be nice, too
and then click HERE to enter to win! That's it! We are giving away FOUR prizes of $50 FULL of products from both companies. You don't want to miss this!
Today we have some layouts from Design Team Member Jennifer Edwardson! She is working some circles and tags for you today so we hope you enjoy!
Sand It Gadget
Dust Buddy
~~~~~~~~~~~~~~~~~~~
AND how about some Core Tags?  If you come around our blog a lot then you know how much we love love love  Core Tags! They come with a metal grommet and are perfect for any paper crafter….scrabookers…cardmakers…we all love them and Jennifer has a layout that just rocks them!
Happy Tuesday!
Make sure you check out the wonderful tip from Designer Lydia Jackson that was on the blog yesterday on how to use up those Core scraps for a really cute card.
Today we have Design Team Member Debbie Standard sharing with us her Tuesday Tip usint Tim Holtz Collection.
First off I scored a frame around where I was going to focus my page – actually double scored it – two sets of lines.  As you score use your Sand it Gadget to sand over the scoring ridge while it's still on the score ridge – much easier and cleaner than trying to sand it after you are done scoring.  Then I sanded down outside my scoring to really accent a frame look.  To create the red portion of the page I used a circle cutter I think was made by CK (OLD tool of mine) and sanded over it again and again moving it around behind my page – I really like how it came out.  We call this technique outlining. Then I used a strip of The Jenni Bowlin Core Impressions line with the stars.  I used some of the Tim Holtz Kraft and embossing it and cut out sections, also just tore a few pieces.  Added some of the Jenni Bowlin black/kraft piece and cut out circles of it. Oh and then I sanded and cut out my title from the letters on a sheet from the Jenni Bowlin line- ran then through the Xyron machine and put them on some black cardstock which I cut around the letters so when I put them on my page they popped a little more.