Only a few more days until Christmas! One of the things that is SO GREAT about Core'dinations is that you can mix and match our lines beautifully. They all core'dinate…even our Core'dinations lines and David Tutera Celebrate Cardmaking System. Designer Jennifer Edwardson does this for us today!
~~~~~~~~~~~~~~~~~~~~~~~~~~~~
Only a few more days until Christmas! Let's get those cards done and mailed, right?  Well if you are like me then you are always a bit behind. That is why David Tutera Celebrate cardmaking system is for YOU! You can mix and match the layers AND mix it with some Core'dinations carstock, too!!! Let's take a look at what Jennifer Edwardson did with it today:
~~~~~~~~~~~~~~~~~~~~~~~~~
Debbie embossed her cardbase here like Jennifer did above. Don't be afraid to have fun with your premade cardbases!
Oh and how about some white on white?  LOOOOVE it! The Glitter Silk is so perfect for this!
We have some amazing projects from Gail Lindner for you today! If these don't inspire you to get that Core and take if off the page onto some Holiday home decor projects than I don't know what will!
~~~~~~~~~~~~~~~~~~~~~~~
I have officially started creating projects for Christmas!  You might recall I created a cute Christmas countdown a little while back (see it here). Well . . . I loved using the embroidery hoop as my "frame" and have been wanting to do more to create a cluster on my wall for Christmas. A trip to the craft store was in order and I purchased a few different sized hoops.
Here's my next one:
This is a great project for using up scraps of Core'dinations! I dug through to find a few colours to work together, cut strips and started assembling my "tree"!
Of course, this being Core cardstock, I couldn't leave it plain! I had to emboss and sand the strips in various designs to add even more interest.
The background is from the fabulous Kraft-Core Seasonal Impressions collection. Instant Christmas!
The starts were die cut from Core Couture Glitter Cardstock for a bit of sparkle!  This little tree was so easy and fun to make – here are a couple more ideas:
For the front of your Christmas cards!

These will be easy to mass-produce.

Get the kids involved

– maybe adding the stars or other embellishments to the pre-made trees. 
Thanks for popping by and please pop by my blog for more inspiration!
Supply List:
Tim Holtz Kraft Core Seasonal Impressions: Holiday No 14
Tim Holtz & Ranger Adirondack: Pool
Chocolate Box: Cool Mint Truffle
Core Essentials: Sugar'n'Spice
Graphic 45: Lemon Chiffon, Spring Green
Core Couture Glitter: White Gloves, Oscar
Sand It Gadget
Dust Buddy
Big Shot
Darice & Cuttlebug embossing folders
Fiskars star punch, SSS star die
~~~~~~~~~~~~~~~~~~~~~~~~~~~~~
It's just typical of me to be creating Christmas projects so close to the actual day! But my decor items get brought out each year so I know they will get plenty of attention in the long run!
Inspired by an image I saw online, I wanted to create a sort of looped wire wreath, accented with stars. Sorry about the vague description! How about I just show you my project so you know what I mean?
I decided to create mine on a smaller scale and pop it into a shadow box frame. Honestly, I was really wanting to use the kraft coloured Seasonal Impressions cardstock! Isn't it a fantastic, subtle background???
I chose three shades of Gemstones cardstock for the stars, so they would have a slight sheen, and scattered them around my wire wreath.
Simple but cute! I can honestly see me creating more of these for different occassions such as Valentines or new babies. Just think of the color combinations and die cut shapes you could use!
 Supplies:
Tim Holtz Kraft Core – Seasonal Impressions No 23
Gemstones Collection - Peridot, Yellow Topaz, Red Ruby
Silhouette Cameo
Christmas Tree Cutting File (star only)
We are celebrating the Holidays with some TIM HOLTZ KRAFT-CORE! Did you know that KRaft-Core comes in TWO collections?  Both the Nostaglic collection and the Shattered Collection. Both come in 12″ and 6″ assorted packs, so perfect for any paper crafter.
We have a giveaway for you, too! Want your very own SIGNED copy from Tim Holtz himself???
 Well we have a treat for YOU…HURRY you only have until Sunday. Click on the image and then enter to WIN!
Today we have designer Vivian Keh working her Tim Holtz magic!
Hello Core fans! Vivian Keh here to share with you a new adventure for me in papercrafting. I've never done a December Daily before, mostly because what I've seen online has very much revolved around kids' experiences of this very special month, and our "kids" are only of the furry type. But my friend, Gwen, encouraged me to do one. So here I am today to share a bit of my project with you and hopefully inspire your Core crafting! Mine is going to be a gift for my man, and it's going to be a collection of everyday bits in the cherished life we share, featuring details that others might perceive as mundane, but which are quite precious to us.
Since it's a gift for hubbie, I decided to keep the palette masculine, using primarily Core'dinations cardstock from our Tim Holtz "Shattered" and "Seasonal Impressions" Collections. For this effect, I embossed pieces of various sizes with a number of Sizzix embossing folders, and also used Core pieces that were already embossed straight out of the package. After sanding and distressing the pieces, they were stitched into a patchwork.
This is a detail of the front patchwork, which was stitched onto a piece of printer paper so as not to add bulk, and then mod-podged as one piece onto chipboard.
And the back. On occasion, I will reach for the shimmery stuff, and this Christmas I have been doing quite a lot of it. But initially, I wasn't inclined to glitz up this project. My crafting buddy, Gwen, threw some Core'dinations Glitter Silk bells on top. Lo and behold, it totally worked and infused this project with holiday cheer!
I adhered several gold fibers to carry the gold throughout the composition, and added a bit of cream to contrast the more deeply hued palette.
The completed front…
And the back…
If you are interested, I have a few pages to share today as well! The inside cover has my little dedication.
Core'dinations' Kraft Core Seasonal Impressions have a lovely variety of typography already embossed into the cardstock. I sanded to reveal the beautiful patterns, added a bit of distress ink on the edges, and a few embellishments.
December 1st was all about getting the house ready for my in-laws who are all visiting on Christmas Day. Folks, the house isn't furnished yet! So we have been busy "swatching," painting, IKEA-ing, and sneaking meals in between. This page features Core'dinations Jenni Bowlin Red and Black Collection, which in my opinion is perfect for holiday crafting!
This is my page for December 3rd. A new habit the two of us have picked up is doing the crossword mornings when hubbie doesn't have to rush off. Each of us have different strengths, which makes collaborating on the more difficult puzzles so much fun. Many of these crossword squares were cut from scraps of pieces I had used for the covers.
The journaling is on a canvas texture Core tag that is pinned and removable.
Usually we walk the pooches in the morning together, unless my guy has an early morning meeting. December 4th was such a day, so I took a longer route, allowed the dogs to linger and sniff some more, picked up some lovely acorns that are all falling from the trees right now. We've got grey squirrels here, and black ones, too. The squirrelys go nuts for the nuts and the dogs go nuts over the squirrels lol! I die-cut these using my Silhouette Cameo and File #11205 from Hero Arts, placing patches of textured Core and patterned paper to fill in the negative space.
I hope you enjoyed my December Daily share today! I will be posting more of it as December barrels ahead on my blog!
Happy Holidays!
-Vivian
SUPPLIES:
Core'dinations -
Tim Holtz Shattered Kraft Core Collection
Tim Holtz Seasonal Impressions Collection
Jenni Bowlin Red and Black Collection
Core Tags
Sand It Gadget, Dust Buddy
Sizzix – all dies and Embossing folders
Hampton Art – stamps
Ranger – distress ink, Stickles
Memento – dye ink
Authentique – patterned paper
Really Reasonable Ribbon – fibers
Little Yellow Bicycle – Alphas
Silhouette – cutting file #11205 from Hero Arts
Martha Stewart – Snowflake edger punch
EK Success – Notebook edger punch
Fiskars – small heart punch
We are celebrating the Holidays with some TIM HOLTZ KRAFT-CORE! Did you know that KRaft-Core comes in TWO collections?  Both the Nostaglic collection and the Shattered Collection. Both come in 12″ and 6″ assorted packs, so perfect for any paper crafter.
We have a giveaway for you, too! Want your very own SIGNED copy from Tim Holtz himself???
 Well we have a treat for YOU…HURRY you only have until Sunday. Click on the image and then enter to WIN!
~~~~~~~~~~~~~~~~~~~~~~~~~~~~~~~~~~~~~~~~~~~~`
Now some projects from our Design Team ….
Hi everyone! Jill from Every Day is an Occasion here to share a kids craft with you today!!! I made this chapstick card. This "kids" craft is great because it can be made by little kids for their teachers or by teenagers for friends! I think it is a great little something for anyone actually!!
Chapstick Card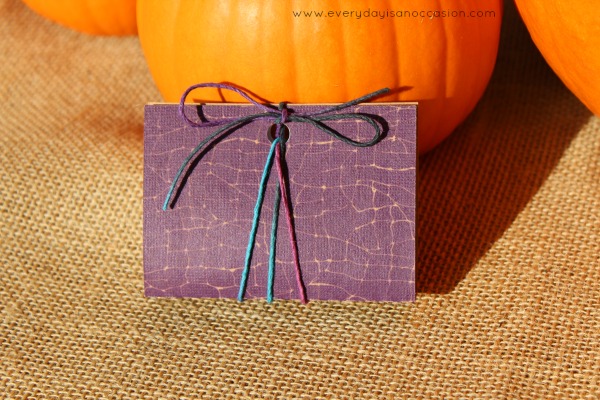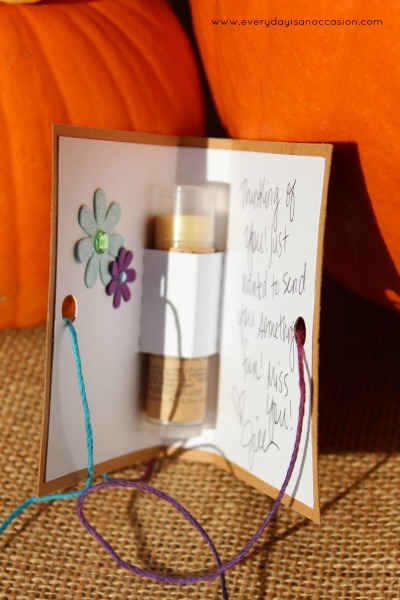 To create this card I used Core'dinations' Tim Holtz Kraft Core Shattered Collection, 110 lb white coredinations paper, this silhoutte cut, and some Hemptique cord.
Thanks! Have a Great day!!! Smiles, Jill
~~~~~~~~~~~~~~~~~~~~~~~~~~~~~~~
And next up we have a card from Designer Clare Buswell using more of that Gorgeous Tim Holtz Kraft-Core Shattered cardstock! Clare really adds some great distressing details with inks and stamps. This cardstock is so great because you can use it "as is" or add your own touches to it!
We are celebrating Tim Holtz this week and his Kraft-Core collection! Both the Nostaglia AND Shattered are perfect for ANY project AND we have a HUGE surprise coming up this week so STAY CLOSE!
To start of this awesome week we have some inspiration for you, too! First up is Vivian Keh working her magic with some Tim Holtz Kraft Core Shattered cardstock and Holiday cards. I love that she chose  non-traditional color palette for these!
~~~~~~~~~~~~~~~~~~~~~~~~~~~~~~
Hello, friends! Vivian here with a pair of holiday cards that celebrates a deep love of Tim Holtz. Did you know that Core'dinations has several collections designed by Tim Holtz? I have been going through his Kraft Core "Shattered" Collection with great enthusiasm, so much so that I've just about used up my entire assortment of it. The cards below use the "Shattered" Collection in conjunction with quite a few Sizzix dies that have also been designed by Tim Holtz.
For the Christmas Tree card with the background of festive boughs, I chose my colors based on the color wheel. When lacking in crafty mojo, I will often turn to the color wheel as I choose hues with which to craft, and I highly recommend doing so when you're having trouble getting started in your crafting session. Since blues lie directly across from oranges, they just about always make a fantastic pairing, even when the tints are not what you would consider pure blues or oranges. In this case, we have a soothing greyish blue and a burnt siena which has a warm orange cast. I think they set each other off nicely.
The boughs on this card were die cut in one pass using a strip of Shattered Core'dinations Cardstock and a Sizzix "Holly, Beaded & Snowflake Garland." The boughs were further embellished using a Viva Decor Pearl Pen.
In order to preserve the pretty background, I kept the focal image small – a sweet pair of stamped and easily fussy cut trees from a Jillibean Soup holiday stamp set.
For the Wreath card, I die-cut the cutest wreath from a Sizzix Mini Wreath Movers and Shapers Die Set studding the pretty wreath with little balls also created with more pearls.
In this close-up of the wreath, you can see the lovely texture inherent in every sheet of Core'dinations ColorCore Cardstock!
The banner was embellished with the left-over die-cuts from the first card.
Shattered Core looks great when dry-embossed and sanded to reveal the Kraft Core. There is something about kraft that is so comforting, and I often turn to it when crafting Christmas cards.
Finally, I added some seam binding and just a few Tim Holtz Ideology clips for variety in texture. Thanks so much for visiting with me here today, folks. Best of luck in your holiday papercrafting!
SUPPLIES:
Core'dinations: Kraft Core "Shattered" Collection, Creme Brulee ColorCore Cardstock, Sand-It Gadget, Dust Buddy
Sizzix: Holly Beaded & Snowflake Garland Decorative Strip Die, Mini Wreath and Bow Movers & Shapers Die Set, "Elegant" Embossing Folder Set
Tim Holtz Ideology: Paper Clips
Jillibean Soup – Stamp Set
Viva Decor – Pearl Pen
Ranger – Avocado Liquid Pearls, Distress Ink
Really Reasonable Ribbon – Seam Binding
Memento – Rich Cocoa Dye Ink
Get that "Pin It" button ready! We have some AH-mazing Thanksgiving/Fall inspired table decor for you today featuring our Tim Holtz Shattered cardstock.
First up Designer Ava Gavloski created this amazing tablescape. How cool will this look on your Thanksgiving Day Table?
Autumn is a bouquet of colors which truly is magical to watch as you stroll down the country side roads and city parks.   The fresh cool air of autumn brings memories to warm everyone's heart. Designing with the Core'dinations Tim Holtz Shattered collection during this sunny day of Autumn has set the ambiance   for a thankful Thanksgiving.
Below you will see all the leaves that I distressed. 
a) This line you see the green leaves cut out straight up from the paper. B) this side presents the harvest orange, crumbled and sanded leaves green leaves were made by first crumbling the cardstock, sanding and then die cutting the leaves out. C) this line of leaves shows the differences from inked and die cut to crumbled and sanded before die cutting the leaves. D) this sample is taking the cherry bright cardstock , crumbled, sanded before die cutting.
And some close ups:
Look at all that gorgeous Shattered cardstock!
And one more of the distressed, crumpled leaves:
Supplies
Tim Holtz Shattered Collection Kraft Core, Sand It Set, Helmar, 450 Quick Dry Adhesive, Ranger Distress Ink, Ripe Persimmon , Procraft cuttlebug, Leaves die 37-1214, Thrift store:  candle, tray and candle holder
~~~~~~~~~~~~~~~~~~~~~~
Next a Fall themed topiary from Designer Shaunte Wadley! The large flower is just a scalloped shape piece of cardstock (you can use a die for this or a cutting machine) and then scored and folded.  For a similar project that I did for Christmas check out Debbie's Dares blog for more!
These are pretty easy to make. Just take 4 circles and cut off the bottoms to make a straight line (this is how they will stand up on their own). Scor down the middle and fold. Then adhere them back to back around a stick (I use kabob skewers that I cut down) to make the little pumpkings. Ink the edges so they really pop.