We hope you are ready for a fun week with our friends over at Petaloo and Xyron! We have teamed up with some of our favorite adhesive and flowers for a week full of inspiration and, of course, PRIZES! Please go to THIS post to see how you can enter to win this:
Hello again, fellow Core lovers! It's Gini, and today I have an upcycling project to share with you, using some of my favorite products. With a little help from Core'dinations, Xyron and Petaloo, I was able to transform a lowly Pringles Chip container into a dispenser for cosmetic cotton rounds.
A Thing of Beauty Supply List:
Core'dinations Vellum Quotes & Titles – Inspirational Motivations
Spellbinders Labels Thirty-Three; Grand Caliber Machine
Zva Creative Gem Flourish CR-06CA-104
Graphic 45 Metal Buttons
Stampendous Stamp
Ranger Gold Embossing Powder
Tsukineko/Imagine Crafts Delicata Ink- Golden Glitz; Sheer Shimmer Spritz- Gold; VersaMark Watermark Ink
Heat Tool
Pringles Chip Canister
Step 1.  Measure around your container and cut paper to fit.
Step 2.  Draw a template for your opening on scrap cardstock. Cut in the center of the paper as well as the canister.
Step 3.  Stamp decorative border at the top and bottom of the paper with watermark ink. Heat emboss with gold powder. Tip: Sometimes metallic embossing powders leave a residue.  Use the Dust Buddy after embossing to remove this powder.
Step 4.  Run the paper through the Creative Station machine to apply adhesive. Carefully adhere to the canister, lining up the openings.
Step 5.  Ink the back of the vellum quote with metallic gold.  Die cut a frame using the Glitter Silk cardstock.
Step 6.  Use the small tape runner to apply adhesive to the back of the frame. Center quote and trim the excess.
Step 7.  Cut a circle to match the top of the canister.  Add trim around the top and bottom of the canister and lid to hide the raw edges.
Step 8.  Spritz the flowers with gold and let dry and add the embellishments to the canister to finish as shown.
So remember, look at your empty containers with a creative eye, before you take out your trash!  See you soon.
~Gini
I'm excited to be sharing with you my first project on the Core blog today!  While I'm mainly a Clean and Simple card making girl I do enjoy other crafts as well, including inexpensive home decor items. For today's project I made a fall candle wrap for 50 cent candle holder I bought at Goodwill!

Autumn Blessings Candle Wrap Supplies:
Glass candle holder
Sweet N Sassy Stamps Autumn Lovin' Cocoa stamp set
Clearsnap Stephanie Barnard chocolate ink pad
May Arts trims: lace edge burlap, jute twine (red, brown)
Red mini clothes pin
Sizzix Tim Holtz Tattered Leaves die (#656927)
Sizzix Big Shot die-cutting machine
Clearsnap sponge dauber
Small ball stylus
Embossing mat
Scrapbook Adhesive by 3L®: Dodz adhesive dots, double-sided tape
Step 1: Die-cut leaf shapes from Tim Holtz Kraft-Core Shattered Collection cardstock in desired colors.
Step 2: Flip leaf over; draw vein pattern using stylus and embossing mat.
Step 3: Flip leaf back over; sand lightly using Dust Buddy and Sand It Gadget.
Step 4: Sponge with brown in and sponge dauber as desired. Continue in the same manner for all leaves.
Step 5: Wrap burlap around candle holder securing along ends. Note: Attaching at ends only allows for easy removal and season changing of wrap.
Step 6: Wrap with twine tying in a knot where burlap overlaps.
Step 7: Stamp sentiment onto kraft mini tag.
Step 8: Using adhesive dots, attach leaves as desired covering overlapping ends of burlap.
Step 9: Attach tag using mini clothes pin.

~ Tami
There is no place better than the beach! And not just during the summer, during those non-summer months, when it's a little rougher to get to the beach due to the lack of time and return to regular routines.  Here is a great way to remind yourself of just how great the beach is and what's around the corner!
Supplies:
Tim Holtz – Kraft Core – Shattered
Die – EllenTina Cutting Dies/Tessler Crafts
Cut Files – Kolette Hall Studios (Design ID #43142 and #61944), Hero Arts (Design ID #40428)
Buy yourself a lovely weathered frame and dress it up with some Core'dinations cardstock cut with beachy dies and cut files!
The Kraft Core Shattered collection adds that perfect weathered feel to a beach themed project. So too does sanding add a sand worn effect.
Tucking things between the background and the frame adds a 3D dimension and some added depth to your project. Note how the texture of the Core'dinations cardstock really makes this sea star that much more realistic!
Design by Suzanna Lee
1- Cut red and blue pieces and emboss cardstock into 1″ strips. Set aside extra strips for card 3. Sand edges. Adhere to kraft card base alternating colors. Machine stitch stripes.
2- Cut two large stars from Tim Holtz Shattered cardstock. Fold star into 3D shape. Adhere to card gluing the corners of the star.
3- Punch circle/star shape with craft punch out of silver Glitter Silk. Adhere to center of stars.
1- Adhere section of Tim Holtz Shattered cardstock in blue to scalloped edge kraft card base.
2- Attach red and white bakers twine to card.
3- Using craft punches, make several star shapes out of red and silver Glitter sSilk. Attach to twine with small clothes pins. Attach David Tutera card sentiment to twine.
1- Using cut 1″ stripes leftover from the first card, adhere strips to white card base alternating colors. Machine stitch stripes.
2- Using liquid pearls, create firework burst.
3- Adhere sequin star to firework center. Adhere additional sequin stars to card as desired. Adhere red rhinestone to sequin star centers. Adhere David Tutera card sentiment.
Supplies:  Tim Holtz Kraft-Core Nostalgic, Tim Holtz Kraft-Core Shattered, Glitter Silk, David Tutera Celebrate Cardmaking system sentiment, liquid pearls, sequins, mini-clothes pins, twine, scoring tool and star punch
I love projects that just wow you and are totally out of the box! I know a lot of my friends that are having children now already have a lot of what they need and this idea is PERFECT for  that family!
~~~~~~~~~~~~~~~~~~~~~~~~~~~~~~~
Cuttlebug Embossing Folders
Big Shot
Silhouette Cameo
Papertrey Ink label die
My Mind's Eye patterned paper
 ~~~~~~~~~~~~~~~~~~~~~~~~~~~
And we have a layout from Gail today, too!
And a close up…LOVING that Whitewash embossed and sanded!
Darice and Cuttlebug Embossing Folders
Big Shot
Simple Stories patterned paper
Greatest View flair
wood shapes, enamel dots, letter stickers
We are celebrating the Holidays with some TIM HOLTZ KRAFT-CORE! Did you know that KRaft-Core comes in TWO collections?  Both the Nostaglic collection and the Shattered Collection. Both come in 12″ and 6″ assorted packs, so perfect for any paper crafter.
We have a giveaway for you, too! Want your very own SIGNED copy from Tim Holtz himself???
 Well we have a treat for YOU…HURRY you only have until Sunday. Click on the image and then enter to WIN!
~~~~~~~~~~~~~~~~~~~~~~~~~~~~~~~~~~~~~~~~~~~~`
Now some projects from our Design Team ….
Hi everyone! Jill from Every Day is an Occasion here to share a kids craft with you today!!! I made this chapstick card. This "kids" craft is great because it can be made by little kids for their teachers or by teenagers for friends! I think it is a great little something for anyone actually!!
Chapstick Card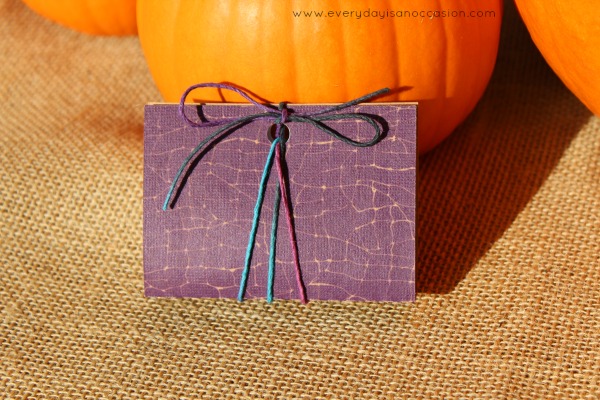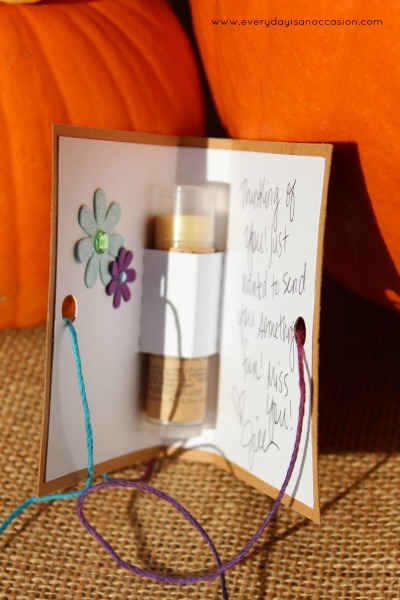 To create this card I used Core'dinations' Tim Holtz Kraft Core Shattered Collection, 110 lb white coredinations paper, this silhoutte cut, and some Hemptique cord.
Thanks! Have a Great day!!! Smiles, Jill
~~~~~~~~~~~~~~~~~~~~~~~~~~~~~~~
And next up we have a card from Designer Clare Buswell using more of that Gorgeous Tim Holtz Kraft-Core Shattered cardstock! Clare really adds some great distressing details with inks and stamps. This cardstock is so great because you can use it "as is" or add your own touches to it!