1- Cut red and blue pieces and emboss cardstock into 1″ strips. Set aside extra strips for card 3. Sand edges. Adhere to kraft card base alternating colors. Machine stitch stripes.
2- Cut two large stars from Tim Holtz Shattered cardstock. Fold star into 3D shape. Adhere to card gluing the corners of the star.
3- Punch circle/star shape with craft punch out of silver Glitter Silk. Adhere to center of stars.
1- Adhere section of Tim Holtz Shattered cardstock in blue to scalloped edge kraft card base.
2- Attach red and white bakers twine to card.
3- Using craft punches, make several star shapes out of red and silver Glitter sSilk. Attach to twine with small clothes pins. Attach David Tutera card sentiment to twine.
1- Using cut 1″ stripes leftover from the first card, adhere strips to white card base alternating colors. Machine stitch stripes.
2- Using liquid pearls, create firework burst.
3- Adhere sequin star to firework center. Adhere additional sequin stars to card as desired. Adhere red rhinestone to sequin star centers. Adhere David Tutera card sentiment.
Supplies:  Tim Holtz Kraft-Core Nostalgic, Tim Holtz Kraft-Core Shattered, Glitter Silk, David Tutera Celebrate Cardmaking system sentiment, liquid pearls, sequins, mini-clothes pins, twine, scoring tool and star punch
We are celebrating the Holidays with some TIM HOLTZ KRAFT-CORE! Did you know that KRaft-Core comes in TWO collections?  Both the Nostaglic collection and the Shattered Collection. Both come in 12″ and 6″ assorted packs, so perfect for any paper crafter.
We have a giveaway for you, too! Want your very own SIGNED copy from Tim Holtz himself???
 Well we have a treat for YOU…HURRY you only have until Sunday. Click on the image and then enter to WIN!
~~~~~~~~~~~~~~~~~~~~~~~~~~~~~~~~~~~~~~~~~~~~`
Now some projects from our Design Team ….
Hi everyone! Jill from Every Day is an Occasion here to share a kids craft with you today!!! I made this chapstick card. This "kids" craft is great because it can be made by little kids for their teachers or by teenagers for friends! I think it is a great little something for anyone actually!!
Chapstick Card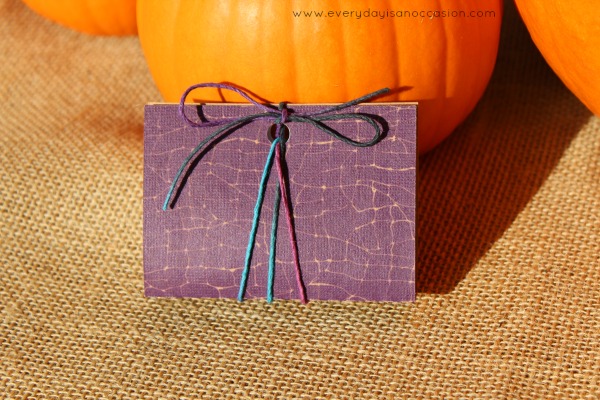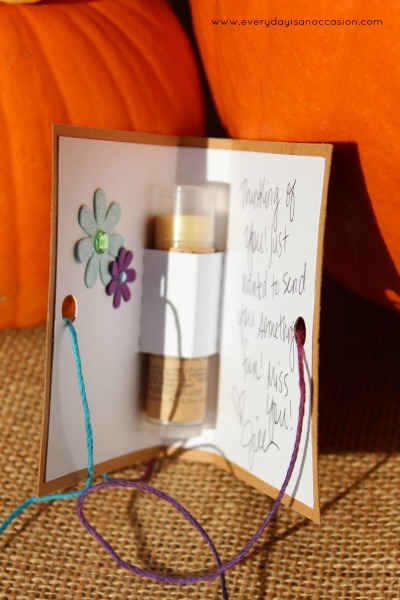 To create this card I used Core'dinations' Tim Holtz Kraft Core Shattered Collection, 110 lb white coredinations paper, this silhoutte cut, and some Hemptique cord.
Thanks! Have a Great day!!! Smiles, Jill
~~~~~~~~~~~~~~~~~~~~~~~~~~~~~~~
And next up we have a card from Designer Clare Buswell using more of that Gorgeous Tim Holtz Kraft-Core Shattered cardstock! Clare really adds some great distressing details with inks and stamps. This cardstock is so great because you can use it "as is" or add your own touches to it!
We have a fun treat for you!  Merry Christmas! Happy New year!  
How much do you love Kraft-Core? Well we have a treat for YOU…HURRY you only have until Sunday. Click on the image and then enter to WIN!
~~~~~~~~~~~~~~~~~~~~~~~~~~~~~~~~~~~~~~~~~~~~`
How about some inspiration from our Design Team using this fabulous line of Core'dinations!
First up we have a layout from Kate Nolan-Denham.Looks so cool, doesn't it?  Loving the red and green she used here for a cute Christmas layout:
And next up some projects from Debbie Standard using the Shattered cardstock.  Love how she used the doilies on this layout and all that embossing and sanding is INCREDIBLE! You can use your Kraft-Core as is or play with it…sky is the limit.
And it works GREAT for cards, too!  Debbeie added a touch of stamping with one of our Smooth Tags (they are SO great for stamping).
Have you ever come across some vintage cards from days gone by?  Well I wanted to create a card today with a vintage feel.  Core'dinations Tim Holtz Shattered Kraft-Core is the perfect cardstock collection to achieve this look.  The Shattered look to the cardstock takes you back to days gone by.
Photographing the card with some vintage crochet doilies really does make this card vintage looking.

Here I have started out by using the Tombow mono glue on the back of the die cut tree allowing the glue to dry semi-transparent.  This re-positionable option is my favorite.
Next step, is sanding and inking the Shattered Cardstock which created the weathered vintage feel that I was trying to achieve for my card.
The next step was to ink and tear the Shattered cardstock.  The ink embeds into the cracked pattern of the cardstock giving the cardstock a weathered feel.
Add some twine, ribbon and rhinestones and you have found your vintage card to mail to someone who will truly hold the card in their hands and think back to a Christmas from the past.
Some days, we get side tracked and while making this card, looking for my supplies, I got side tracked.
 Look what I discovered….
A wonderful use for the Tombow adhesive tabs.
 Apply the soft side of the tab to the backside of the sponge pad.
Apply the coarse side of the tab to the back of your stamp pad.
Gently, press the sponge pad to hook the two sides of the tabs together to help organize your supplies.
Whenever you want to use your ink, your sponge is on the back of your stamp pad making it easy to attach to your blending tool.  Think of how convenient this will be whenever you need to ink a project.
For more projects check out my blog here.  http://cottagerca.blogspot.ca/
Supplies
Core'dinations
Other supplies
Tombow tape runner
Spellbinder die
All week long we are playing with Authentique papers! How awesome is that?
We are so excited for this week and trust me when I say our papers are a match made in heaven! But seeing is believing, right? So make sure you stick around all week long for some inpsiration and a giveaway of course!
Make sure you check out the Authentique BLOG for more ideas and a giveaway AND their complete lines of gorgeous papers HERE. Today we are using the Seasons Autumn and the Tradition lines.
~~~~~~~~~~~~~~~~~~~
Before we give you all the goods 😉 PLEASE check out both companies on Pinterest and follow them for endless inspiration!
~~~~~~~~~~~~~~~~~~~
First up we have Mary Pat Siehl with a layout using the Seasons Autumn layout. She really embraces the Autumn color palette with the rusts and reds and I love that touch of navy blue!
pearls- Recollections
markers- Spectrum Noir
Twine and Ribbon- May Arts
~~~~~~~~~~~~~~~~~~~~~~~~~~~~~~~~
Add some Clearsnap ink for the edges of the pages and this album has a great look. Heat set the May Arts ribbon and the album has a vintage feel.
You can see the beauty of the Core'dinations inner core with each page being embossed and sanded. The Authentique pattern papers match perfectly with Core'dinations cardstock.
This Authentic Tradition collection is truly a complete collection to allow for a finished album without the need to purchase additional supplies.
The Authentique sticker elements embellished the album by bring back memories of our Christmas Eve Celebration.
Notice on the red banner how you can make your own design by placing the cardstock over any textured surface and sand to reveal the pattern and inner core color.
Pattern Papers: Rudolph, Customary, Medley
Elements stickers
Core'dinations
Core Essentials Scarlet GX-CR-040
Sand it Gadget set
Want2Scrap Rhinestones
MayArts Ribbon
Maya Road chipboard album, mixed layered book
Clearsnap ColorBox ink, lipstick red
Helmar, Gem Stone and Craft Adhesive.
Embossing folders:
Spellbinders EL-021
Sizzix Texture Fades,Snow Flurries
~~~~~~~~~~~~~~~~~~~~~~~~~~~~~~~~~~~~~~~~~~~~~~~~~~~~~~~
We are giving some away so comment here to win!
Fall is here and we are all about scarves..sweaters..all things warm including coffee!  Well, Suzanna really made this layout in July and it's of iced coffee but that's okay 😉  That allows me to  point out the fact that she used her brown journal marker right on her Core Amour…it's pre embossed but that's okay! Don't be afraid to embrace that texture and write right over it 😉
And can we just talk about the perspective of that photo? What a beautiful shot.
Supplies:
Chocolate Box, Spotted, Core Amour
~~~~~~~~~~~~~~~~~~~~~~~~~~~~~~~~~~~~~~~~~~~
And next up we have a layout using loads of Core'dinations and some Graphic45 papers & stickers. What else  screams fall but picking currants?  Designer Shaunte Wadley adds so much gorgeous detail to this layout using her Lifestyle Crafts dies and Tim Holtz Kraft Core Shattered cardstock. The Graphic 45 are the perfect touch to add vintage  elements to this project.
And how about some Chocolate box for that title?
Jenni Bowlin Core Impressions for the background.
Whitewash for the butterfly accents.
Chocolate Box for the title.
Core Essentials for the flowers and journaling tag.
Tim Holtz Kraft Core Shattered for the leaf vines.
Graphic 45, stickers, patterned paper
Queen & Co bling.