Kate Nolan Denhame here and I am all about the Tim Holtz Distressed Cardstock from Core'dinations.  Did you know this line of cardstock coordinates perfecly with most of the Distress Paints?  It sure does!
I started this card by pulling out the colors I wanted to use from the Distress Collection Cut & Emboss Series, Bundled Sage and Chipped Sapphire.  Then I found the matching Distress Paints in my collection and went to work.
I love how the texture of the cardstock shows through even with the Distress Paint!  I loved it so much I made another card using the same technique and a simple tutorial for you.
1) Start with a 4.5″ x 6″ card base made with Snowflake Core'dinations Cardstock (Neutrals Collection)
2) Cut, sand & dust colored cardstock mats from Distress Collection Cut & Emboss Series:
    a) 5.5″ x 4.25″ in Rusty Hinge
    b) 5-3/8″ x 4-1/8″ in Wild Honey
    c) 5.25″ x 4″ in Spiced Marmalade
3) Cut a 5″ x 3.75″ piece of Snowflake Core'dinations Cardstock.  This will be your canvas for the matching Distress Paints.
4) Place the cut piece of Snowflake on a Splat Mat with a wave stencil at the bottom.  *I used Cascade Trails by Kiwi Lane.  I also recommend taping the stencil so it doesn't slide (believe me, it will!)
5) Run your Distress Paint along the top of the wave stencil.  *Some hints on this one…test your Distress Paint before you use it on your cut cardstock &  make sure do not use too much paint.
6) Delicately lift the stencil off of your cardstock.
7) Immediately clean the paint off the front and back of stencil.  The best way I found to do this is just with a dry paper towel.
8) Reposition the stencil over the last wave you painted.  This allows the waves to line up.
9)  Repeat steps 7 and 8.
10)  Allow the paint to completely dry before adding a stamped sentiment in the bottom right hand corner (if you want it like my first card). For my second card I trimmed the painted mat by 1/2″ and split the sentiment.
11)  Mat the painted cardstock onto the mats you created in step 2.
12)  Glue the matted cardstock on to the center front of your card base.
13)  Add simple embellishments around the sentiment.
14)  Give to someone to enjoy!
Core'dinations Supplies:
Other Supplies:
Tim Holtz Distress Paints by Ranger
Um Wow Studio Chipboard
Today we have some amazing projects from Ava Gavloski for all of your Holiday Home Decor needs! From centerpieces to ornaments, we have got it for you today!
Also…please note:  we will be announcing our winners from the Tim Holtz Kraft Core giveaway by Friday at the latest so stay close to those emails.  
AND, one more thing…ANOTHER GIVEAWAY!!!! This time it is over at Canadian Scrapbooker!
Okay..now here's that inspo!!!!
Ava here to share with you a cute little Christmas Decor item that you can make using the Core'dinations Cardstock Neutral collection.  Snip a few pieces of greenery from outdoors and you have a great table center piece or home decor item.
Search the internet images for pattern's or check out Coats and Clark for this great reindeer pattern.
Emboss, sand and cut out two pieces of each pattern for each of the reindeer.  You need a front and back which is glued together.
And a close up:
See how nice the inner core of the Core'dinations Cardstock matches so well with the paper pieced antler color of the Core'dinations Neutral collection?
Have some fun creating your own home decor items from the Core'dinations Cardstock Neutral Collection.  Decor items can be so vogue with sanded matching color tones.
Supplies
Core'dination Sand it Set
Fresh greenery
~~~~~~~~~~~~~~~~~~~~~~~~~~~~~~~~~~~~~~~~~~~
Emboss a strip of paper approximately 2.5 ", tape some christmas washi tape to the backside sand the front to reveal the core and trim your paper strips to the width and size of your choice.  Add a rolled stem and some ribbon and you are good to go.
Supplies:
Sand it Set
Darice, 12" Lace embossing folder and Washi Tape
Cuttlebug
All week long we are playing with Authentique papers! How awesome is that?
We are so excited for this week and trust me when I say our papers are a match made in heaven! But seeing is believing, right? So make sure you stick around all week long for some inpsiration and a giveaway of course!
Make sure you check out the Authentique BLOG for more ideas and a giveaway AND their complete lines of gorgeous papers HERE. Today we are using the Seasons Autumn and the Tradition lines.
~~~~~~~~~~~~~~~~~~~
Before we give you all the goods
PLEASE check out both companies on Pinterest and follow them for endless inspiration!
~~~~~~~~~~~~~~~~~~~
First up we have Mary Pat Siehl with a layout using the Seasons Autumn layout. She really embraces the Autumn color palette with the rusts and reds and I love that touch of navy blue!
pearls- Recollections
markers- Spectrum Noir
Twine and Ribbon- May Arts
~~~~~~~~~~~~~~~~~~~~~~~~~~~~~~~~
Add some Clearsnap ink for the edges of the pages and this album has a great look. Heat set the May Arts ribbon and the album has a vintage feel.
You can see the beauty of the Core'dinations inner core with each page being embossed and sanded. The Authentique pattern papers match perfectly with Core'dinations cardstock.
This Authentic Tradition collection is truly a complete collection to allow for a finished album without the need to purchase additional supplies.
The Authentique sticker elements embellished the album by bring back memories of our Christmas Eve Celebration.
Notice on the red banner how you can make your own design by placing the cardstock over any textured surface and sand to reveal the pattern and inner core color.
Pattern Papers: Rudolph, Customary, Medley
Elements stickers
Core'dinations
Core Essentials Scarlet GX-CR-040
Sand it Gadget set
Want2Scrap Rhinestones
MayArts Ribbon
Maya Road chipboard album, mixed layered book
Clearsnap ColorBox ink, lipstick red
Helmar, Gem Stone and Craft Adhesive.
Embossing folders:
Spellbinders EL-021
Sizzix Texture Fades,Snow Flurries
~~~~~~~~~~~~~~~~~~~~~~~~~~~~~~~~~~~~~~~~~~~~~~~~~~~~~~~
We are giving some away so comment here to win!
~~~~~~~~~~~~~~~~~~~~~~~~~~~~~~~~~~~~~~~~~~~~~~
Hello! Jill from Every Day is an Occasion here to share a double sided magnetic board with you today. I love making these magnetic boards because they are super fun to hold pictures I print from Instagram.
Double Sided Magnetic Board
This summer I was fortunate enough to go to CHA and while I was there a must-do on my list was meet Heidi Swapp. To showcase my  holiday photos this season I made a magnetic board. It's super easy and quite festive.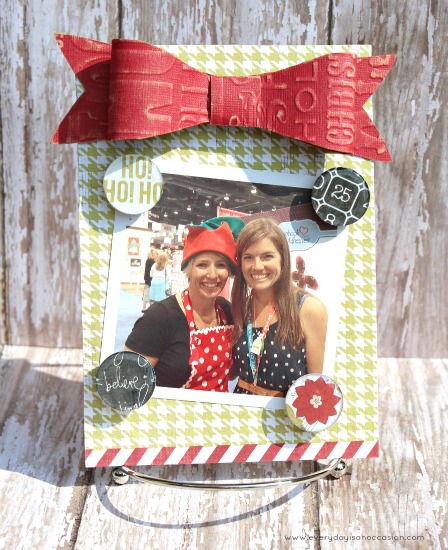 To create this magnetic board I used Heidi's Believe 12×12 paper pack and Core'dinations Tim Holtz Seasonal Impressions.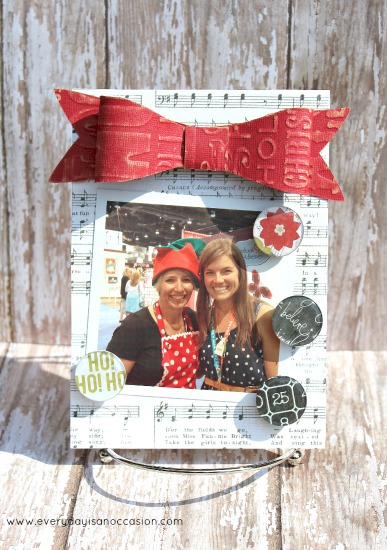 The 4 small magnets are made using Heidi Swapp's 12 x12 Believe paper pack and the Epiphany Crafts 25 Round tool. The bow is actually a magnet , too! You can get little magnets at your local craft store and you can get full sheets, too, so you can cut them any size you want. The bow is  Core's Tim Holtz Seasonal Impressions paper and cut  from my Silhouette. EASY!
Just cover the magnets with patterned paper after you cut them with the Epiphany Crafts round tool so they will "stick" to the back. This way you can change photos or even make a Christmas countdown. So many possibilities with this easy project.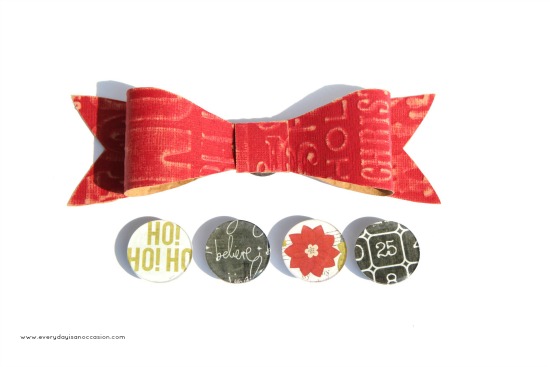 Metal Roof Flashing
Metal Stand
 Xyron Mega Tape Runner
Magnets
Silhouette Bow
~~~~~~~~~~~~~~~~~~~~~~~~~~~~~~~
Next up Gail Linder…I am so making this, too!
Happy Monday everyone!
Today we have two layouts from Designer Suzanna Lee using our Core Impressions.  The great thing about these lines is that you can sand them or not sand them. So we thought we would give you to examples  of each. The first one uses the BasicGrey Core Impression Whimsy collection not sanded. 
The fun thing about Core is you can sand some …and not sand others ..all in the same  layout like Suzanna did here. She sanded the tone on tone stars and scallop shape in red to make them pop off of each other and then left her Core Impressions as is. Don't forget to get out your Sand it Gadget when you decide to sand
It's repositional sand paper pieces make it so easy to use!
Supply List:
Core Impressions:  BasicGrey
Coredinations Tim Holtz  Distress
~~~~~~~~~~~~~~~~~~~~~~~~~~~~~~~~~~~~
Core'dinations looks great cut in your Silhouette or any die cutting machine!
Love the bits of sanding….
Supply List:
Core Essentials: Darks
Core Impressions Basic Grey Whimsy
Tim Holtz/Ranger: Distress
12×12 Crabgrass
Whitewash 6×6 pad
Sand it Gadget
Dust Buddy
Patterned Paper and stickers: Pebbles
Decorative bag: Fancy Pants
Ink: Memento
Stamp: Cocoa Daisy
Wood pin:Little Yellow Bicycle
Wood Veneer: Studio Calico
Tag: Chic Tags
Die: Lifestyle Crafts
Dot: Q&Co