Step # 1  Using your Sand It Gadget, sand a strip of the border star's along the 12 x 12 sheet of cardstock.  Sand a few star's within the cardstock sheet for the cuffs as well.
Step # 2 Apply a generous amount of crackle medium to the strip of cardstock and let dry.
Step # 3  Trim your sta's from the Core'dinations Cardstock to fit each bracelet bezel and adhere.
Now, that is fun bracelet to wear for the summer!
Mary Pat Siehl here with you today and I have a really fun and easy 4th of July layout for you using a variety of our Tim Holtz cardstocks.
1. Start with the Tim Holtz Seasonal Impressions and lightly sand it to expose the awesome subway art.


2. Matt photo (s) with coordinating cardstock and or pattern paper. I used TH Kraft Core Nostalgic Collection and Graphic 45 pattern paper.
3. Die cut some embellishments ( I used stars for the theme of July 4th).
4. If you want a more textured look, you can emboss them. I used and embossing folder from Cuttlebug.


5. Sand the embellishments to expose the yummy core.
6. Add a title and you are done. I used my Silhouette to create the title.
insert photo 1c
Supply List:
Cardstock- Tim Holtz Kraft-Core Shattered, Seasonal Impressions, and Kraft-Core Nostalgic Collection
Paper- Graphic 45
Wood Veneer – Studio Calico
Silhouette
Lawn Fawn Dies
Some Odd Girl Digi Cut File
Cuttlebug embossing folder
Sand It Gadget
Dust Buddy
Glossy Accents
I have a quick video for you today on how this layout came together and how I sanded the Core.

Hi there! Suzanna here with a seasonal Tim Holtz Kraft Core Seasonal Impressions layout to share with you using one of the individual embossed papers focusing on the American No. 17 sheet. It's perfect for the 4th of July.
Supplies:
Tim Holtz – Kraft Core – Seasonal Impressions
Tim Holtz – Kraft Core – Shattered
Tim Holtz – Kraft Core – Nostalgic
Embossing Folder – Tim Holtz
Cut File – 3d Banner, Design ID #53911
Silhouette Cameo: Font – Independence
Twine – The Twinery
Wood Veneer – Freckled Fawn, Studio Calico
Dies – Lifestyle Craft, Die-Versions
 I selectively sanded the word  that corresponded with my theme. I also happen to have the Tim Holtz embossing folder that matches this pre-embossed cardstock and was able to fussy cut the 4 in a slightly bigger size. It worked out perfectly!
This entire layout was created using all Kraft Core products! I love the vintage feel it gives to the layout.
Another fun technique that is unique to Core'dinations cardstock is the ability to run it through your label maker for some fun banners. By sanding the raised print, like I did on the little red flag to reveal the colored core underneath, you can really see the letters!
~~~~~~~~~~~~~~~~~~~~~~~~~~~~~~~~~~~~~~~~~~~~~~
Hello! Jill from Every Day is an Occasion here to share a double sided magnetic board with you today. I love making these magnetic boards because they are super fun to hold pictures I print from Instagram.
Double Sided Magnetic Board
This summer I was fortunate enough to go to CHA and while I was there a must-do on my list was meet Heidi Swapp. To showcase my  holiday photos this season I made a magnetic board. It's super easy and quite festive.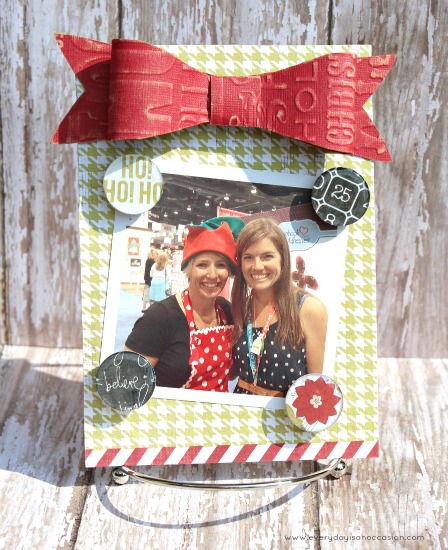 To create this magnetic board I used Heidi's Believe 12×12 paper pack and Core'dinations Tim Holtz Seasonal Impressions.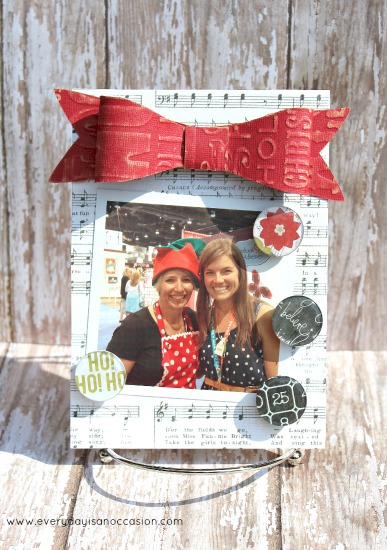 The 4 small magnets are made using Heidi Swapp's 12 x12 Believe paper pack and the Epiphany Crafts 25 Round tool. The bow is actually a magnet , too! You can get little magnets at your local craft store and you can get full sheets, too, so you can cut them any size you want. The bow is  Core's Tim Holtz Seasonal Impressions paper and cut  from my Silhouette. EASY!
Just cover the magnets with patterned paper after you cut them with the Epiphany Crafts round tool so they will "stick" to the back. This way you can change photos or even make a Christmas countdown. So many possibilities with this easy project.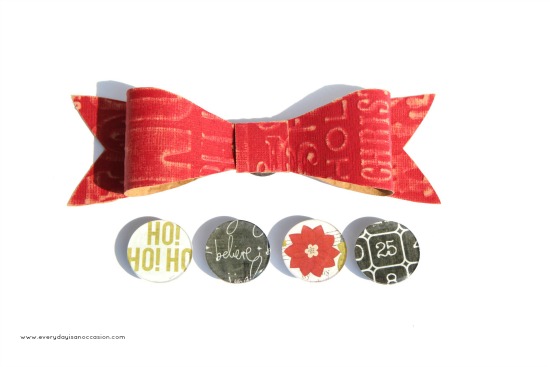 Metal Roof Flashing
Metal Stand
 Xyron Mega Tape Runner
Magnets
Silhouette Bow
~~~~~~~~~~~~~~~~~~~~~~~~~~~~~~~
Next up Gail Linder…I am so making this, too!
What a great day…the sun is shining…only a few more days until Friday…what more can we ask for? WELL, Designer Debbie Standard has some layouts for you today.
This layout brought a smile to my face today. First up the Cosmo Cricket Woodgrain background…and the colors…yellow…gray…and that pop of red are just awesome! Oh and you cannot forget about the Tim Holtz Kraft-Core Seasonal Impressions. Debbie hand cut those details for her title and subtitles.
And how cute is this???  Debbie was inspired by all the sunburst layouts she has been  seeing on Pinterest. SPEAKING of Pinterest…make sure you follow us on our page HERE! What a great way to use up those scraps of Core you have in your bin. AND all those lush embossed (and sanded of course!) designs are gorgeous, gorgeous!
Debbie cut, embossed and sanded each section and then created the sunburst effect along the top.  Then she added the Stacy Julian Core Impressions pre-embossed words along the side.  Then she added some clouds that she die cut using the Whitewash collection which makes really great clouds by the way because you can lightly sand them and bring out the blue tones.
Supplies:
Core Essentials
Stacy Jullian collection
White Wash Collection 6 X 6
Embossing folders – numerous
Sand It Gadget
Dust Buddy
Queen & Co. Washi tape and gems
Design Team Member Debbie Standard uses Core in the most magical ways! Did I say layouts only?  ooooops…I am going to squeak in a card there, too. 🙂
Check out how she used the Tim Holtz Kraft Core Shattered Collection today.
First up:  Embossed AND Sanded 🙂
See sketch for this card here.
And a bit of everything on this layout…some sanded die cuts…some embossing and sanding….edge distressing…you name it! It's perfection.
And another layout from Debbie using some of the scraps from the card above on here and some Tim Holtz KRaft Core Seasonal Impressions…love how these core'dinate, don't you?