Design Team Member Debbie Standard uses Core in the most magical ways! Did I say layouts only?  ooooops…I am going to squeak in a card there, too.
Check out how she used the Tim Holtz Kraft Core Shattered Collection today.
First up:  Embossed AND Sanded
See sketch for this card here.
And a bit of everything on this layout…some sanded die cuts…some embossing and sanding….edge distressing…you name it! It's perfection.
And another layout from Debbie using some of the scraps from the card above on here and some Tim Holtz KRaft Core Seasonal Impressions…love how these core'dinate, don't you?
First up…we want to THANK YOU THANK YOU for all of the amazing Design Team applications. WOWOWOWOWOW is all we can say. This is not going to be easy. If you were here the other week  you saw that our David Tutera Celebrate Cardmaking system debuted some EXCLUSIVE kits on HSN  so make sure you get yours HERE!
We are working on the Design Team applications and should have an answer for you SOOOOOOOOOOOON!  I just got back from a Holiday long-weekend so once we get caught up we will let you know.
Today we have some more Spring inspiration for you!
Here is a little bit about this project from Andrea and how she used some Spanish Moss on her project. It looks so GREAT with the earth tones from the Tim Holtz Kraft-Core collections.
I cut elements from a sheet of the Spring Seasonal  Impressions cardstock and then I sanded them and applied Paper Glaze medium to each piece before mounting them over the exact same areas of the teal Spring Seasonal Core Impressions page. I used the light colored Kraft Shattered cardstock for my backround and covered the surface with Tim Holtz Distress Stain in Wild Honey to bring out the crackling. My nest and egg were die cut using the Picturesque Cricut cartridge. I used more Shattered Kraft in brown and teal blue and distressed the edges of the nest a bit with a tool before tucking in some Spanish Moss for realistic texture.
And a close up of that fabulous detail:
Love the look of the Spanish moss with the Tim Holtz Kraft Core Shattered!
Happy Spring! Stay tuned for more Easter Projects this week. We have some good ones!
So how about a St. Patricks' Day layout featuring Tim Holtz Kraft-Core Shattered Cardstock.
This entire layout is  Shattered cardstock except for: the Core Tags (journaling) Glitter Silk (Shamrocks, title) Core Couture (pennants).  Loving that scoring detail around the edges?  Break out your Scor-Pal. It's easy and looks GREAT!  Remember to Scor from the back and sand the front for that great detail.
Shaunte used gold ink and rubbed it into the lighter shade of the Shattered cardstock. This detail shot shows the gold color it turned the cardstock, and seeped down into the cracks. I sprayed it with glitter spray too. Never too much bling, right?!!?
LOVE IT! Hope this inspires you to scrap those St Patty's day layouts!
We have been talking about our BRAN NEW Tim Holtz KRaft-Core Shattered line a lot lately and today Designer Melissa Oliveira has a super sweet layout for you. And she uses the No. 1 for her background. Make sure you check out the detail shots so you can get the idea of how great this cardstock looks up close.
So, even though inking it and embossing it is a lot of fun, you can still use it as your go to cardstock for backgrounds in lieu of patterned paper.
Some products from our partners:  Lifestyle crafts: embossing folders (for banners beside photo) and doily die cut (to the left of photo),petaloo: paper flowers, Queen& Co: pearls and  Fiskars: paper crimper and border punches
Did you know that we are offering the BRAND NEW Tim Holtz Shattered collection in 6×6?  Oh yeah!
Here is a layout from Design Team Member Debbie Standard. Check out how she scored the frame around the outside of the layout and then sanded it. We love our ScorPals! Same GREAT Kraft Core!
And, since we are in the purple mood today….how about another layout from Design Team Member April Derrick. For this layout April paired her Shattered Cardstock  with some Tim Holtz Kraft-Core. These two lines were designed in the exact same color scheme (No. 1, No.2, etc) so they core'dinate perfectly!
AND our Tim Holtz Kraft-Core is available in 6×6 now, too!!!!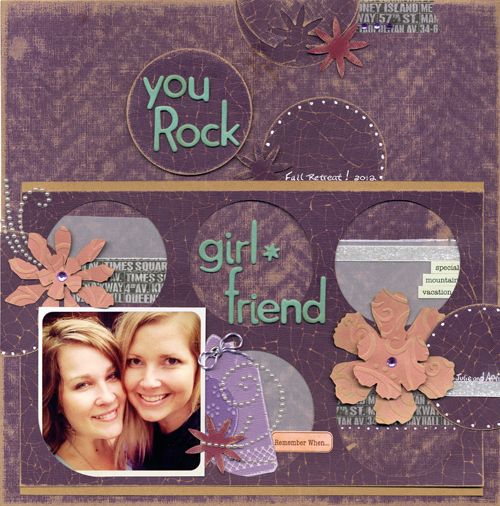 April used a stencil from The Crafters Workshop to sand the base piece of Kraft Core. Just put your Core on top of it and sand and you get a really cool design!