Designer April Derrick has an awesome tutorial for us on this fine Tuesday featuring TONS of Tim Holtz Shattered cardstock. it is so versatile and this entire layout is cardstock!
First up, take your Crafter's Workshop stencil and trace the template:
Next, using your craft knife, cut along the pencil lines:
You will already begin to see the gorgeous sunburst shape!
Now it is time to sew. Stitching on layotus never gets old! Layer the No. 7 Shattered cardstock on the No. 15 and you have a really great contrasting look.
And now for the final layout.  April added some embellishments and a Step Two layer from David Tutera Celebrate cardmaking system. LOVE that postage stamp layer…it looks GREAT on layouts, too!
First up…we want to THANK YOU THANK YOU for all of the amazing Design Team applications. WOWOWOWOWOW is all we can say. This is not going to be easy. If you were here the other week  you saw that our David Tutera Celebrate Cardmaking system debuted some EXCLUSIVE kits on HSN  so make sure you get yours HERE!
We are working on the Design Team applications and should have an answer for you SOOOOOOOOOOOON!  I just got back from a Holiday long-weekend so once we get caught up we will let you know.
Today we have some more Spring inspiration for you!
Here is a little bit about this project from Andrea and how she used some Spanish Moss on her project. It looks so GREAT with the earth tones from the Tim Holtz Kraft-Core collections.
I cut elements from a sheet of the Spring Seasonal  Impressions cardstock and then I sanded them and applied Paper Glaze medium to each piece before mounting them over the exact same areas of the teal Spring Seasonal Core Impressions page. I used the light colored Kraft Shattered cardstock for my backround and covered the surface with Tim Holtz Distress Stain in Wild Honey to bring out the crackling. My nest and egg were die cut using the Picturesque Cricut cartridge. I used more Shattered Kraft in brown and teal blue and distressed the edges of the nest a bit with a tool before tucking in some Spanish Moss for realistic texture.
And a close up of that fabulous detail:
Love the look of the Spanish moss with the Tim Holtz Kraft Core Shattered!
Happy Spring! Stay tuned for more Easter Projects this week. We have some good ones!
TOMORROW IS THE LAST DAY!
Don't forget about our Design Team call going on now. You don not want to miss out on being a part of this awesome team! And you could find yourself wearing this badge.
You know what is perfect for Spring?
TIM HOLTZ SEASONAL IMPRESSIONS! Sorry for the excitment but you know how I get excited about my Core
Designer Debbie Standard created this layout using the Spring themed cardstock. .Just sand it and this gorgeous embossed design  with "seasonal' phrases and designs.
AND ..it gets better…the colors of the Seasonal Impressions match all of the Tim Holtz Kraft Core cardstock, too! So, for this layout, the No. 15 will match perfectly. Debbie new instantly that the No. 2, No. 6 & No. 22 would look perfect with it.
And who doesn't love a picture of their grandaughter kissing the Easter Bunny?
First up..we have a BRAND NEW EXCLUSIVE Hard Core Crafter on the site for you.
Cards Cards and more Cards! Loving the new Shattered Collection?  WE ARE! If your retailer isn't carrying this then make sure you ask them. It is shipping NOW!
Design Team member Debbie Standard is rocking the cards for us today. We had one on Facebook yesterday and it got such great feedback we have more for you today!  Debbie used some of our 6×6 collection packs here in addition to the Shattered and some gorgeous May Arts Ribbon.
And another…. this one as Shattered  and some bits and pieces of our other collections. They all go so GREAT together!
AND..Debbie used some of our BRAND NEW Core SMOOTH tags! Perfect for stamping.
And another with all of the above
And Debbie embossed her Shattered cardstock here…SIGH……love it!
So how about a St. Patricks' Day layout featuring Tim Holtz Kraft-Core Shattered Cardstock.
This entire layout is  Shattered cardstock except for: the Core Tags (journaling) Glitter Silk (Shamrocks, title) Core Couture (pennants).  Loving that scoring detail around the edges?  Break out your Scor-Pal. It's easy and looks GREAT!  Remember to Scor from the back and sand the front for that great detail.
Shaunte used gold ink and rubbed it into the lighter shade of the Shattered cardstock. This detail shot shows the gold color it turned the cardstock, and seeped down into the cracks. I sprayed it with glitter spray too. Never too much bling, right?!!?
LOVE IT! Hope this inspires you to scrap those St Patty's day layouts!
Did you know that we are offering the BRAND NEW Tim Holtz Shattered collection in 6×6?  Oh yeah!
Here is a layout from Design Team Member Debbie Standard. Check out how she scored the frame around the outside of the layout and then sanded it. We love our ScorPals! Same GREAT Kraft Core!
And, since we are in the purple mood today….how about another layout from Design Team Member April Derrick. For this layout April paired her Shattered Cardstock  with some Tim Holtz Kraft-Core. These two lines were designed in the exact same color scheme (No. 1, No.2, etc) so they core'dinate perfectly!
AND our Tim Holtz Kraft-Core is available in 6×6 now, too!!!!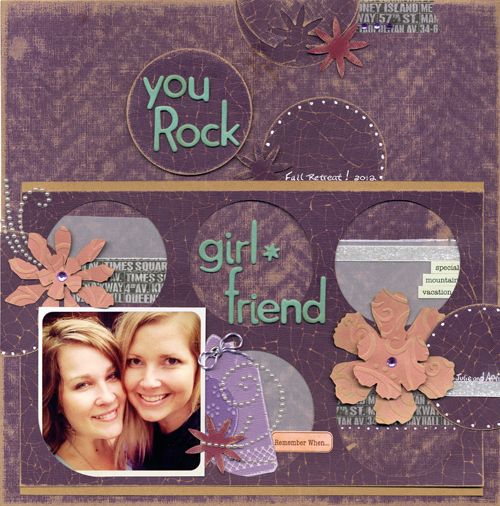 April used a stencil from The Crafters Workshop to sand the base piece of Kraft Core. Just put your Core on top of it and sand and you get a really cool design!
Some more Tim Holtz Shattered Collection layouts!  This line was a HUGE hit at CHA…you are going to LOVE LOVE LOVE IT!
A layout from Designer April Derrick:
Check out the fun folded card we learned from Guest Designer Leeann Pearce AND see that cool  postage stamp layer in the Kraft?  YEP…that is from the David Tutera Celebrate cardmaking system Step two. We LOVE mixing and matching these collections!
And another postage stamp layer from the David Tutera line. Told ya we liked 'em!
On this layout, Designer April Derrick  used her Tim Holtz Distress Stain in Chipped Saphire by Ranger and inked the Shattered cardstock. See how the stain just soaks up in the cracks and turned blue??!?!?!?  HOW COOL IS THAT??? And she embossed some of it too (the layer under the photo). So many possibilities!
Stay tuned for more ideas on is BRAND NEW Line that we debuted at CHA 2013 featuring Tim Holtz-Kraft Core!
Booth is up, BRAND NEW  Kraft-Core Shattered line by Tim Holtz, good  friends, selling TONS of Core…what else could be better?!?!?!
How about some more layouts featuring that new Tim Holtz Shattered line?  Would you like that? We can't get enough of it
Sand it, tear it, emboss it or leave it just as it is…THE perfect cardstock for all of your papercrafting needs!
Today we have a layout from Design Team member Andrea Amu. We LOVE the vibrant colors in this line, don't you?
Andrea used her Cricut to cut the title and the design elements for this layout. It cuts beautifully!
Did you check your email?   We released the BRAND NEW Tim Holtz Shattered Collection. It comes in 24 gorgeous colors with a very cool shattered design.  WARNING: Once you see this cardstock and get to try it, you won't want to put it down. We thought we should be clear on that
Remember, by signing up to be a Hard Core Crafter you get to see our new releases FIRST! So don't delay…sign up now so you don't miss out on this opportunity  again!
Want to see more?  Check out this video from Tim describing in detail all the cool details HERE on our YouTube channel.   You won't want to miss it. All of the distressing is done for you….no crumpling or sanded needed! Though we do still recommend  it
Monday Monday!
Hope you had a GREAT weekend! We are back to our regularly scheduled blog posts. Between Holidays, flu, getting ready for CHA, Hard Core Crop prizes and more…we are busy busy!
Today we have Guest Designer Leeann Pearce with us again! Leeann is the queen of cool. Her layouts are always so awesome with layers and layers of texture and this color combo is just a classic.  The gray tones that Leeann pairs together are just perfect and it's so easy with Core'dinations Cardstock since everything "core'dinates"!
Here is a little bit about this layout from the lovely Leeann herself:
Hello and Happy New Year Core fan… Today I am sharing a quick page. I am a lover of solid colours and shapes. I created a chevron background by cutting 3" x 3" squares into triangles. I wanted to add just small pops of colour as you can see. I did add some texture to the bright yellow triangle using my embossing folder and Sizzix Big Shotz machine. I used a Core tag and have this hiding in small paper bag.