Today we have some  projects our team created with their kids! Crafting is so much fun especially when you can do it with your kids.
First up we have Designer Heather Ann Kaesgan. She made a some wall art with her son. Her son just LOVED the doggie accents with the Imaginisce Good Dog line. He sanded the canvas using his Sand it Gadget after gluing down some Vintage Cardstock…PS KIDS LOVE OUR SAND IT GADGET! It is easy for them to hold onto and, of course, sanding is so much fun! And when they clean off the paper with the Dust Buddy it's like magic!
~~~~~~~~~~~~~~~~~~~~~~~~~~~~~~~~~~~~~~~~~
Next we have Jill Lebbin…..
Hello Everyone! Jill from Every Day is an Occasion back with another project for you!   Today I have a Hot Air Balloon Card. We gave this card to my sweet cousin, who turned 17 this year. I have to tell you, I cannot take complete credit for this card. My son actually assisted me in making this card. He helped pick out the colors, stamp the background, and use the hot air balloon dies. He is such a big helper!
Hot Air Balloon Birthday Card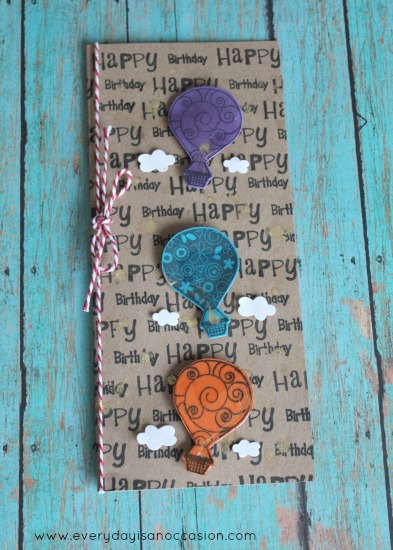 For this card I used Tim Holtz Kraft  Core, Brights Pack, and Neutral Pack of Core'dinations paper. Like I always say, the brights and white are my go to paper packs. I am very impressed with the way that they take stamps. I even put glossy accents on top of the balloons that I had popped up with foam adhesive. The paper held up very well. It did not tear. I sprayed some Colorshine on the paper too, just to give it extra excitement.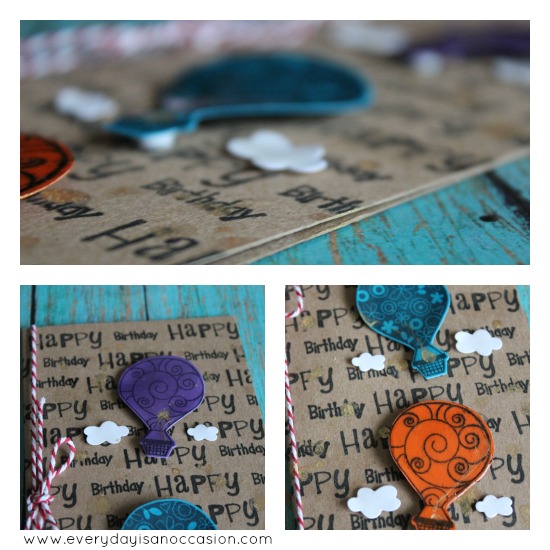 Thanks for stopping by today and checking out my..I mean..my son's and my hot air balloon card!
Have a SUPER fun day!!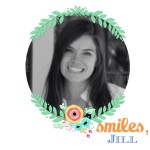 We are here hopping again all week long! So if you didn't see your name on our winner list last week, you still have a chance to win. Just comment on the Designer blogs from both companies for a chance to win.
Don't forget to LIKE our Facebook pages! We have addtional content over there we don't always share here.
Core Facebook and Tombow Facebook
Here is the Lineup for Wednesday:
Jennie
Mary Pat Siehl
Vivian Keh 
Debbie Standard
Kate Nolan-Denham 

If you get lost just come back here or head over to the Tombow blog.
And a look at what is up for grabs from Core (win this by commenting on the Core blogs.)
Subject to availability. Winner will be notified if we are out of stock of anything.
And from Tombow you can win (win this by commenting on Tombow blog and designer blogs)
Tombow prize will include:
· New Power Tabs 
· New Foam Tabs
· New Fastener Tabs 
· Mono Glue Pen
If you missed yesterday here you go. Hurry up because we will be picking winners Friday the 16th!
Tuesday:

Tracy Gruber
Suzanna Lee 
Jill Lebbin
And Today we have a project for from Designer Shaunte Wadley!
She made this super cute box featuring LOADS of Core'dinations and Tombow. In order to make a project like this that is completely out of cardstock, you need some good adhesive!
Shaunte used Lifestyle Crafts for her dies (flowers, bird, letters).
Supplies:
Darice Embossing folder
We have some fun projects for you today. Hope this weekend is a scrappy one! But first we want to make sure we see you back here Monday!
First a card from Designer Gail Linder:
How cute is all this detail? WOW!
And a layout from Designer Kate Nolan-Denham
Happy Wednesday! We hope you are enjoying your summer so far and today we want to start out with a super summery layout from Design Team Member Tracy Gruber.  I always struggle with white as a base for my layouts but Tracy makes it looks so easy! Plus…all  that embossing just makes me happy.
-Tim Holtz Distress Inks: Picked Raspberry, Squeezed Lemonade, Spiced Marmalade
-Lawn Fawn Sunny Skies and Jessie's ABC's stamp sets
-Water Brush
-Tuxedo Black Memento Ink
-1″ Fiskars circle punch
-Sand It Gadget
-Dust Buddy
-Cuttlebug Embossing Folders: Swiss Dots, Tiny Bubbles, Seeing Spots, Spots and Dots
-Sizzix Swirls Embossing Folder
-Thickers
-Clear Rock Candy Distress Stickles
Sizzix – "English Botanical" Embossing Folder

Tim Holtz – Distress Ink

Really Reasonable Ribbon – Seam Binding

Teresa Collins – Decorative Brad

Spellbinders – Floral Die

My Mind's Eye – Gems

~~~~~~~~~~~~~~~~~~~~~~~~~~~~~~~~~~

Need a wedding card?  Look no further!

I love the aqua/ chocolate brown color pairing in just about everything, from papercrafts to home decor – both fresh and comforting.  For today's project, I used Core'dinations Fancy Pants Designs"Refreshed" Collection, which delivers that comforting chocolate embossed in a variety of designs as well as your pick of pretty pastels that are also pre-embossed. This makes for great papercrafted projects in a variety of themes. 

I sanded all the layers and die-cuts and added distress ink to the edges. The sentiment was stamped using watermark ink and then heat embossed with embossing powder.  Just a little bit of embellishment and this card was done.

Supplies:

Sizzix – Bigz Die "Butterflies and Labels"

Hampton Art – "Happily Ever After" Clear Stamp Set

Tim Holtz – Distress Ink
Fiskars – Floral Punch
Stampendous – "Champagne" Embossing Powder
Versamark – Watermark Ink
Really Reasonable Ribbon – Lace

~~~~~~~~~~~~~~~~~~~~~~~~~~~~~~~~~~~~~~~

And nothing finishes up better than a layout, don't you agree?

 I chose several bold colors from Core'dinations Darks Collection, which have great grounding colors that are perfect for masculine projects.  As you can see in the detail shot, there is so much easy interest one can create with Core – die-cut it, paper-punch it, sand it, tear it, emboss it, crimp it, distress it, stamp it.  All of these were used in this layout. The possibilities are only limited by your imagination!  

The story of how my husband and I met is really special.  And both of us still can't believe how serendipitous our meeting truly was.  Hence, the "when pigs fly" stamping on my background, using the great kraft side of our Tim Holtz Kraft Core Cardstock with a simple black ink. His smile, and humorous personality brought levity to the rather challenging moment in our lives captured here on film. I simply layered a bunch of Core elements on top of a piece of old book paper, topping off with a little bling and some scrunched up mulberry paper that I had misted.  

Supplies:

Core'dinations – Darks Collection, Tim Holtz Kraft Core, Venetian Lace (Cream Color), Sand-It Gadget, Dust Buddy

Darice – Dominoes Embossing Folder
Sizzix – Chip Block Alphabet Strip Die, Washer Border Strip Die

Fiskars – Crimper, Hexagon Punches, Floral Punch

Bo Bunny – Gems

Hampton Art – Art Warehouse "Speckle Background" Woodblock Stamp, Graphic 45 "Olde Curiousity Shoppe One" Cling Stamp Set

Tim Holtz – Distress Ink

Memento – Tuxedo Black Dye Ink

Lindy's Stamp Gang – Mist
Old book paper

Mulberry Paper