We hope you had a great long weekend! First up, we have a winner from our giveaway.
Love this cardstock thanks for a chance to win !!
Ruby email ellen_sosnoski@coredinations.com to claim your prize by June 1st, 2014
~~~~~~~~~~~~~~~~~~~~~~~~~~~
Next up we are showcasing Chocolate Box on the blog this week. What a sweet treat…
chocolate covered cardstock! Sand, tear and emboss it to reveal the yummy colors hidden beneath the texture. It is available in  12×12 assorted packs, 6×6 and Cut & Emboss. And don't forget single sheets for those special projects, too. First up we have Kate Nolan Denham with a masculine layout filled with TONS of technique!
I wanted to create a very "boy" layout with the photos of my Grandson so I immediately grabbed my stock of Core'dinations Chocolate Box Cardstock.  I embossed, debossed, and die cut my way through the Chocolate Box on this layout!  Each piece of Chocolate Box was sanded to show the great core colors I chose to compliment Seth's plaid shirt.
I used Spellbinder's Sprightly Sprockets Dies to create all the fun gears on this page.   Just loving how once I sanded down gears they looked aged with all that red showing though the Chocolate Box.  I added a bit of Ranger Distress Crackle Paint to them make them pop just a bit more.
Other Supplies:
Spellbinder's Sprightly Sprockets
Darice Embossing Folder
Couture Creations Embossing Folder
Ranger Distress Crackle Paint
Elle's Studio Tag
Misc Brads
Tracy Lucky Card:
I'm getting into the St. Patrick's Day spirit by making a few cards! Green is my favorite color, so naturally I had a blast making these green-filled cards. My first card used a bit of embossing, sanding, coloring, and die-cutting. Start with a piece of green card stock from the Darks Essentials pad and emboss it with the Plaid Darice embossing folder. Then, sand over the embossed part with the Sand-It Gadget. Next, use the different colored green card stocks from the Vintage Collection, Brights Essentials pad, and Pastels Essentials Collection. Use the Lawn Fawn dies to die cut the letters out of the light green piece. Then, emboss that piece with the Swiss Dots embossing folder and sand over it with the Sand It Gadget. Behind the embossed letters, attach a small piece of Copper Shimmer Glitter Silk card stock. Adhere all of those layers together. Lastly, stamp and color the Paper Smooches image on a piece of the 110 lb. white card stock.
Supplies:
-Core'dinations Brights, Darks, and Pastels Essentials paper pads
-Core'dinations Vintage Collection
-Core'dinations Glitter Silk paper pad
-Core'dinations 110 lb. white card stock
-Sand It Gadget
-Dust Buddy
-Darice Plaid Background embossing folder
-Cuttlebug Swiss Dots embossing folder
-American Crafts Knock-Out border punch
-May Arts Natural twine
-Paper Smooches A Magical Spring stamp set
-Copic Markers: T8, E08, Y38, E00, G19
-Lawn Fawn Cole's ABC's dies
Tracy Lucky To Know You Card:
Start off with an A2 sized card base made with a piece of Tim Holtz Kraft Core. Usually I stray away from using a black card base, because you can't write on the inside of the card easily, but by using the Kraft Core card stock, the inside is now kraft. Next, emboss a piece of gray card stock with the chevron embossing folder and sand it with the Sand It Gadget. Cut the shamrock from the A Child's Year Cricut cartridge at 2.5." Emboss that with the Swiss Dots embossing folder and sand it with the Sand It Gadget. Then, use a piece of light green card stock from the Pastels Essentials pad and stamp the sentiment with black ink in the lower right hand corner. Use green chevron ribbon to tie a bow and attach the shamrock with Tombow 3D Foam Tabs.
Supplies:
-Core'dinations Neutrals, Darks, and Lights Essentials paper pads
-Core'dinations Tim Holtz Kraft Core
-Darice Chevron embossing folder
-Cuttlebug Swiss Dots Embossing Folder
-Sand It Gadget
-Dust Buddy
-May Arts Ribbon
-Paper Smooches A Magical Spring stamp set
-American Crafts Knock-Outs border punch
-A Child's Year Cricut cartridge
Tracy Shaker Rainbow Card:
Shaker cards are one of my most favorite cards to make. I had the perfect idea to make a cool shaker card for St. Patrick's Day with a pot of gold.
Supplies:
-Core'dinations Neutrals, Lights, and Darks Essentials paper pad
-Core'dinations Tim Holtz Distress Collection
-Darice Stars Asst. embossing folder
-Sand It Gadget
-Dust Buddy
-Spellbinder's Standard Circle Small
-Simply Charmed Cricut cartridge
-Gold Stickles
And we are so lucky because Tracy has a video for us today!!!!!
I know every day I feel lucky to have Core'dinations as a part of my life and when I saw this layout from Kate Nolan-Denham, I couldnt wait to share!
When we are lucky enough to have a good friend that will stand by us through thick and thin, we should celebrate it!  What better time of year to celebrate how lucky we are than St. Patrick's Day?
My layout today is inspired by the lucky theme of St. Patrick's Day and the colors we associate with this day, too. It is chock-full of glittery greens, golds and blacks found in Core'dinations Gemstone, Glitter Silk, and Core Couture Glitter Collections.  I bet you didn't even realize there were so many fantastic glittery collections by Core'dinations!
I embossed the black Glitter Silk Cardstock and then lightly sanded it just so the embossing would pop.  The die cut doilies are also lightly sanded to show off the core.
The titlework was also cut out of the Glitter Silk Collection.  When using your Silhouette to cut the Glitter Silk, I recommend reversing your image and cutting it Glitter Silk side down.
Core'dinations Supplies:
Other Supplies:
LYB Patterned Paper
Couture Creations Embossing Folder
Maya Road Ribbon
EK Success Punch
CM stickers
Papertrey Ink Die
Lucky Me…Friend Silhouette Cut File
Wishing you much luck today! ~Kate
~~~~~~~~~~~~~~~~~~~~~~~~~~~~
And how about another fabulous layout from Suzanna Lee?!?!?!
How awesome are these cuts Suzanna made with her Silhouette?
And a close up
And a close up of that Darice Shamrock embossing folder!
Yep, you guessed it! We have some SNOW inspiration for you because I am sure a lot of us in the States have TONS and TONS of snow layouts. Even those of us who never get snow!
Kim Moreno has too amazing layouts for us today. Kim has a way with Core! She scors, tears, sands, embosses like no other!
~~~~~~~~~~~~~~~~~~~~~~~
To look at this page just makes me smile. I wanted to just get a quick picture of all the kids in their redneck snow gear and somehow it turned into them all pelting me with snowballs and then taking off running laughing all the way! Oh the turds conspired against me! lol I laid my photos out in the series of the raid going down. By the way these pictures were all taken and edited on my iphone!
I backed the photos with red cardstock and tore along the bottom edge to reveal the color core of the red cardstock. I then backed that with the Whitewash cardstock. I used my ScorPal to dry emboss the lines across the top and sanded it slightly to reveal the dark blue core. I then adhere the Whitewash cardstock along the bottom of the red mat and tore along the edge. I did this three times to give a bit of a snowpile sort of look. I then added die cut snowflakes, gems, and a chipboard title to complete my layout.
Hi! Jill from Every Day is an Occasion back to share another Kids Core project with you! Today it's all about being grateful! This Grateful Journal can be used a couple of ways. The first way, which is how I'm going to be using it, is a mini album. Since November 1, I have been taking pictures of things I'm grateful for and posting them on Instagram. I am going to print the photos and then put them in this mini album. The second way could be used on Thanksgiving and to have everyone draw pictures or write on the page what they are Thankful for. Then at the Thanksgiving Table the journal can be read and you have a keepsake to look back on when your kids are older. Now these are just two ideas I came up with. I'm sure you have a great idea if these don't work for you!
Grateful Journal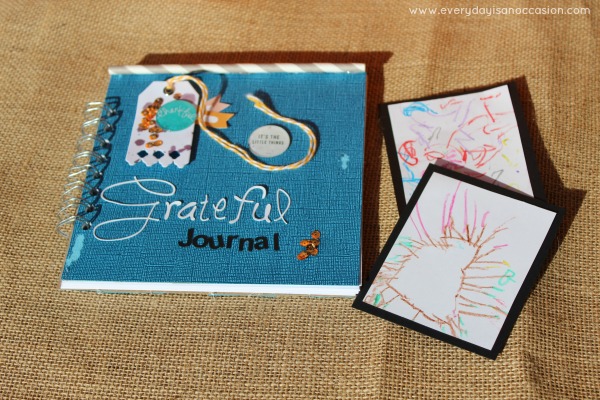 One thing is for sure, I love Core'dinations white core paper! The 12×12 and 110lb 8 1/2 x 11 packs are such an AMAZING quality of paper! I made this entire journal out of scratch and it's thanks to the white core! It is so super sturdy that I felt comfortable using it as all the album pages. To create the cover I actually used a cereal box and cut it to 6 1/2 x 6 1/2. I then used my Xyron Mega Runner to adhere the Vintage Core'dinations cardstock to the cardboard. To create the album pages, I just cut 15 white sheets down to 6 1/2 x 6 1/2. Then I used my cinch machine to bind all the pages together.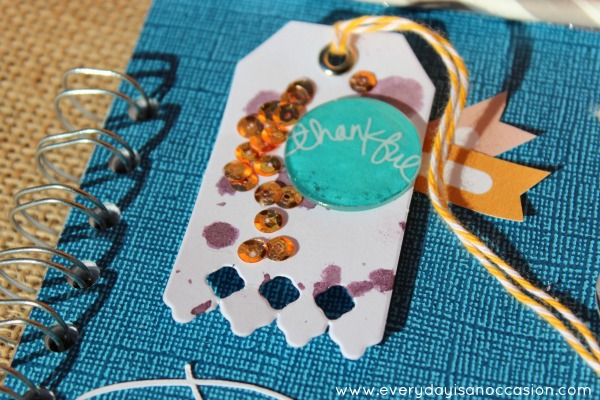 For the cover, I used Core tags along with some vintage sequins I was handed down from my Great Grandmother. I also used some Amethyst Colorshine. I attached some Hemptique Twine to my tag. I have to say though, my favorite thing is to print onto core. I used Shanna Noel's thankful prints and printed them onto my 8 1/2 x11 white core. Then I used my Epiphany Crafts Round 25 tool to punch them out and I put an acrylic sticker (they go with the round 25 tool) on top.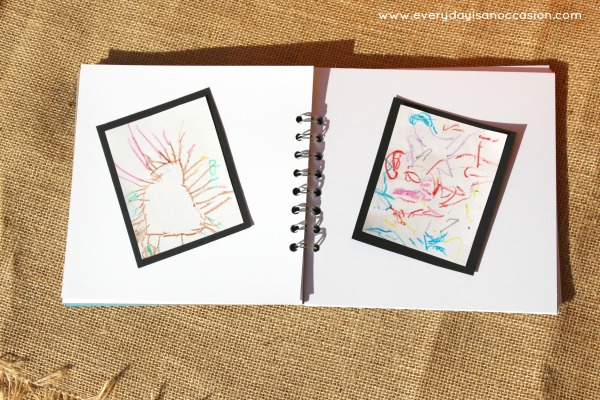 This is all great and grand you may be saying to yourself…but what you really want to know is how is this a kids craft? Well, let me tell youwhat we did… I talked to my kids (2 & 4) about being grateful or thankful. We have read many Thanksgiving books together and discussed what it means. Then I had my kids draw pictures about what they are thankful for. My 4 year old son (on the left) said he is thankful for "ALL the leaves". I said, "Oh you're thankful for leaves?" He said, "No, Mom… ALL the leaves" CUTE! My two year old daughter (on the right) said she is thankful for Daddy and she said Daddy has colorful hair. LOL! I am going to add these to my Instagram pictures. Once I have them printed I will have my kids help me create the layouts with photos of them and their drawings.
Have a great day! Smiles, Jill
You can Follow Jill on Instagram here and Core'dinations here!
So who was cropping with us this weekend????? We are having so much fun make sure you come chat with us here
Such a beautiful time of year and we are soaking it in on the Core Blog today with some fabulous Fall inspiration pieces!  If you were cropping with us then you saw this GORGEOUS card from Vivian Keh that is all about autumn colors! Make sure you check out her challenge and blog HERE for more amazing details!
What screams autumn color tones better than our Chocolate Box and Vintage Cardstock?  Heather Anne Kaesgan used both on this card for us today.
Creating with Core is easy! For this card,  Heather embosed the word "Hello" along the bottom and then added circles and Marvy Uchida punched flowers in the middle.  Did you know these Marvy punches actually punch the flowers with embossed designs? SO COOL!   Finish of your card with some May Arts ribbon and you are done! It's all about sanding, sanding, sanding! So get out that Sand It Gadget and have some fun.
And next up a card from Tracy Gruber.  I LOVE how she mixed in some Black Magic for her fall themed card.
I love the fall season because there are so many gorgeous colors and fun fall activities!  Picking out the perfect pumpkin is always a great time, even when you are 23 ; )  I cut out the pumpkin on my card from the Simply Charmed Cricut cartridge at 3 inches.  I used card stock from the Core'dinations Neutrals, Brights, Darks, and Pastels for it.  For my background, I used Black Magic with an orange background.  I sanded it with the Sand It Gadget to reveal the orange through the black.  I added some stitching and natural twine to complete my card!
-Echo Park The Apothecary Emporium 6×6 paper pad
-My Craft Spot Happy Fall! stamp set
-May Arts twine
-Cuttlebug Seeing Spots embossing folder
-Simply Charmed Cricut cartridge
-Tuxedo Black Memento Ink
-Xyron Foam Tabs