St. Patrick's Day, and all that is green is soon approaching. It just so happens that green is my favorite color – any shade possible!  To celebrate, I thought that an easy mixed media tag would be fun to put together.
St. Patrick's Day Tag Supplies:
Graphic 45 Place in Time Paper Pad
Layers of Color Stencil – Botanical Swirls
Crafter's Companion Embossing Folder – Ancient Arches
May Arts Ribbons
Kaisercraft Flowers
Imagine Crafts/Tsukineko Creative Medium Iridescent Chartreuse; VersaMark Ink
Tim Holtz Distress Paint
Ultra Fine Glitter
Step 1.  Cut tag from green cardstock and emboss with folder.
Step 2.  Sand the raised areas.
Step 3.  Paint the edges of the tag.
Step 4.  Spread Creative Medium through stencil and sprinkle with glitter.  Allow to dry.
Step 5.  Arrange ribbons on the tag and nestle printed paper as shown.
Step 6.  Ink the edges of the foam shamrock and add to the ribbons along with small green flowers.
I hope the luck of the Irish is with you this season! Thanks for stopping by.
~Gini
Goooood Friday Morning!
We are are here bringing you some Core'dinations and Glue Arts projects again today and all week long!

Make sure you head over to the Glue Arts blog for some awesome projects from their Design Team. They are also introducing a new product, Glue Glider Pro PLUS and they are doing 10 days of give-a-ways over there!!! And they have a GrEaT Facebook page, too, make sure you head over there as well for daily inspiration.
And, YES, we are giving away ANOTHER pack of Core for one lucky winner that posts here on the blog this week!!!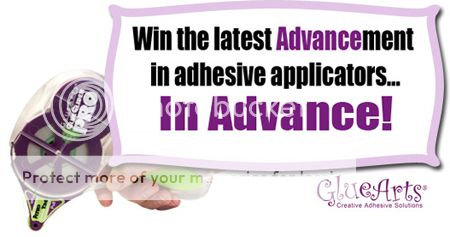 And make sure you head over to the Glue Arts Facebook page and tell them what your FAVORITE Glue Arts Adhesive is and tell them we sent you for  another chance to win. There are so many give-a-ways up for grabs right now there are going to be some lucky winners at the end of the week!
And do we have some cool stuff for you today!
Designer Lydia Jackson created this awesome Halloween wall hanging for us today. Lydia does just amazing things with her Fiskars Paper Crimper!  Here  is what Lydia says about Glue Arts, "I used the extreme adhesive dots, love these things, they are the only thing that will actually hold these florettes." So if you are interested in recreating this project…..grab your Black Magic Cardstock from Core and Glue Arts!!!
And a close-up. Check out this awesome, awesome detail.
And Designer Kim Jefress made this adorable card for us today, too.
Here is a little bit about how Kim put this card together. From start to finish it is just gorgeous. AND don't forget….Glue Arts is PERFECT for any project…cards…layouts..mini albums…ANY crafting project. The base of the card and to attach the pattern paper I used the GLUE GLIDER PRO. To give the hot air balloon a lift  and to create dimension on my card I used the U CUT IT 3d adhesive block. The colors are just beautiful, too. LOVE the balloon in the Vintage cardstock, don't you?
The U Cut It Foam adhesives give the perfect dimension to this card.
Make sure you come back TOMORROW for our last day of projects and your last chance to comment to win.
It's summer time, right?!?!?!
Haha, yes….I know a lot of us are getting hammered  with heat these days so what better way to spend
the days inside scrapping and being inspired, right?
Today's super fun Summer Themed project comes from Design Team Member Brianne Neville.
How cute are these????????
Supplies:
Core'dinations: Core Essentials (Snowflake), Vintage, Gemstones.  Silhouette SD (glasses, umbrellas)
Have a great week!
Today we wanted to take time and remember all the amazing men & women that have and continue to
fight for our country and our freedom every day. THANK YOU!
Design Team Member April Derrick created this layout in remembrance especially for this post today. First off, isn't this photo a treasure?   And check out the amazing details like the mixture of Core Impressions and how April turned the cardstock over and doodled on the backside!
And Design Team Member Brianne Nevill made this super cute project that is perfect for all your Memorial Day festivities!
LOVE all that vintage goodness!!!
PLEASE NOTE!!! WE WILL BE PICKING TODAY'S WINNER AND POSTING IT NEXT WEEK SO WE CAN BREAK FOR THE HOLIDAYS AFTER TODAY'S POST. REMEMBER…SHIPPING FOR THE WINNERS WILL NOT HAPPEN TO THE WEEK OF DECEMBER 27TH. THANKS FOR YOUR PATIENCE AND HAVE AN AMAZING HOLIDAY!!!!
So who is ready for yesterdays WINNER?!?!?!?!?!?!?!?!?!?!?!?
Michelle Hodges says:
Love all the cards & techniques!!
Thanks so much for the inspiration!!
Welcome to our First Ever 12 Days of Techniques. We are excited to share with you some of our favorite techniques using our unique color core cardstock. Each day a Design Team member is going to share a project featuring a technique with Core'dinationscardstock. We have TWELVE unique and amazing days lined up for you leading right into Christmas Eve Day.
In case you are just joining us today here is what we covered so far:
Day One: Sanding
Day Two: Tearing
Day Three: Embossing
Day Four: Debossing
Day Five: Distressing
Day Six: Scoring
Day Seven: Outlining
Each day we will be giving away a great selection of Core'dinations ! Each prize will also receive a Dust Buddy and our NEW Sand It Gadget! And today we have one of our favorite sponsors and they have a prize for you in addition to the Core'dinations prize pack!
AND today we have another cool addition to the Core'dinations prize pack. The winner will also receive this…Their VERY own Label Maker!!
All we ask of you is to leave us a comment either here OR on our Facebook page for two chances to win today!!! And don't forget to check out the video on Label Making here.
Design Team Member Melissa Oliveria has some beautiful projects for us using her label maker. Melissa used a beautiful combination of Black Magic, Vintage and Core Essentials cardstocks.
Melissa used her Label Maker to embellish the heart! Just a brilliant idea!
And yesterday's Winner is……………………………..
Lesley from WI says:
I have never seen this technique before and look forward to try it. Thanks for sharing so many great techniques. I have learned a lot and cannot wait to try them!
Have a GREAT Day!!!