May Arts Sheer Ruffle Edge White
May Arts Paper Cord Ribbon Pink
Chevron embossing folder Embossalicious
Big Shot
Paper doily
Marianne Design Butterfly Die
SRM Stickers Sticker Sentiments Wishing You Well
Hole punch
Flower embellishment
1.) Emboss cardstock from Whitewash Collection, sand with Sand-It Gadget and wipe with Dust Buddy. Trim to fit front of gift bag and adhere.
2.) Punch two holes at top of bag using hole punch. Thread through ribbon and tie bow.
4.)  Add sticker sentiment to tag. Attach tag to bag using paper cord. Add flower embellishment to finish.
Design by Clare Buswell 
Mary Pat Siehl here with you today and I am excited to share a new Back to School layout using some  Core'dinations cardstock.
Supplies:
Cardstock-Core'dinations (Core Impressions Jillibean Soup, Graphic 45 Signature Series, Core Essentials, 110lb. smooth)
Canvas Embellishments- Little Yellow Bicycle
Scoring Board
Spectrum Noir markers
Sand It Gadget
Dust Buddy
Lawn Fawn dies
Cuttlebug embossing folder
1. I love to layer my cardstock and so I decided to layer grey on top of light blue. I wanted to create a light chalkboard effect with the grey so I scored my grey cardstock with a scoring board and scored at the 1/2 inch line all around the paper. Then just sanded the paper pretty heavily to really expose the lighter inner core.

2. Next, I took a piece of Core Essentials and laid it on an embossing folder to create a very light embossed look to the paper strip again sanding  pretty heavily to give it a very distressed look.

3. I then took a piece of the Core'dinations Jillibean Soup Impression paper and sanded it and placed that on top of the blue piece. If you don't have Core Impressions you could easily emboss another sheet.
4. Next I added a small strip of yellow and added that on top. (Again, I LOVE to layer my paper with different textures and designs.)
5. Add  photos.
6. Make a star embellishments using die cuts, embossing them using an embossing folder, and lightly sanded them.
I also have this video for you on how this layout came together.

~~~~~~~~~~~~~~~~~~~~~~~~~~~~~~~
That is the question! Should I sand my Core or not?  Today I have a great layout that focuses on some sanded Core and unsanded. The BEST thing about Core is the ability to be able to do BOTH.
This is a close-up of Core embossed but not sanded. I love the look of both but for this one, the Core was pink and I was going for a monochromatic feel for this layout so I didn't sand.
The bowtie is from our Whitewash cardstock and it is sanded so the black core comes through when you use your Sand it Gadget. Don't forget your Dust Buddy when using Core especially our Whitewash collection.
Hi Everyone, Suzanna Lee here today and just thinking about those lazy summer days… What a I wouldn't give for a sunset surf today. As spring wraps to a close and summer draws near, my patience wears thin… Just a good soak of the toes in the lake and the serenity of the sun slipping behind the horizon would do me some good right about now! Anybody with me?
Supplies:
Whitewash – Cottage Porch
Tim Holtz – Distress Collection Pack
Tim Holtz – Adirondack Collection Pack
Core Essentials – Bright Collection, Pastel Collection, French Roast
Tim Holtz – Kraft Core – Nostalgic
Core'dinations Canvas Textured Tag – Bright
Distress Stickles – Tim Holtz
Wood Veneer – Studio Calico
Twine – The Twinery
Die – Lifestyle Crafts
Mist – Heidi Swapp
For those of you who know me and follow my work, I didn't tear paper until I found Core'dinations Cardstock. Nope! Not ME. I did on this layout and I absolutely LOVE the finished effect. I won't lie, it did freak me out a little bit. I mean, come on, how does a Type A, highlighted, bolded and underlined person rip paper without freaking out? Tearing paper is not something you can control, trust me. Until I realized that you don't want a controlled tear.  Go for it! You CAN do it! If I can, I know you can!
See…the more asymmetrical and uneven the  BETTER because you can see more CORE!
I flicked a little gold mist along the top layer to add to a layer of depth to the sky, seperating it from the water below.
That tag contains hidden journaling, you can pull it out for the pocket I created in the layers of paper. I loved the clean look of the layout and didn't want my journaling to disturb that serene look I created. There is nothing private about the journaling, it's hidden so as not to be a distraction. Did you see the Distress Stickles along the torn edges for some more dimension to the layout?
Hi! Jill from Every Day is an Occasion  here to share some Clean and Simple Spring Cards with you. These cards are so beautiful and yet so simple!!
Clean and Simple Spring Cards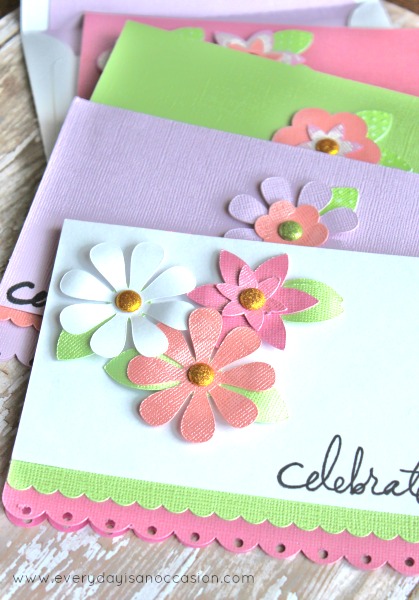 To make these cards, I used this Silhouette Cut. Then I used all different colors from the Gemstones Pack, Green Spotted Core, Whitewash Core, and the 110 lb White Core. The best way I have found to make a bunch of cards is to use the cut on several different colors but only one color at a time and then mix and match the colors.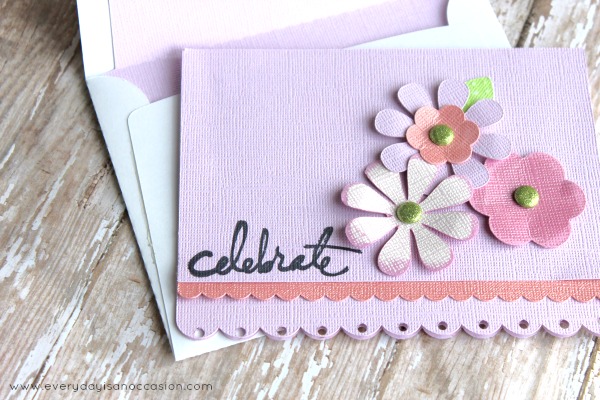 I just love sanding the tips of the Whitewash Core. The color shows through so vividly.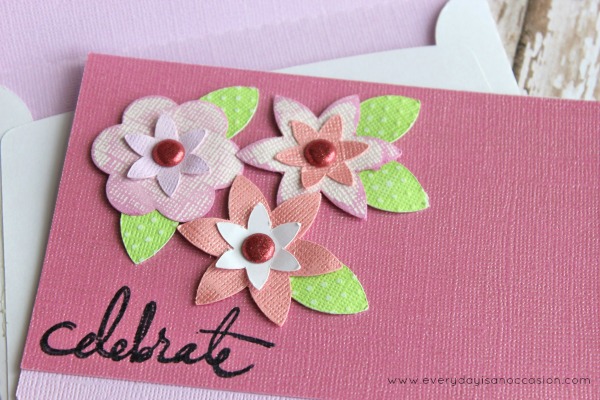 I used the Green Spotted Core for the leaves. It is really fun to sand and really gives the card that pop.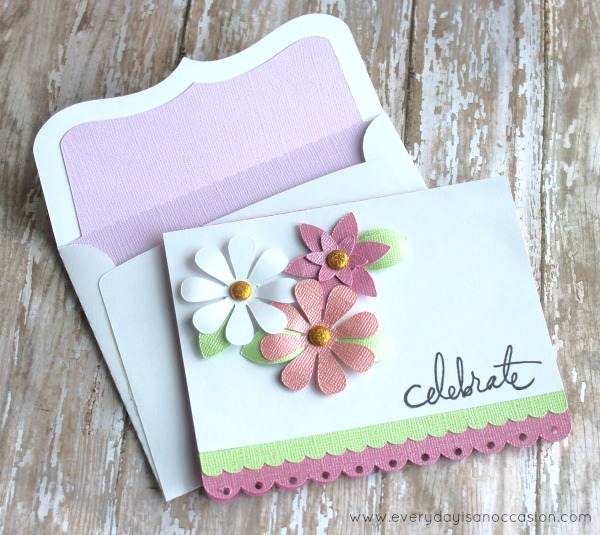 I made envelopes and liners with each card. I used a Pastels, 110 lb White Core, and this Silhouette Cut to make envelopes and liners.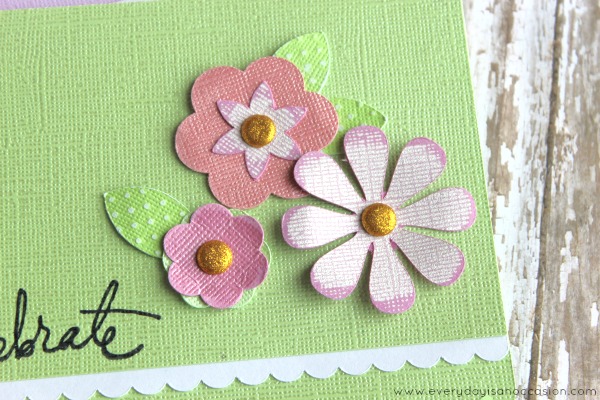 Thanks so much for stopping by and checking out my Clean and Simple Spring Cards!
Day Two!
We are here all week long with Lawn Fawn! Our team loves loves loves loves their stamps so much..make sure you head over to their site to do some shopping! From cards to layouts, we have it for you! Please make sure you head over to the Lawn Fawn blog for more inspiration AND their Facebook page.  Their Design Team is incredible and you don't want to miss anything.
First up we have Designer Tracy Gruber with a super cute card:
I love my Lawn Fawn stamps, so I was very excited to pair them with Core!  I started with the Whitewash paper and embossed it with the Swirls embossing folder.  I sanded the de-embossed side, so more of the blue color showed.  I then stamped the tree from the Critters in the Forest set twice and kept one piece whole and the other one I cut each other the "sections" apart.  I then attached each of the pieces to the whole tree and popped up the bottom with Tombow Foam Tabs to give it dimension.  I used the green Core Vintage paper and tore it to create the grass for my scene.
LOOK at all that AMAZING detail!
Core'dinations Pastels paper pad
Core'dinations White Wash paper pad
Core'dinations Darks paper pad
Core'dinations Neutrals paper pad
Cuttlebug Swirls and Swiss Dots embossing folders
Copics: E23, E25, E39, E31, R20, R29, R39
Tuxedo Black Memento Ink
May Arts Natural Twine
Sand It Gadget
Dust Buddy
~~~~~~~~~~~~~~~~~~~~~~~
~~~~~~~~~~~~~~~~~~
And one last card today from Designer Kim Moreno!