Hi Everyone, Suzanna Lee here today and just thinking about those lazy summer days… What a I wouldn't give for a sunset surf today. As spring wraps to a close and summer draws near, my patience wears thin… Just a good soak of the toes in the lake and the serenity of the sun slipping behind the horizon would do me some good right about now! Anybody with me?
Supplies:
Whitewash – Cottage Porch
Tim Holtz – Distress Collection Pack
Tim Holtz – Adirondack Collection Pack
Core Essentials – Bright Collection, Pastel Collection, French Roast
Tim Holtz – Kraft Core – Nostalgic
Core'dinations Canvas Textured Tag – Bright
Distress Stickles – Tim Holtz
Wood Veneer – Studio Calico
Twine – The Twinery
Die – Lifestyle Crafts
Mist – Heidi Swapp
For those of you who know me and follow my work, I didn't tear paper until I found Core'dinations Cardstock. Nope! Not ME. I did on this layout and I absolutely LOVE the finished effect. I won't lie, it did freak me out a little bit. I mean, come on, how does a Type A, highlighted, bolded and underlined person rip paper without freaking out? Tearing paper is not something you can control, trust me. Until I realized that you don't want a controlled tear.  Go for it! You CAN do it! If I can, I know you can!
See…the more asymmetrical and uneven the  BETTER because you can see more CORE!
I flicked a little gold mist along the top layer to add to a layer of depth to the sky, seperating it from the water below.
That tag contains hidden journaling, you can pull it out for the pocket I created in the layers of paper. I loved the clean look of the layout and didn't want my journaling to disturb that serene look I created. There is nothing private about the journaling, it's hidden so as not to be a distraction. Did you see the Distress Stickles along the torn edges for some more dimension to the layout?
Getting ready for the end of the school year means thanking those who have spent the year inspiring our little ones to learn.  Today Kate Nolan Denham is sharing a gift bag and card made with a variety Core'dinations Cardstock.
I decorated a simple kraft gift bag from Darice by creating a base designed to look similar to a chalk board.  The same base design was used for the thank you card.
The giant cardstock pencils on both the bag and card were scored, sanded and bent to give it the 3-D effect of a real pencil.
Other Supplies:
Darice Kraft Gift Bag
Scor Pal
Cutting titlework out of Core'dinations Cardstock is always a plus when looking to compliment your layout, project or card perfectly.  I cut the "Hello Spring" out of Core'dinations Whitewash Collection using my Silhoutte.
When working with Core'dinations Cardstock for my titlework, I like to use the following process:
1) Run the cut title through a Xyron Create-a-Sticker, making sure to rub and peel before you pull the plastic off.
2) Keeping the titlework on the adhesive backing, sand the Core'dinations Cardstock with Sand It Gadget until the color core shows.
3) Using your Dust Buddy, dust the sanded titlework.
4) Add any liquid you may use to enhance the color core to your title work before taking the titlework off the adhesive backing.
The pinwheels are cut out of Core'dinations Jillian Spotted Collection.  This fun dotted collection is just perfect for the whimsical pinwheels.
Being one not to waste good negatives, I made two cards out of the titlework negatives.
Other Supplies:
Viva Decor Lila Perle Pen
JilliBean Patterened Paper
Crate Paper Patterned Paper
Dymo
Silhoutte "Pinwheel"
Hi Everyone! Tracy Gruber here! Hopefully it's starting to feel like spring where you are!  I decided to create my own beautiful flowers out of Core'dinations card stock to get me in the mood for spring and summer.  Start out by cutting the hydrangea from the Walk In My Garden Cricut cartridge at 4 inches.  Next, emboss a piece of White Wash card stock with the Cloudy Sky embossing folder from Darice.  I de-embossed it and sanded it so the clouds stayed white and the sky became blue.  Then, tear two strips of brown card stock to create the "dirt" at the bottom on the card.  Use the Fiskar's grass border punch and Kraft Core card stock to create the grass that is behind the dirt.  Die cut the clouds from white card stock and stamp the sentiment on the medium cloud.  Adhere everything together for a fun card!
Supplies:
-Cricut Walk In My Garden cartridge
-Fiskars Grass Border Punch
-Memory Box Puffy Clouds die
-Lawn Fawn A Birdie Told Me stamp set
-Darice embossing folder
Happy Spring Card:
I love to create 3D flowers with my Core card stock.  After a little sanding, they start to look real!  Die cut the flowers using the Spellbinder's Rose Creations die.  Bend each flower petal and then sand each one with the Sand It Gadget.  I like to attach each flower layer together with a brad, but you could use whatever you want. For the card base, layer together a piece of yellow and dark purple card stock.  Sand the purple card stock to give it a distress look.  Attach a white Core Tag to the card base and stamp the sentiment.  Lastly, attach each flower and the leaves onto the card front.
Supplies:
- Lawn Fawn Jessie's ABC's stamp set
Welcome Card:
The ombre trend is hot right now and I love to use my Core card stock to create ombre backgrounds.  We have been having gorgeous sunsets lately, so I was inspired to create a card with a sunset that looks like it's on fire!  I tore strips of red, orange, and yellow card stock and attached them to a white card base.  I die cut the sky line with a Memory Box die and used Glitter Silk for the buildings windows.  The windows look like they are really lit up because of all of the sparkle from the Glitter Silk card stock!  I used the speech bubble die from Simon Says Stamp and stamped the Paper Smooches sentiment on it.
Supplies:
-Memory Box Cityscape Nightline
-Simon Says Stamp Talk Bubbles 2 die
-Paper Smooches Word Salad stamp set
Hi! Jill from Every Day is an Occasion  here to share a birthday card with you today! I used Core'dinations Gemstones paper, which is one of my favorite paper packs.
Birthday Card using Gemstones Core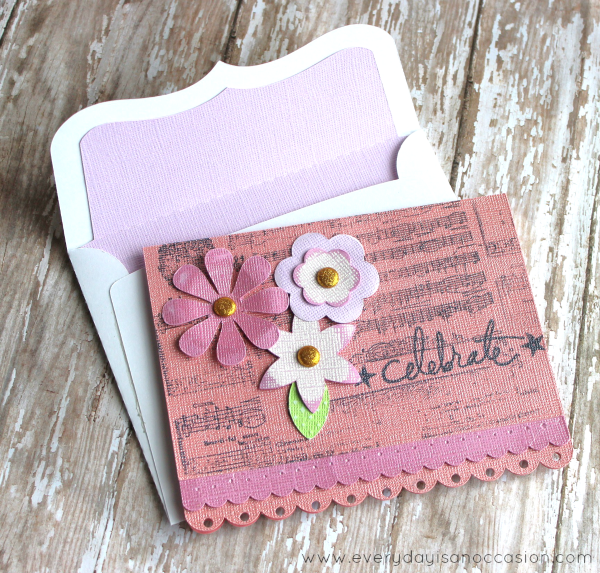 To make this card, I used Gemstones Core, Green 6×6 spotted core, and a little White Wash Core along with this Silhouette Card cut and this Silhouette Envelope Cut. But you don't need a die cutting machine..any cardbase will do!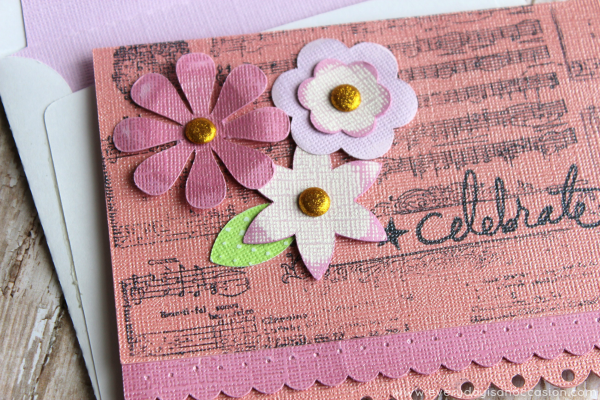 Once I cut out all the shapes I sanded the Core flowers with my Sand-It tool! To add a little fun detail to this card I used my Sew Easy Tool from We R Memory Keepers to create the little tiny holes. I then sanded the holes with my Sand-It tool.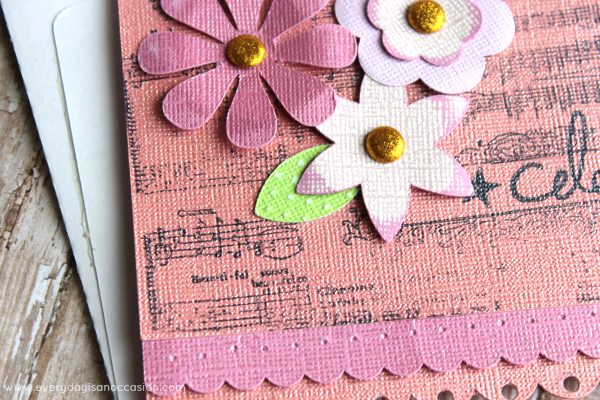 I also used some of Heidi Swapp's new stamps and ink. I stamped directly onto the Gemstones Core. The Gemstones Core just LOVED the ink! I just soaked it right up!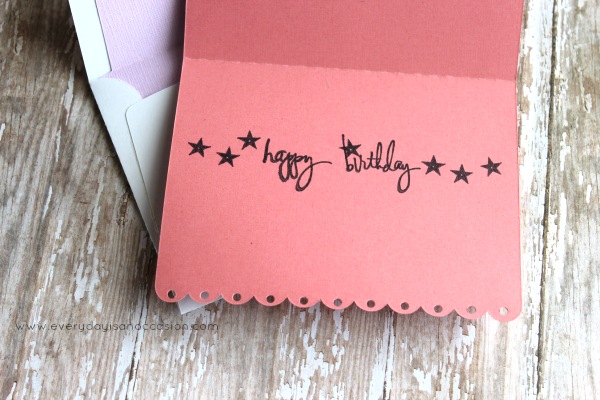 What is your favorite Core'dinations paper pack?