Cutting titlework out of Core'dinations Cardstock is always a plus when looking to compliment your layout, project or card perfectly.  I cut the "Hello Spring" out of Core'dinations Whitewash Collection using my Silhoutte.
When working with Core'dinations Cardstock for my titlework, I like to use the following process:
1) Run the cut title through a Xyron Create-a-Sticker, making sure to rub and peel before you pull the plastic off.
2) Keeping the titlework on the adhesive backing, sand the Core'dinations Cardstock with Sand It Gadget until the color core shows.
3) Using your Dust Buddy, dust the sanded titlework.
4) Add any liquid you may use to enhance the color core to your title work before taking the titlework off the adhesive backing.
The pinwheels are cut out of Core'dinations Jillian Spotted Collection.  This fun dotted collection is just perfect for the whimsical pinwheels.
Being one not to waste good negatives, I made two cards out of the titlework negatives.
Other Supplies:
Viva Decor Lila Perle Pen
JilliBean Patterened Paper
Crate Paper Patterned Paper
Dymo
Silhoutte "Pinwheel"
Hi Everyone! Tracy Gruber here! Hopefully it's starting to feel like spring where you are!  I decided to create my own beautiful flowers out of Core'dinations card stock to get me in the mood for spring and summer.  Start out by cutting the hydrangea from the Walk In My Garden Cricut cartridge at 4 inches.  Next, emboss a piece of White Wash card stock with the Cloudy Sky embossing folder from Darice.  I de-embossed it and sanded it so the clouds stayed white and the sky became blue.  Then, tear two strips of brown card stock to create the "dirt" at the bottom on the card.  Use the Fiskar's grass border punch and Kraft Core card stock to create the grass that is behind the dirt.  Die cut the clouds from white card stock and stamp the sentiment on the medium cloud.  Adhere everything together for a fun card!
Supplies:
-Cricut Walk In My Garden cartridge
-Fiskars Grass Border Punch
-Memory Box Puffy Clouds die
-Lawn Fawn A Birdie Told Me stamp set
-Darice embossing folder
Happy Spring Card:
I love to create 3D flowers with my Core card stock.  After a little sanding, they start to look real!  Die cut the flowers using the Spellbinder's Rose Creations die.  Bend each flower petal and then sand each one with the Sand It Gadget.  I like to attach each flower layer together with a brad, but you could use whatever you want. For the card base, layer together a piece of yellow and dark purple card stock.  Sand the purple card stock to give it a distress look.  Attach a white Core Tag to the card base and stamp the sentiment.  Lastly, attach each flower and the leaves onto the card front.
Supplies:
- Lawn Fawn Jessie's ABC's stamp set
Welcome Card:
The ombre trend is hot right now and I love to use my Core card stock to create ombre backgrounds.  We have been having gorgeous sunsets lately, so I was inspired to create a card with a sunset that looks like it's on fire!  I tore strips of red, orange, and yellow card stock and attached them to a white card base.  I die cut the sky line with a Memory Box die and used Glitter Silk for the buildings windows.  The windows look like they are really lit up because of all of the sparkle from the Glitter Silk card stock!  I used the speech bubble die from Simon Says Stamp and stamped the Paper Smooches sentiment on it.
Supplies:
-Memory Box Cityscape Nightline
-Simon Says Stamp Talk Bubbles 2 die
-Paper Smooches Word Salad stamp set
Hi! Jill from Every Day is an Occasion  here to share a birthday card with you today! I used Core'dinations Gemstones paper, which is one of my favorite paper packs.
Birthday Card using Gemstones Core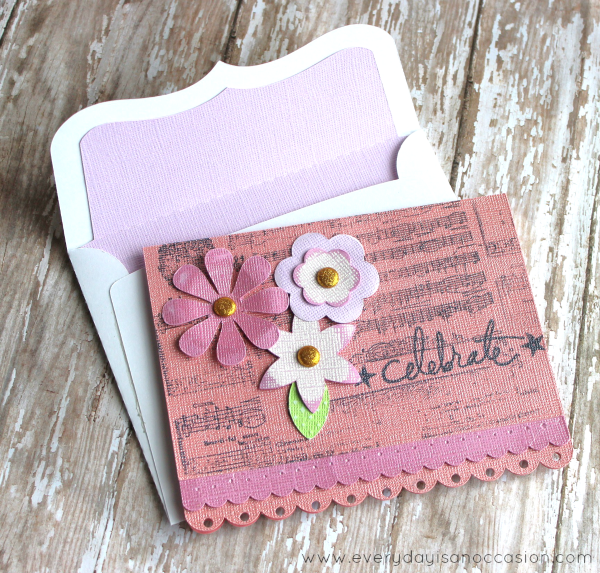 To make this card, I used Gemstones Core, Green 6×6 spotted core, and a little White Wash Core along with this Silhouette Card cut and this Silhouette Envelope Cut. But you don't need a die cutting machine..any cardbase will do!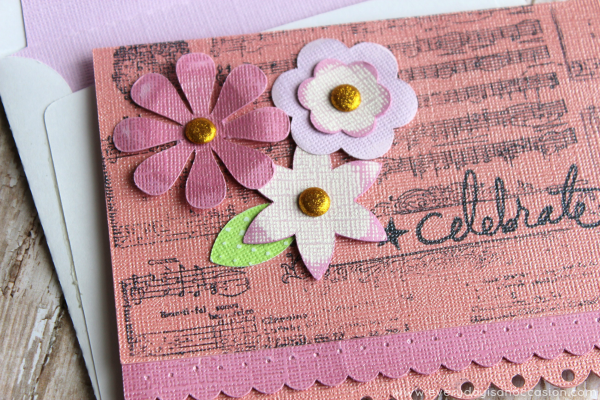 Once I cut out all the shapes I sanded the Core flowers with my Sand-It tool! To add a little fun detail to this card I used my Sew Easy Tool from We R Memory Keepers to create the little tiny holes. I then sanded the holes with my Sand-It tool.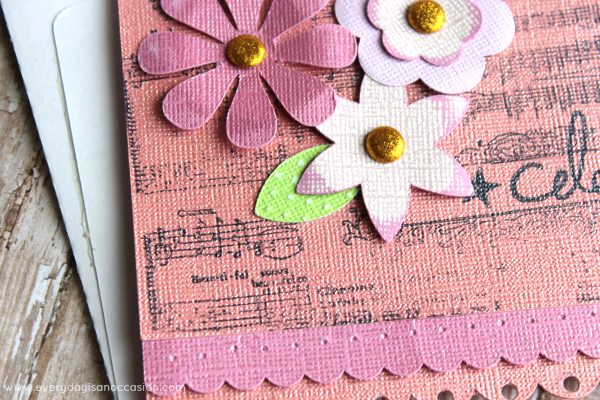 I also used some of Heidi Swapp's new stamps and ink. I stamped directly onto the Gemstones Core. The Gemstones Core just LOVED the ink! I just soaked it right up!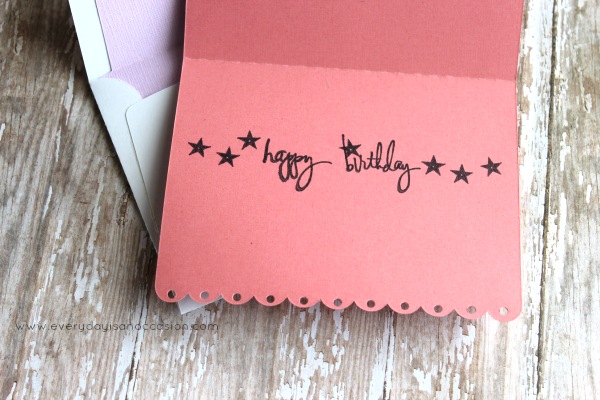 What is your favorite Core'dinations paper pack?
Tracy Gruber has some amazing projects for us today. ENJOY!
~~~~~~~~~~~~
Winter cards are so fun to make with Core'dinations card stock because you can rip the paper to look just like snow! Start with a white card base that measures 4 1/4″ x 5 1/2″ (A2 size). Next cut a light blue mat that measures 4″ x 5 1/4." Then cut a piece of White Wash card stock with a blue background to 3 3/4″ x 5″ and then emboss it with the Cuttlebug Snowflakes embossing folder and sand it with the Sand It Gadget. Rip two strips of white card stock from the Neutrals Essentials pad to fit along the bottom of the embossed snowflake piece. Stamp the sentiment from Lawn Fawn on top of the white card stock. Next, cut out the snowman image from the Winter Frolic Cricut cartridge at 3 1/4." I used the white and brown card stock from the Neutrals paper pad, the teal, lime green, and orange card stock from the Brights paper pad, and the light pink from the Pastels paper pad. I attached that to the card base with Tombow 3D Foam Tabs. Finish the card by adding twine from The Twinery.
Supplies:
-Winter Frolic Cricut Cartridge
-Lawn Fawn Let It Snow stamp set
-Core'dinations Neutrals, Brights, and Pastels Essentials paper pads
-The Twinery twine
-Tombow 3D Foam Tabs
-Core'dinations White Wash paper pad
-Sand It Gadget
-Dust Buddy
-Tuxedo Black Memento Ink
-Snowflakes Cuttlebug Embossing Folder
Creating Winter Layouts is even more fun when there is glitter involved! For my layout, I pulled out my Core Couture card stock and got to work! I used the white, navy blue, and light blue Core Couture and punched them out with a 1.5″ circle punch from Fiskars. Next, emboss each of the circles with the Cuttlebug Swiss Dots embossing folder and sand them with the Sand It Gadget. Arrange them onto a piece of gray card stock from the Neutrals Essentials paper pad. Emboss three lines around the edge of the gray card stock and sand it with the Sand It Gadget. Finish the layout by adding a title, snowflakes, and branches.
Supplies:
-Core'dinations Neutrals and Darks Essentials paper pads
-Core'dinations Couture Collection
-Core'dinations Tim Holtz Distress Collection
-Cricut Alphalicious cartridge – letters cut at 1 1/2″
-Diamond Stickles
-Sand It Gadget
-Dust Buddy
-Cuttlebug Swiss Dots embossing folder
-Fiskars 1.5″ circle punch
-My Favorite Things snowflake dies
-Martha Stewart branch punch
-May Arts Natural twine
-October Afternoon letter stickers
I love to use the White Wash Collection on my layouts! Start with a 12×12 piece of White Wash card stock that has a kraft/brown background and emboss two lines on easy edge. Sand over them to make the color show through. Next, cut a piece of light blue card stock from the Pastels paper pad to 10″ x 10." Adhere that down to the 12×12 piece. Cut three squares of White Wash card stock with a blue backing to 3" x 3," emboss them with the Cuttlebug Snowflakes embossing folder, and sand them with the Sand It Gadget. Cut the title at 1 1/4″ from the Alphalicious Cricut cartridge. Sand the top and the bottom of each letter so the blue shows through and leaves the middle white. It creates a cool ombre effect. Add snowflakes, buttons, twine, and sequins to complete the layout.
Supplies:
-Core'dinations White Wash Collection
-Core'dinations Pastels and Darks Essentials paper pads
-Dust Buddy
-Sand It Gadget
-Cricut Alphalicious cartridge
-Cuttlebug Snowflakes embossing folder
-My Favorite Things snowflake dies
-May Arts Natural twine
-Sequins
-Antique Linen Distress Ink
Yep, you guessed it! We have some SNOW inspiration for you because I am sure a lot of us in the States have TONS and TONS of snow layouts. Even those of us who never get snow!
Kim Moreno has too amazing layouts for us today. Kim has a way with Core! She scors, tears, sands, embosses like no other!
~~~~~~~~~~~~~~~~~~~~~~~
To look at this page just makes me smile. I wanted to just get a quick picture of all the kids in their redneck snow gear and somehow it turned into them all pelting me with snowballs and then taking off running laughing all the way! Oh the turds conspired against me! lol I laid my photos out in the series of the raid going down. By the way these pictures were all taken and edited on my iphone!
I backed the photos with red cardstock and tore along the bottom edge to reveal the color core of the red cardstock. I then backed that with the Whitewash cardstock. I used my ScorPal to dry emboss the lines across the top and sanded it slightly to reveal the dark blue core. I then adhere the Whitewash cardstock along the bottom of the red mat and tore along the edge. I did this three times to give a bit of a snowpile sort of look. I then added die cut snowflakes, gems, and a chipboard title to complete my layout.
EMBOSSING AND DEBOSSING! 
Don't forget about our sketch challenge! You  only have until January 25th so there is still  time to enter. Create a card or a layout based on the sketch below and link it to THIS blog post or our Facebook page for a chance to win a Pastels Collection pack! Don't forget to use some Core'dinations and you know how much we love technique. Don't  forget to tear it, sand it, emboss it and LOVE it!
So how do you do ONE sketch TWO ways….emboss it and then deboss it! It's that easy with Core'dinations ColorCore Cardstock.
Yes, it is that easy. Just flip your cardstock over (or the folder) and run it through your machine to get the same pattern but the REVERSE embossed image. SO COOL and a GREAT way to spruce up those folders. If you are new to embossing and debossing and would like more information check out our technique videos HERE. Here is more about these cards from Gail Lindner:
~~~~~~~~~~~~~~~~~~~~~~~~~~~~~~~~~~~~~~~~
Recently we were given a fun card sketch and to put my spin on it, I decided to create two cards, using the same colors and design but showing a variation on a technique.
Can you spot the difference with the two cards below?
We all know that Core cardstock is PERFECT for embossing as a light sand after embossing reveals the pattern even more.
Sometimes even I forget that a flip of the cardstock, to emboss on the reverse side is debossing and you get the opposite (but equally as effective) effect.
The card below was embossed right side up.
This next card was debossed (reverse side up).
Don't you love the effect of debossing on Whitewash Cardstock?
Another advantage of using the Whitewash Collection is that you can use the back of the card to matt with and the color matches perfectly! Love it!
Thanks for visiting and I hope I've inspired you to get double the use out of your embossing folders!
 Supplies:
 Whitewash Collection – Wicker Chair, Washboard, Grandma's Rocker
Graphic 45 Collection – Creme Brulee
Tim Holtz Adirondack Collection – Lake Mist
Core Basics 110 lb. Premium White Cardstock
Big Shot
Darice & Cuttlebug embossing folders
Sand It Gadget
Dust Buddy