We have some fun tips from Design Team Member Melissa Oliveira.
Even though these layouts have a summer theme to them doesn't mean you can't use these tips for any project.
First up Melissa stamped on her Whitewash for this journaling. If you have used our cardstock before, you know it gets a bit dusty  when you sand it. First up, you really should have a Sand it Gadget to make your sanding easy. After that, you want to use our Dust Buddy.
The Dust Buddy is a unique cloth that does many things, including cleaning the sanding residue so your adhesives can stick better. One additional thing it does is make your stamped images crisper and cleaner as seen on Melissa's layout here. If you sanded this Whitewash and didn't use a Dust Buddy,  the stamped imaged wouldn't be as great.  So make sure you tell your favorite Core'dinations Cardstock retailer to get some Dust Buddies. They go a long way, too!
And here is another example of a layout where Melissa stamped over some Graphic 45 Core Impressions. And of course, how cool are those torn waves in the Whitewash????
Scared you, didn't I?
Well, before we have some Halloween inspiration for you from Design Team Member Char Dobson we anted to let you know that Monday we are at it again with Graphic 45! We have one of these up for grabs, too! Our Signature Series Cardstock…it's FabUlous!
Now we are ready for some SUPER CUTE monsters from Design Team Member Char Dobson.
Core Essentials, Vintage, Whitewash, Black Magic
Other supplies: Cricut Mini Monsters, various embossing folders, googly eyes
Some more…cute cute cute cute!!!
First up we have a May Arts/Petaloo week winner!
Marcia D says:
Awesome witch hat! Love it!
email Ellen_Sosnoski@coredinations.com with your address information by next Wednesday, November 2nd.
~~~~~~~~~~~~~~~~~~~~~~~~~~~~~~~~~~~~~~~~~
Today we have a super cute bag from Design Team Member Debbie Standard.
There are so many awesome details on this bag that I would sit down with your morning coffee and get ready to be inspired!
Have you ever printed digital images on your Core?  Well, this gorgeous bag is a great example of how Core is your go to cardstock for any project.
Here is a little bit about the bag from Debbie, "The flowers are from the Cuttlebug flower making kit,  some are from a tutorial by Heidi Van Lear and then some are free hand cut and I swirled them. The digital images are from Faith over at D2D." AND Debbie also backed some of the flowers with Petaloo Color Matching flowers.
Debbie used a ton of core on here...Core Essentials, Whitewash (some of the flowers, Cemetery Stone, Spooky House), some Black Magic on the Fence….just a FABULOUS mix of Core on this festive project.
Debbie used our Core  Colour Lover's Challenge for her inspiration. You have until
Monday to get these linked for a chance to win some goooodies!
Goooood Tuesday Morning!
We are are here bringing you some Core'dinations and Glue Arts projects again today and all week long!

Make sure you head over to the Glue Arts blog for some awesome projects from their Design Team. They are also introducing a new product, Glue Glider Pro PLUS and they are doing 10 days of give-a-ways over there!!! And they have a GrEaT Facebook page, too, make sure you head over there as well for daily inspiration.
And, YES, we are giving away ANOTHER pack of Core for one lucky winner that posts here on the blog this week!!!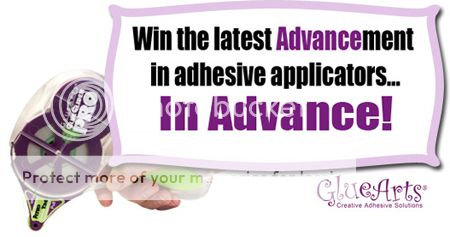 Today we have a tutorial for you from Design Team Member Shaunte Wadley using Core'dinations Vintage Cardstock, Whitewash, Glitter Silk and Core Essentials.
Sometimes those brads look ugly on cards when you open them up and look inside, don't you think?  Well Shaunte worked around that with this solution.
First, snip off the back of the brad like this:
Then adhered it to the Glitter Silk Crown using Glue Arts Square Adhesives. You definitely need an adhesive that is going to stick with this large brad!
Next you need some of these! U Cut It foam 3D adhesives. Our team is going gaga over these! You can trim them to any size you want! Small, Medium…Large..whatever you need.
Cut some down to the appropriate size and adhere it to the back of the crown:
And here is a some close-up of what your final project will look like:
And now for some MORE winners!
Our September Color Challenge Winner is Megan A
And our World Cardmaking Day Winner is Homemade Cards by Erin
Please email ellen_sosnoski@coredinations.com with your address (phone numbers if you are international) so we can get your prizes out as soon as possible.
WHO WANTS TO WIN SOME CORE??????
We are brining in WCMD with our October Colour Lover's Challenge.
This month is all about fall and autumn colors.
AND WE ARE GIVING YOU THE CHANCE TO WIN TWO PACKS OF CORE!
We will pick one winner that creates a card with this color palette by Tomorrow, October 2nd at Midnight PST and links it here on this post or on our Facebook page to win a pack of Core'dinations Cardstock! REMEMBER…you must use Core'dinations Cardstock to be eligible.
AND you will still be entered to win the October Colour Lover's Challenge, too! That is two chances to win this month so get busy! (Please note: You can create any project you want for our monthly Colour Lover's Challenge but for this weekend we are looking for cards to celebrate WCMD)
Here is the color palette design by Design Team Member Lydia Jackson:
And a card created by Ellen Sosnoski using Whitewash as the base and some Tim Holtz-Kraft Core: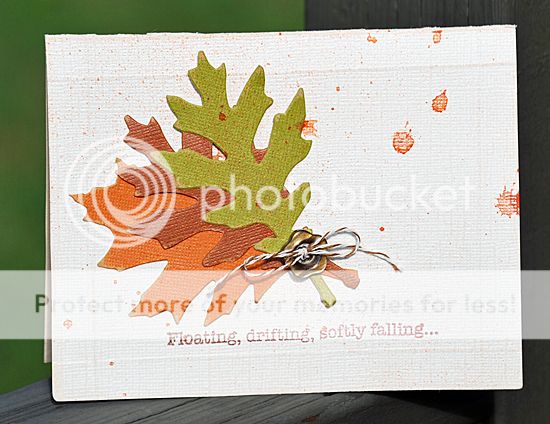 One of my favorite sentiments by myStamp Box…
All entries for our monthly colour lover's challenge must be linked to this post by the end of October 31st at midnight PST.
For the WCMD challenge, they must be linked by October 2nd, midnight PST.
You may link your project to our Facebook page as well.
We have a special celebration today for Canada Day!!!
Char Dobson, our very own Manitoba resident, has made these festive cupcakes and cupcake toppers.
Deliciously CUTE!
Core'dinations: Core Essentials, Black Magic.  Other Supplies: Crop-a-Dile & Eyelets, Cricut Designer's Calendar, Cricut Cupcake Wrappers, Cricut Plantin Schoolbook, Cuttlebug Herringbone Embossing Folder.