And for all of our Canadian friends, Happy Thanksgiving weekend!
As you may have heard…we recently released the David Tutera Celebrate Cardmaking system! This unique line allows you to create cards in three simple steps.  Click on the image to the right  of this blog post here to learn more about it! ————>
So how does it work? First select your card base, second add layers for colors and design and then third, embellish. That' it!
Want to see some designs from our Design Team?
First up, Debbie Standard shows us just how easy it really is…
1) Debbie chose a white A2 cardbase.
2) Then Debbie chose  her layer, the pink dots layer from the Emboss Small Dot Assortment found here in the Step 2 Layers.
3)Finally..embellish with Step 3 Sentiments and Shapes. Banners, tags, die-cut shapes..we have it! And select packs come with string and bling!
Put it all together you and you have a gorgeous (and easy) card! For more David Tutera Celebrate cards check out Debbie's blog here.
Next up we have some cards from Kerri Smith. EEEEEK! I love these tiny hears so much!!!
Just LOVE how Kerri does her embellishment clusters with the die-cuts from Step 3.
And  next up we have Shaunte Wadley. Even though these cards pretty much make themselves, you can still add your twist to them like sewing AND sanding of course 😉
And another gorgeous card from Shaunte! Yep, all products from the David Tutera Celebrate line.
Okay so it wouldn't be WCMD without a challenge now would it?????
We want to see your cards! Now we realize you might not have the David Tutera Celebrate line yet so all you need to do is use some Core on your cards to qualify for this challenge.  Yep, that's it..we want to see some Core Cards from YOU!
AND we need you to like our BRAND, NEW David Tutera Celebrate Facebook page!!!
Just link your card(s) to THIS blog post by Monday, October 8th at Midnight (winner will be chosen and posted sometime  by the end of next week ). We can't wait to see what you can do with Core'dinations Cardstock.
Winner will win a goodie bag from Core'dinations Cardstock. You might just find  some of the BRAND NEW David Tutera line in it so you can make your very own cards, too!!! 😉 😉 😉
WHO WANTS TO WIN SOME CORE??????
We are brining in WCMD with our October Colour Lover's Challenge.
This month is all about fall and autumn colors.
AND WE ARE GIVING YOU THE CHANCE TO WIN TWO PACKS OF CORE!
We will pick one winner that creates a card with this color palette by Tomorrow, October 2nd at Midnight PST and links it here on this post or on our Facebook page to win a pack of Core'dinations Cardstock! REMEMBER…you must use Core'dinations Cardstock to be eligible.
AND you will still be entered to win the October Colour Lover's Challenge, too! That is two chances to win this month so get busy! (Please note: You can create any project you want for our monthly Colour Lover's Challenge but for this weekend we are looking for cards to celebrate WCMD)
Here is the color palette design by Design Team Member Lydia Jackson:
And a card created by Ellen Sosnoski using Whitewash as the base and some Tim Holtz-Kraft Core: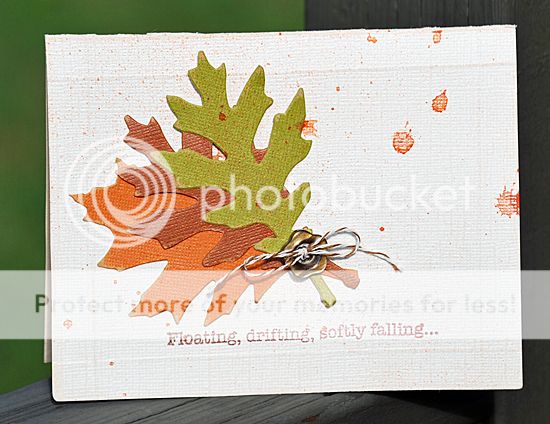 One of my favorite sentiments by myStamp Box…
All entries for our monthly colour lover's challenge must be linked to this post by the end of October 31st at midnight PST.
For the WCMD challenge, they must be linked by October 2nd, midnight PST.
You may link your project to our Facebook page as well.