Altered Box by Ava Gavloski
Altered Photo Box Supplies:
One last look on an angle, which showcases this photo box book for your library shelf.
~ Ava
We hope you had a fun week with Core'dinations, Petaloo and Xyron! Today is the announcement of our WINNER of the Chalk Core Prize pack! 
a Rafflecopter giveaway
 Email ellen_sosnoski@coredinations.com with "Chalk Core Winner" in the subject line. Please allow 4-6 weeks for shipping and handling. 
Adore Card by Shaunte Wadley
I have to admit- I have a hard time using my Petaloo Flower Stash- not because they are hard to use, they are in fact, the easiest! It seems like every project I have added them to has gone from "pretty" to "breathtaking." They are so detailed, they make your projects look time intensive when in actuality, all you have to do is adhere them. I have a hard time using them- because I am afraid I will run out of them. There. I said it. I am a craft supply hoarder!
Adore Card Supplies:
Step 1: Cut the "Adore" frame shape using my Silhouette Cameo. I cut the frame from Core'dinations Cardmaker Series Pearls in "Tan." This cardstock is thick and has a beautiful pearlized sheen. It cuts really nicely in electronic cutting machines, even with shapes as intricate as this one. The base of the card was cut with a Lifestyle Crafts die using Core'dinations Basics in Smooth Kraft.
Step 2: The center of the card is some Core'dinations Basics Vellum, circle cut and embossed with a swiss dot embossing folder. Here is a tip I have learned when embossing vellum. Vellum is tricky, it is hard to get the pressure correct when working with embossing and die cut machines. I have had 100 percent success by using a simple kitchen rolling pin! Insert the vellum inside the embossing folder of your choice. Make sure you are working on a flat surface. Roll the rolling pin over the embossing folder, using steady pressure. Gently open part of the folder and check on the vellum, if it is not quite even, or deep enough, roll it again.Adhere the vellum to the center of the card- using adhesive only on the edges so it will not show through.
Step 3: Then, I ran my cut frame shape through my Xyron 5″ Create A Sticker Max. I prefer to use an adhesive machine for intricate shapes like this one. Otherwise it is a very tedious job to try and apply adhesive onto all of the tiny parts of the shape.
Step 4: This card uses flowers from the Petaloo Darjeeling line- specifically the "Tea-stained Blue." I used three of the lighter shade of flower, and four of the leaves. These flowers and leaved are thick. I found it easiest to use a little piece of Xyron Double Sided Adhesive Tape to adhere them into place.
Here is a close-up of the card:
Many Thanks Tag by Tami Mayberry
Many Thanks Tag Supplies:
Unity Stamp Company Thanks, Thanks & Thanks stamp set
Clearsnap espresso pigment ink pad
Petaloo orange/yellow flowers set
Petaloo cream rick-rack and stitched edge ribbon
May Arts brown burlap string
Sizzix Tattered Florals die (#656640)
Sizzix Woodgrain embossing folder  (#659450)
Sizzix Big Shot die-cutting machine
Core'dinations Sand It Gadget & Dust Buddy
Clearsnap Art Dauber
Xyron: Tape Runner, 3 inch Sticker Maker
Step 1: Emboss tag using embossing folder; sand lightly with Sand It Gadget. Trim off top edge just below eyelet.
Step 2: Apply adhesive to back of trimmed tag using 3-inch Sticker Maker.
Step 3: Attach to rust colored tag.
Step 4: Die-cut Tattered Flower shapes from two coordinating colors of Kraft-Core cardstock.
Step 5: Sand and ink edges of flowers as desired; layer together and attach to tag as shown. Attach orange flower.
Step 6: Stamp sentiment banner onto back side of a scrap of kraft core cardstock; cut out.
Step 7: Attach banner to tag. Embellish bottom edge of tag with rick-rack trim. Tie a large loopy bow from string; attach under edge of flower as shown.
We are continuing our week with Petaloo and Xyron! We have teamed up with some of our favorite adhesive and flowers for a week full of inspiration and, of course, PRIZES! Please go to THIS post to see how you can enter to win this:

Give Thanks Layout by Christine Meyer
I always love the opportunity to get a favorite picture onto a layout and stored as a lifetime memory – today I have a fall layout to share with you featuring products from Core'dinations, Xyron, and Petaloo that does just that.  Christine joining you today to share a layout of some of my kiddos with their Grandma enjoying a fall tradition – leaf piles.
Give Thanks Layout Supplies:
Coredinations Vellum Quotes & Titles
Darice Leaf Embossing Folder
Xyron High Tack Adhesive Dots
Step 1: Emboss your tags and then deboss them by using your Sand-It Gadget.
Step 2: Cut out the center of the Seasonal Impressions cardstock – leaving just a one inch border.  Sand the border and use the Xyron Mega Runne to add Spotted Cardstock underneath as the base.
Step 3: Add Tags and Red Cardstock to create the center of your layout use the Xyron 3 Inch Sticker Maker.  Add Petaloo trims to the Xyron 3 inch Sticker Maker and then attach them above and below.
Step 4: Run the vellum quote thru the Xyron 3 Inch Sticker Maker.  This is the best way to attach vellum because it doesn't show up at all! Add the vellum to the tag.
Step 5: Put the picture on top of the Kraft cardstock and center it.
Step 6: Add a die cut banner and Embellish the corners with Petaloo Darjeeling Flowers. Xyron's High Tack Adhesive Dots make attaching small flowers like this an easy job! Products like this make it both easy and fun to put together a layout that we can cherish forever!
~Christine
Count Your Blessings Layout by Suzanna Lee
Do you have those family dinner table picture that we all take at Thanksgiving, and once you finally seen them think, "ugh! how am I going to scrap that?". Well fret no more! I have the solution for you. First, convert your picture to black and white. The conversion will soften the clash between Auntie Rose's purple hair and Grandpa Jack's hot pink tie and allow you to use the colors of your choice in your layout, just as I did here!
Count Your Blessings Layout Supplies:
Tim Holtz & Ranger Distress Ink
Xyron Adhesive Dots
Step 1:To create both bases of your layout, you will need your trusty Core'dinations steeds; your Sand It Gadget and your Dust Buddy. Sand the edges of the the Basic Grey Core Impressions and wipe the dust with your Dust Buddy to reveal the colored core. If you would like a bit more definition to the border of the page, as I did, then use some Distress ink around the edges. Fussy cut out the Jenni Bowlin Square Label paper and similarly, sand and dust it.
Step 2: Layer a long banner cut from Tim Holtz Shattered cardstock that you sanded and rubbed with some Distress Paint with your picture, Petaloo flowers and some die cut leaves. The PERFECT adhesive to stick Petaloo flowers down with is Xyron's adhesive dots! They come in two sizes, 3/16 inch which is perfect for the little daises I used on the bottom, right hand corner of my page and the larger, 3/8 inch dots for the larger Petaloo flowers!
Step 3: Whatever was not put together with Adhesive Dots, was put everything together with my Xyron MegaRunner! I just love the ability to drop in the cartridge and set to work. No fuss running tape here, there and everywhere or having it snap and need to be re-thread mid-project! Just remove the spent cartridge and pop in a new one and you are good to go!
~Suzanna
Many card makers are also scrapbookers and I decided to take some of the new patterned cards and create a layout instead.  I started with a brown Core'dinations cardstock base and layered a white spotted piece slightly smaller on top.
I chose the colors of cards I wanted to use and made a border punched mat for my photos first. Once i had this all in place I started punching shapes from the card bases.  I used a couple different sizes of scalloped circle punched and then a tiny circle punch too.
I gently sanded the edges of these and then layered them on top of each other using 3D foam throughout the layout, trimming a few to a straight edge here and there as well.
I added a layered card sentiment as the title and some typewriter journaling to complete this one of Em and one of her closest girlfriends on her 13th birthday !!
David Tutera Celebrate A2 Assorted Patterned Bold Cards & Envelopes
David Tutera Celebrate Happy Birthday Layered Sentiments
David Tutera CelebrateBaby Girl Embellishment Kit
Core Essentials: French Roast, Izmir Purple
Spotted Jillian Dot: Snowflake
Sand It Gadget
Dust Buddy
Other: Xyron and American Crafts adhesive
Hi! Jill from Every Day is an Occasion here to share a kid's Craft project with you. Today I'm sharing how I made puppets for the story, Brown Bear Brown Bear What Do You See ?  featuring tons of Core'dinations Cardstock including the Brown Bear as the focal point made out of Chocolate Box cardstock!
Brown Bear Brown Bear What Do You See Puppets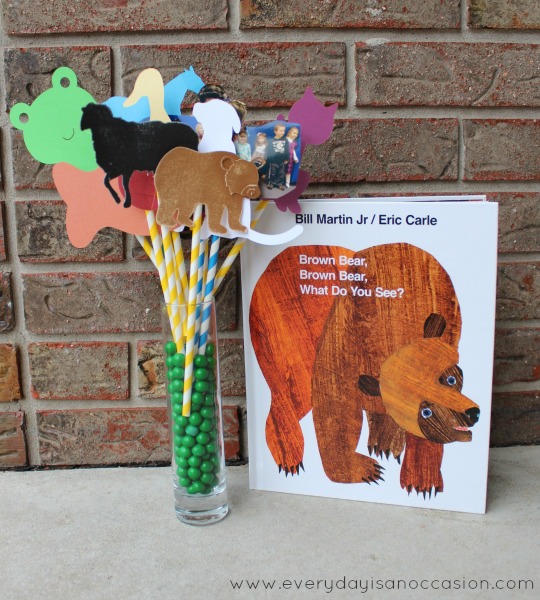 I used to teach first grade and my students LOVED reading this book. It's a great book because it's repetitive and kids can pick up on how to read it pretty quickly! My son memorized this book when he was 2 1/2 and now being 4 he likes to "read" it to his little sister. I thought it would be really fun for him to use these puppets in his puppet theater and create a puppet show for his little sister to watch.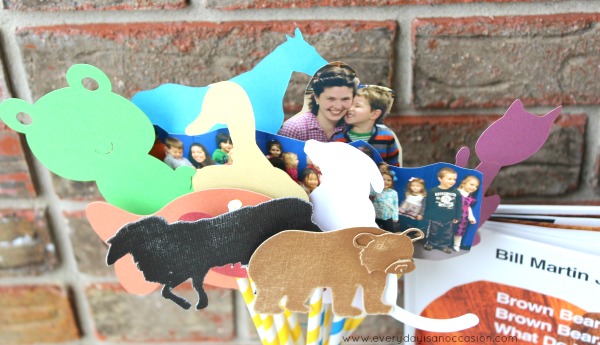 To create the puppets, I used Chocolate Box , Core Basics , 110 lb White Premium Cardstock, straws, and photos. I  cut out the animals using my Silhouette. They might not be the exact same shape as the animals in the book, but at least they are the same animals. At the end of the story, there is a Teacher and Students part. I used photos that I had taken in my son's class. All the animals and photos I adhered to straws using hot glue. The bear I assembled using Xyron Glue Dots and Xyron Glue Stick.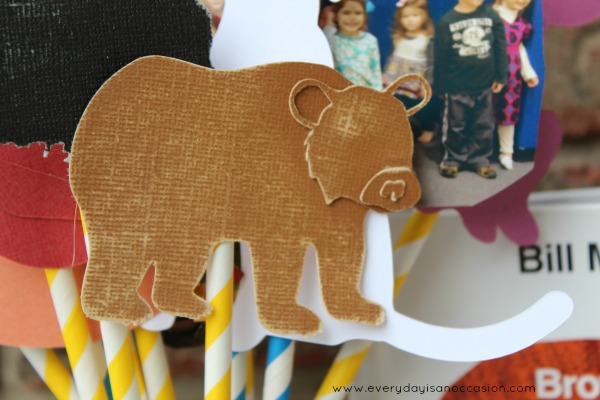 I love the way this brown bear looks sanded! I used the Chocolate Box  and sanded away! I love how the sanding gives him so much dimension.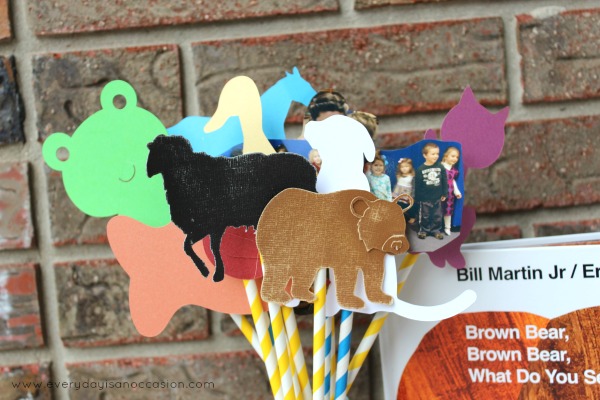 Core Tip: Use the backsides! The great thing about the Chocolate Box Pack is that it gives you so many options. You can sand away like I did on the bear or you can flip over the colors and use the colored side on the back!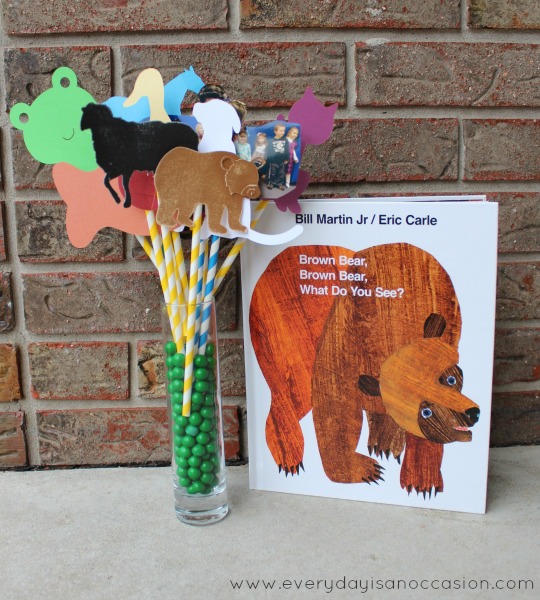 This was such a fun project and I cannot wait to give it to my son and watch his puppet show!!
All week long we are playing with Authentique papers! How awesome is that? BUT first check out our Heidi Swapp Winners HERE!
We are so excited for this week and trust me when I say our papers are a match made in heaven!  But seeing is believing, right? So make sure you stick around all week long for some inpsiration and a giveaway of course!
Make sure you check out the Authentique BLOG for more ideas and a giveaway  AND you can find their complete lines of gorgeous papers HERE. Today  is all about cards, cards and more cards using the Authentique Be(you)tiful line.
First up Debbie Standard shows us how all you need is some Core Essentials and gorgeous patterned papers to make some quick and easy cards!  Love how Debbie mixes the hexagons with other prints using her embossing folders.
Supplies:
Cardstock:  Core'dinations Darks Collection
Patterned Paper:  Authentique Be(you)tiful collection
Adhesive:  Xyron Mega Runner
Cuttlebug Embossing Machine
Embossing Folder: Darice
Queen & Co pearls
This card from Debbie showcases a great way to use those scraps! You can cut out shapes from your Core and save them for another project and use the negative space.
Supplies:
Cardstock:  Core'dinations Brights Collection & David Tutera Sentiment
Adhesive:  Xyron Mega Runner
Cuttlebug Embossing Machine
Embossing Folder: Darice 1215-59
Supplies:
Cardstock:  Core'dinations  Core Essentials
Adhesive:  Xyron Mega Runner
Cuttlebug Embossing Machine
Embossing Folder: Lifestyle Crafts Hexagon
~~~~~~~~~~~~~~~~~~~~~~~~~~~~~~~~~
And next up we have Vivian Keh with some more cards…loving the Vintage Cardstock on this first one. Everyone LOVES a gray color palette and the Be(you)tiful is perfect for it!   I know gray has become my "go to" neutral.
And a gorgeous close up:
Hemp for cards is a favorite of mine because you can add a soft touch and it's not too bulky:
See how Core and Authentique match PERFECTLY???
Get out those diec cuts and pop up dots!  Just some simple shapes cut out of cardstock, and of course sanded, not only add visual interest but it makes cardmaking easy!
And another close up:
Buttons
~~~~~~~~~~~~~~~~~~~~~~~~~~~~~~~~~~~~~~~~~~~
We are giving some away so comment here to win!