The Crown Jewel
of Cardstock!
This collection has a decadent
pearlescent finish that adds
the perfect amount of shine to
your layouts.

12×12 is available in a 20-sheet
assorted pack (GX-GEMA-12)
and single sheets.
Jennifer Edwardson here with you today with this little Darice paper mâché flower pot that has been calling my name for a while now!  I LOVE the shimmer of the Gemstones cardstock and decided to create this entirely with all the fun colors I could. Plus, this is a GREAT way to use up scraps.
Supplies:
 Gemstones Cardstock: Opal, Moonstone, Tanzanite, Yellow Topaz, Quartz, Amethyst, Peridot, Garnet
Misc flower punches and 1 1/2″ circle punch
Buttons and twine
1.) Start by punching out MANY 1 1/2″ circle of the Opal color and stared overlapping them all over the base of the pot using Mod Podge. I cut several in half for the rim as well.
2.) Put a styrofoam ball inside and covered it with kraft cut paper pieces that you can make on your own or buy at a local craft store.
3.) Punch multiple flowers using several colors and create flower picks using cut down wooden skewers.
4.) Add buttons tied with twine and your flower pot is complete.
Sanding is key when using Core'dinations ColorCore Cardstock! Sanding isn't just about letting the ColorCore show, it is about showing off the ColorCore to add dimension and design.
There obvious areas I sanded with my Sand It Gadget but the splashes at the top of my layout are the most unique! This technique is called outlining. All it is, is sanding over some chipboard or other embellishment so when you are done sanding…you have the "outline" of the image! You can check out a video on it
here
.
Core'dinations Supplies:
Other Supplies:
Darice Sequins
Sizzix Dies
Cart-Us Embossing Folder
Elle's Studio Tags
American Crafts Sticker
EK Success & Epiphany Crafts Punches
Jillibean Soup Alphas
The not-so-obvious areas I sanded were the arrows and waves.  Sanding these elements helped give a 3-D effect without adding height.
 After sanding your Core'dinations ColorCore Cardstock, don't forget to dust with your Dust Buddy!  It really does clean up the dust and keep the colors true.
How many types of Core'dinations can you get on one layout?  Keep reading to find out!
Supplies:
Core Basics - 110lb White
Suzanna Lee here and I wanted to share with you this pocket page layout created entirely from Core'dinations cardstock. Not a lock of patterned paper in there. Well, there is a smidge of vellum! Guess how many different types of Core there are there? My point being, you don't have to go out and buy those fancy cards when you can create your own cards from cardstock! Different types and the textures you can create with die cuts, embossing and stamping provide you with all the spice and variety you need!
Embossing and sanding with letter stickers. Overlay color on color for some variation.
Layer Whitewash on Core Essentials that has been embossed and sanded. Layer Gemstones on vellum and stamp.
The man and women were created with the likeness of the bride and groom in mind. I used Maya Road acetate shaped and rubbed with my Sand It Gadget on the paper leaving the outline of the people. I pushed down on the edges in order to create the slightly embossed look.
Did you guess correctly? Seven, 7 types of Core'dinations cardstock in that pocket page!
Hi! Jill from Every Day is an Occasion  here to share some Clean and Simple Spring Cards with you. These cards are so beautiful and yet so simple!!
Clean and Simple Spring Cards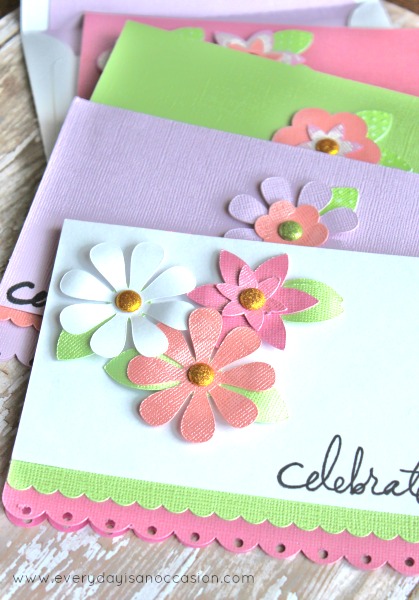 To make these cards, I used this Silhouette Cut. Then I used all different colors from the Gemstones Pack, Green Spotted Core, Whitewash Core, and the 110 lb White Core. The best way I have found to make a bunch of cards is to use the cut on several different colors but only one color at a time and then mix and match the colors.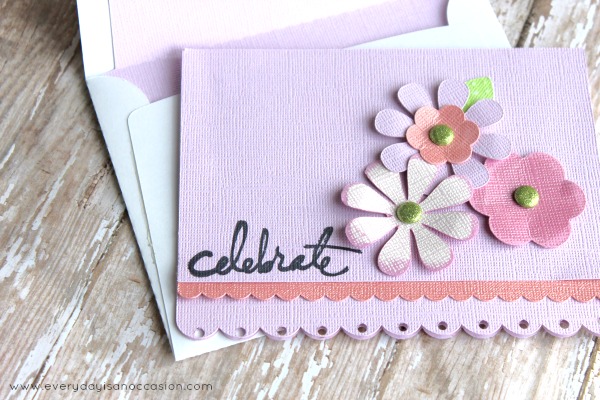 I just love sanding the tips of the Whitewash Core. The color shows through so vividly.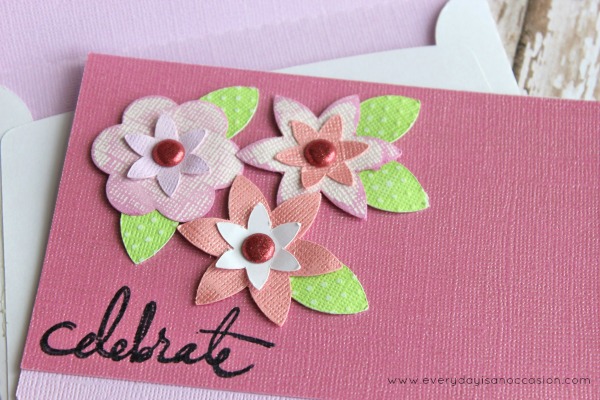 I used the Green Spotted Core for the leaves. It is really fun to sand and really gives the card that pop.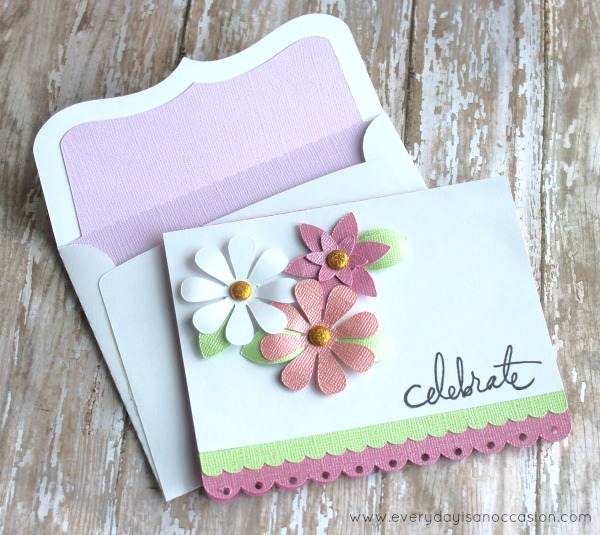 I made envelopes and liners with each card. I used a Pastels, 110 lb White Core, and this Silhouette Cut to make envelopes and liners.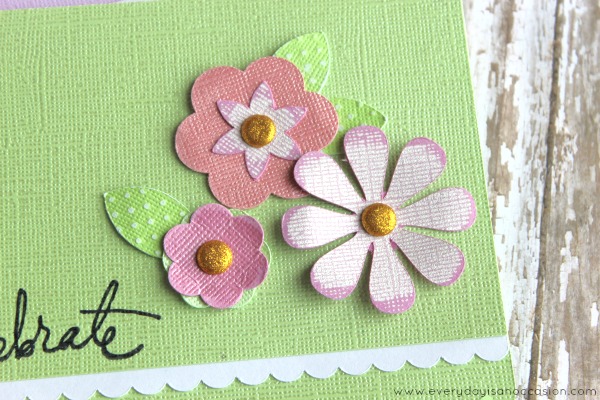 Thanks so much for stopping by and checking out my Clean and Simple Spring Cards!